SAUSALITO, Calif. (BRAIN) — Osmo Nutrition —  one of the most talked about new cycling nutrition products several years ago — is returning to the market in January after nearly a year of dormancy.
One of the brand's co-founders, Ben Capron, has returned and is now a co-owner and CEO. Capron is an industry veteran who has worked for NICA, True Communication and Seven Design. He is best known for his two stints at Specialized, where he held roles including chief marketing officer and chief brand officer.
In October, Capron and partner Lee Hutchinson, who also owns Seven Design, bought all of Osmo's assets and reorganized under the name Osmo Nutrition LLC. The company is in the midst of an investment round that will close in February.
Capron co-founded Osmo in 2012 with Stacy Sims and Paul Pillitteri. Capron left Osmo in July 2013 and returned to Specialized. Sims left in early 2016 and is now connected with the Nuun hydration brand. 
The reborn Osmo is getting a boost from its association with two-time world road champion Peter Sagan, who started using Osmo on stage 3 of the 2012 Tour of California, following a scorching stage into Palm Springs where Sagan suffered heat cramps. When Osmo shut down last winter, the Slovak star placed a large order for its remaining inventory and looked into buying the company. In the end, Sagan does not have a stake in Osmo, but has a three-year sponsorship agreement and will be central to the brand's marketing campaigns. Presumably he'll get all the mix he can drink without having to pull out his credit card again.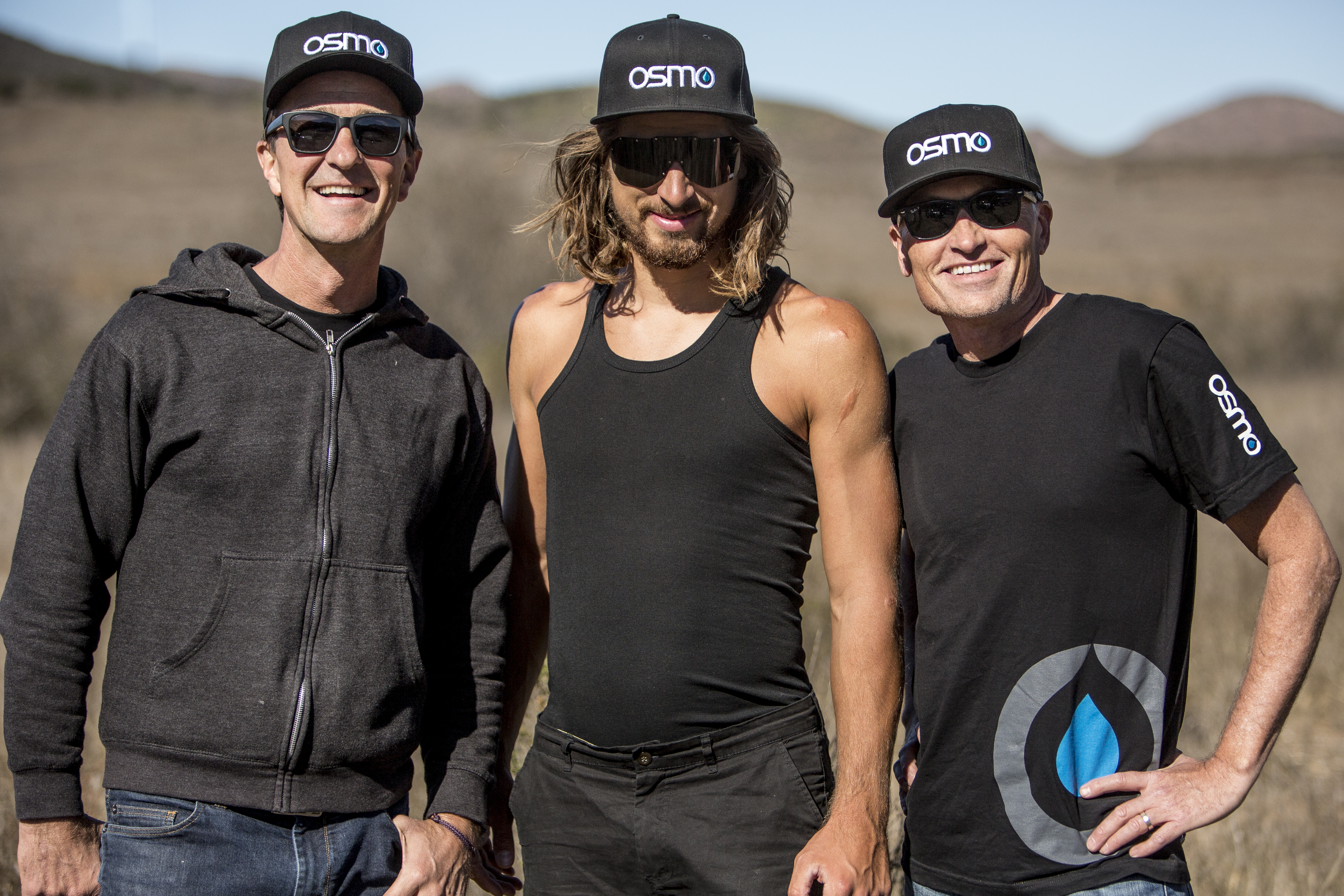 Osmo's Sagan-related marketing campaigns have already begun. At a recent gran fondo in California, Sagan talked to the media about Osmo and was photographed wearing Osmo team kit. When Sagan tweeted about Osmo, the brand's social media following grew by 30 percent. Osmo recorded several videos with Sagan in California last month that will be released next year.
Besides the Sagan connection, Osmo is getting a short-term boost from pre-orders and a discounted gift certificate promotion sold on its website. The certificates can be redeemed for pre-orders through the site or regular orders once the product becomes available. In the meantime, the certificate sales provide some cash flow, similar to a crowdfunding campaign, Capron said. Capron said Osmo has sold fewer than 100 of the certificates, but said pre-orders of a nutrition product are "unprecedented" and are testament to the continued interest in Osmo products. 
Osmo is returning with a tight product line of six products: drink mixes for pre-exercise, during exercise and post exercise, each available tailored for men or women. The products are made in the same Northern California facility and using the same formulas as under the company's previous ownership. The packaging has been refreshed, however.
In addition to the relatively small product line, Osmo is keeping focused on the cycling market, Capron said. He said that under the previous management Osmo lost focus chasing growth beyond cycling. When the growth didn't meet investor expectations, they pulled the plug.
"We are going to keep a laser-like focus and we are very confident that can result in a profitable business. We are not going to expand from that until we achieve profitability. Then we can think about growth by expanding into other markets. Running and triathlon are obvious related markets and there are others that we can expand into, but we are not going to go there as a hail Mary to get profitability."
As under its earlier incarnation, Osmo is going to be sold to dealers via distributors and dealer direct. It also will be available consumer direct via its website. Capron said the IBD market will be Osmo's largest channel, but he said consumer-direct sales are a necessity.
"The thing about hydration and recovery product is people want to be able to buy it in the way that's easiest for them. You can't ignore that reality," he said.
Capron also said a strong marketing campaign was key to driving consumers into stores to look for Osmo. During his first go-around with Osmo, the owner of a large IBD said something that stuck with him.
"This dealer said to me that he can't have his sales people spending 20 minutes explaining and selling a product that gets rung up for $20. So we really have to build demand for the product. ... Having Peter is obviously a huge asset but you have to activate it."