BLOOMINGTON, Minn. (BRAIN) — According to QBP founder Steve Flagg, the first winter gathering at QBP's headquarters, at the time a much more modest facility, took place in 1988. Three or four vendors and a handful of dealers attended, in temperatures that were what one would expect in Minnesota in February: cold.
But even though the weather warranted it, the company didn't start calling the open house Frostbike until sometime in the early 2000s. As the company has grown, so too has Frostbike. From a larger expo area as the QBP office's footprint has expanded and a longer vendor list as the distributor's partner and house brand portfolio has increased, to a sizable core group of retail customers, Frostbike at one point was bursting at the seams.
For a few years, the event nearly maxed out the building's fire code capacity of 1,100 as more than 140 brands and their staff, over 500 retailers and dozens of employees came together at QBP's home just south of Minneapolis. It also eventually grew into a four-day event, packed with seminars, a two-day expo and a handful of VIP events.
Frostbike veterans attending the event this year were sure to notice several changes — including a lot of new faces. For the first time in its 30-plus-year history, Frostbike was largely open to any shop that wanted to attend. In the past, attendance was essentially invite only, and QBP flew in about 300 of its core dealers and put them up for the duration.
But for 2017, the company decided to tighten things up. It cut the expo down to one day with just over 100 brands, flew in about 80 retailers and, in an effort to broaden its reach, opened registration to any dealer willing to make the trip and pay their way. More than 500 retailers still visited Frostbike this year — many for the first time — a number that didn't change much over previous editions. Exhibitors included QBP's 42 Dealer's Choice brands and other core partners.
"We had grown Frostbike, and it became really big and super time-consuming. It was worth it, but it had become a trade show. So we decided to bring it back to what its original intent was — more of an open house — and shrink it down," said QBP president Rich Tauer.
"We focused on our Dealer's Choice brands and other core partners and I think that was really successful. We had a lot of regional dealers drive in, but we had others who flew in from California, Texas, Colorado and New York on their own dime. We are really pleased with how it went."
And so, in another first for the company, QBP also marketed the event. It ramped up its social media and email marketing efforts to build excitement.
"For the first time, we actually promoted the event," said Jessica Grenwis, QBP's new marketing director. "I'm really looking forward to talking with some of the dealers that we don't see that often, the ones who have never been before, to learn what we can do to be a better partner."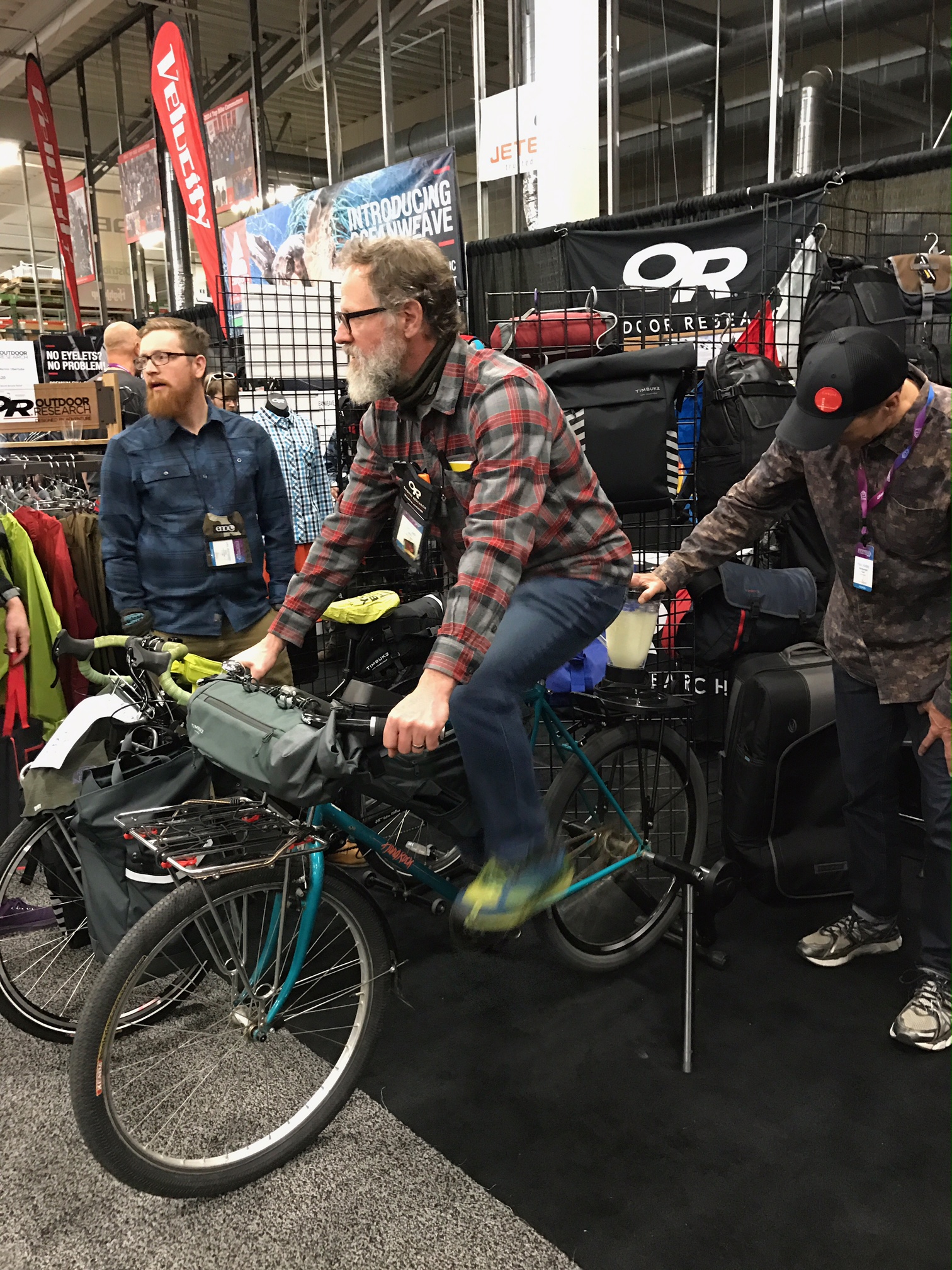 QBP also made other changes to the event. The event ran for two full days instead of four at its peak, and rather than hold seminars concurrently with the historically two-day expo at QBP's headquarters, seminars were held on the first day at the Radisson Blu hotel (another change this year) at Minnesota's most popular tourist destination, Mall of America. Retailers enjoyed being able to focus on the seminars without the fear of missing out on the expo, and vendors appreciated the steady traffic flow at the expo on Saturday since dealers weren't being pulled away for other things.
"I feel like having a one-day expo was a smart idea. It's small enough to cover in just one day, especially with the seminars being held on a separate day," said Yakima's Catherine Cooper, who attended Frostbike for the third time. "It felt busy all day, and when it was a two-day expo, the second day was always very light."
A few brands also made an appearance at Frostbike for the first time, including Osprey, which QBP now distributes exclusively; Problem Solvers, a parts and accessories brand; and QBP's newest house brand, Ketl mountain bike apparel, which launched this month.
Noticeably missing from the event was the outdoor demo area, but that's not a permanent change. Minnesota's unusually light winter hadn't delivered enough snow on the ground to test ride fat bikes. In fact, on the opening day of Frostbike, the high in Minneapolis was 65 degrees — several degrees warmer than in storm-plagued Southern California — causing trails to be too sloppy and muddy to ride. QBP also did not hold its annual awards ceremony Saturday evening, and will instead hold it at SaddleDrive this summer.
As Frostbike came to a close Saturday evening, QBP founder Steve Flagg reflected on the event. Having attended every Frostbike in its three-decade history, he approved of the new direction.
"With new leadership comes change, and I think there were some really good ones made this year," said Flagg, who stepped down as QBP president in September 2015. "I really liked having the seminars on a separate day, loved the hotel, which we'll probably keep. We'll carry over a lot of those changes to next year's event."
QBP also announced it would hold its summer dealer event again at Northstar Resort in Truckee, California, from July 31 to Aug. 4.
Look for more Frostbike coverage in the March 15 print edition of Bicycle Retailer.