MONTEREY, Calif. (BRAIN) — Final attendance numbers were still being tallied Monday, but early numbers pointed to a record year for the Sea Otter Classic, which ended Sunday. The annual bike festival, expo and race hosted more than 400 exhibitors, five miles of branded fence and 920 sponsor banners.
Frank Yohannan, Sea Otter's president and CEO, offered up several stats:
18 percent growth of the expo area
7 to 8 percent growth of competing athletes, with strong signups at the event
10 percent growth in camping (the area sold out for the first time this year)
Yohannan said he didn't have final spectator counts yet, but "we were certainly up," he said. "Saturday was by far our big day. But I'm surprised by how strong Friday is becoming. Bundled, all four days we're certainly up."
The inaugural kids' race on the Laguna Seca raceway this year drew 100 young riders. And with rain leading up to the event the week prior, overall accident numbers were down, Yohannan said. "That's typical on wet years because most of the accidents and crashes would be in the mountain bike races. When conditions are soft and wet in some locations, accidents go down," he said.
Last year, the main parking area — Wolf Hill — held some 5,000 cars on Saturday. This year the lot was filled with 6,000 cars, an indicator of growth in traffic that day.
As in years past, the early spring event serves as a launching pad for new product for exhibitors. Many also use the festival to sell product and gauge consumer interest.
"There is so much brand-new product here at Sea Otter that people haven't seen yet in stores, so more consumers come every year to see it firsthand and get knowledge about the product directly from the companies," said Aaron Jacobs, who has had a booth for his shop Bicycle Trip, located in Santa Cruz, at Sea Otter for several years. "But they're also looking for deals and are ready to buy, so even though people come for the camping and the racing and to have a good time, a lot of consuming goes on here, too."
"A lot of what people are looking for is to see the new product, our new treads, because we leaked the info a couple of months ago, but now we are actually showing it here," said Devin Dube, Vittoria's marketing coordinator. "So they want to check it out and ask questions about it, see it in person."
Electric mountain bikes, which are fairly new to the scene, were an emerging trend with several booths exhibiting them prominently and suppliers bringing extensive demo fleets for riders to test. Shimano's upcoming E8000 e-MTB drive unit was spec'd on Focus, Bulls and Commencal bikes, even though Shimano-equipped mountain bikes won't be for available at retail until later this year.
"E-mountain bikes is all people want to ride," said Jon Vick, events manager for Trek Bicycle, who was working the company's booth. "All other bike racks are all full. We brought eight e-bikes this year and we should have brought twice as many."
Below is a sampling of product and highlights that stopped us in our tracks. Look for additional coverage from Sea Otter in our upcoming May 15 print issue.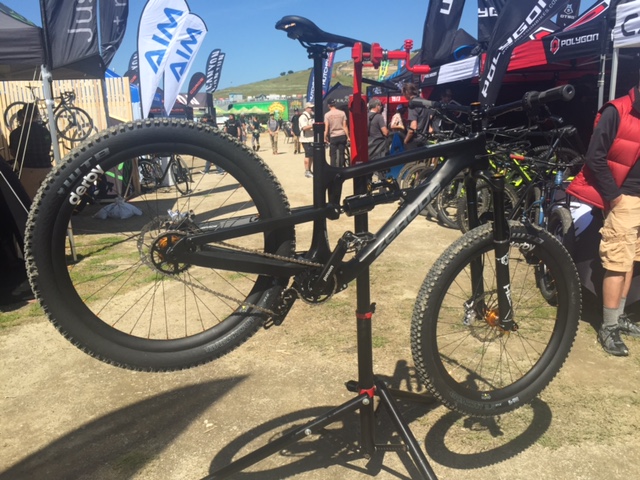 Available in the U.S. exclusively from Bay Area distributor Cycle Monkey starting in late May, the Taniwha carbon enduro bike from Australia's Zerode Bicycles has a 12-speed Pinion gearbox with a 600 percent gear range, and comes in three different builds from $6,500 to $9,500 — or as a frame only for $5,000, including gearbox and Pinion's chain tensioner. Cycle Monkey will hit the road with the Taniwha for a demo tour in the coming months to gauge dealer interest, the distributor's Xan Marshland said.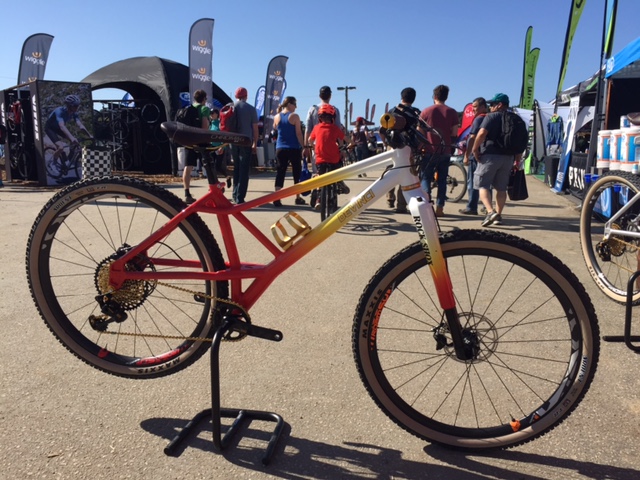 To mark the Canadian brand's 30th anniversary, Devinci took inspiration from its '80s-era XYZ model to create three YYZ frames handmade at its Quebec factory that feature a riot of period-specific intersecting frame tubes — and those massively elevated chainstays! — but modern geometry, including a 66-degree head angle and 455-millimeter reach. Outfitted with current components from project partners SRAM, Chromag and Maxxis, the two bikes on display at Sea Otter included this rendition with a red/yellow/white paint fade much like the original XYZ. A third YYZ will debut at Crankworx Whistler in August, said marketing manager Julien Boulais.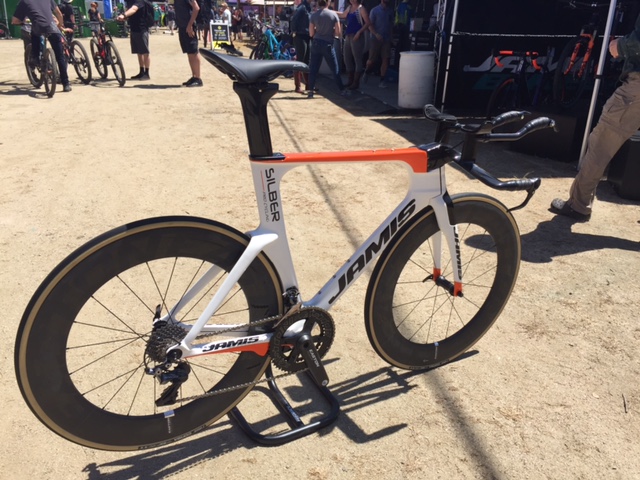 Jamis displayed this new TT model the day before it was set to be ridden at the Tour of the Gila under the Silber Pro Cycling Team. The bike doesn't have a name yet, and plans remain up in the air on whether it will be available as a complete or frameset only, Jamis' Doug Martin said.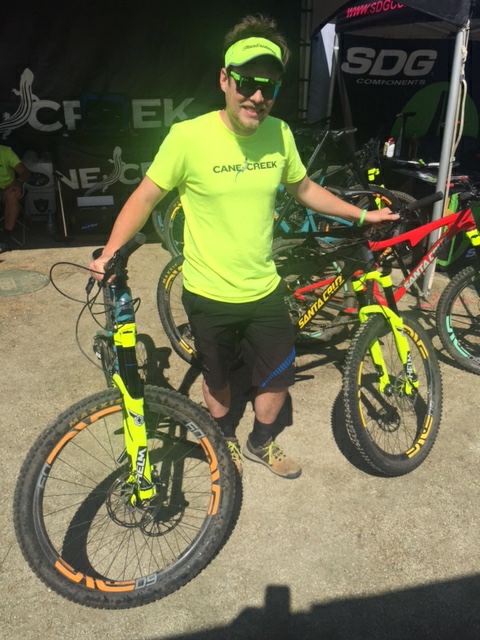 Cane Creek wanted its new Helm forks to stand out on the demo bikes the North Carolina company brought to Sea Otter, giving them an eyeball-straining neon green finish. Product manager Sam Anderson and the rest of the Cane Creek crew followed suit with their fashion choices.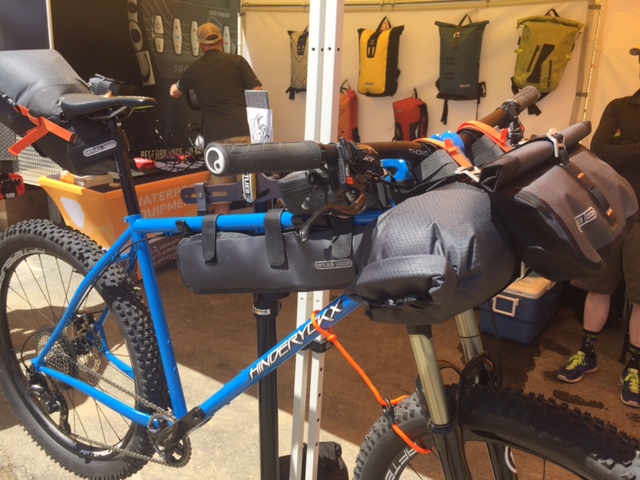 Ortlieb introduced a line of bikepacking bags last year, and showed a selection of more compact waterproof bags for shorter-duration adventures at this year's Sea Otter, including the quickly accessible, toptube-mounted Cockpit-Pack (MSRP: $55), Handlebar-Pack S ($125), Frame-Pack Toptube ($135), Seat-Pack M saddle bag ($145), and Gravel-Pack lowrider pannier ($170). All bags will be available in early 2018.
In addition to its helmets, goggles and eyewear, 100% showed its mountain biking apparel, including its women's and kids' line.
Renowned chef and former 24-hour mountain bike racer Chris Cosentino attended Sea Otter to promote Chefs Cycle, a 3-day, 300-mile ride that will raise money for the federal No Kid Hungry program. About 300 chefs are expected to participate and aim to raise $2 million. Chefs Cycle takes place in Santa Rosa May 16-18.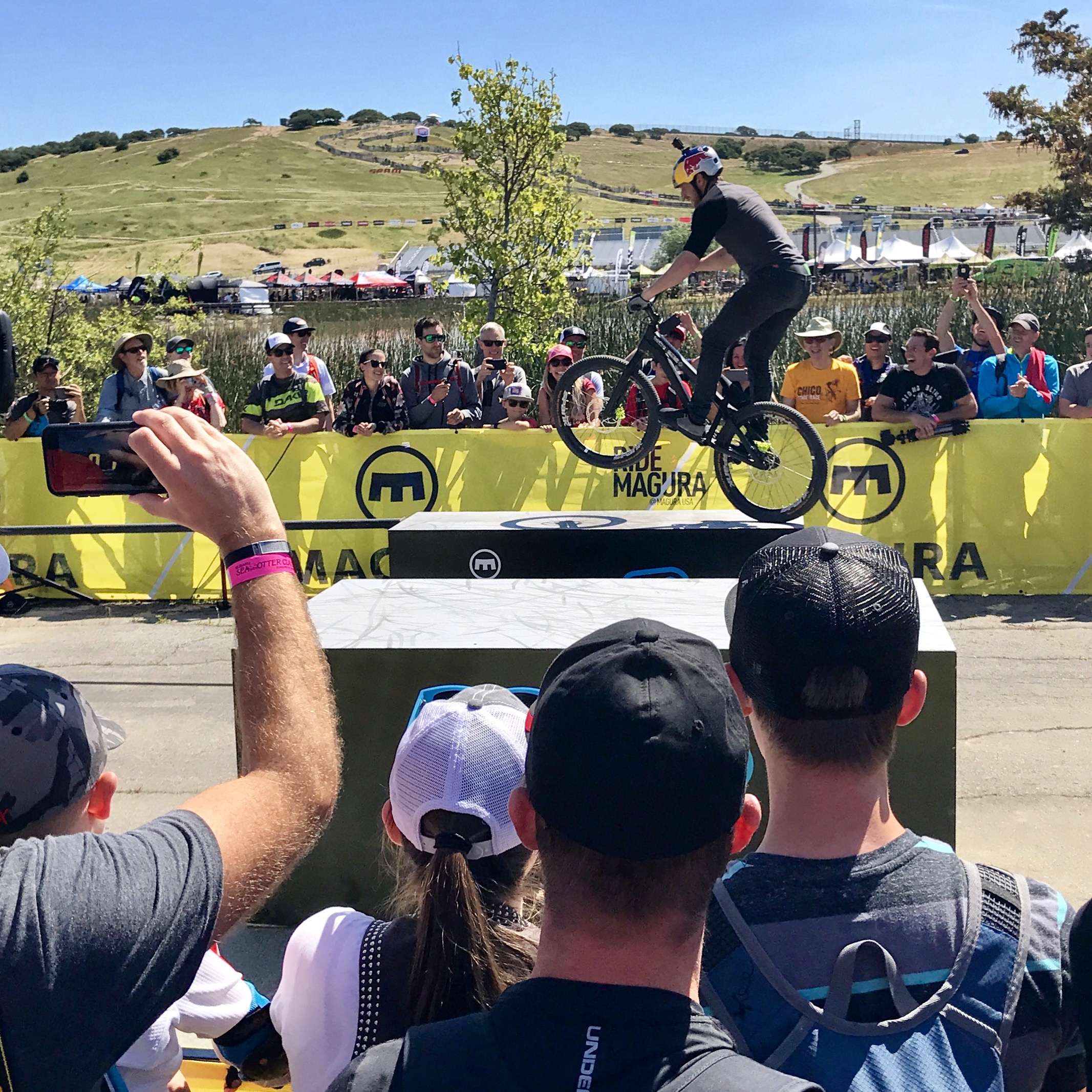 Danny MacAskill always draws a crowd, and this year's Sea Otter Classic performances were no exception. The Scottish trials phenom wowed crowds all weekend with his trials skills.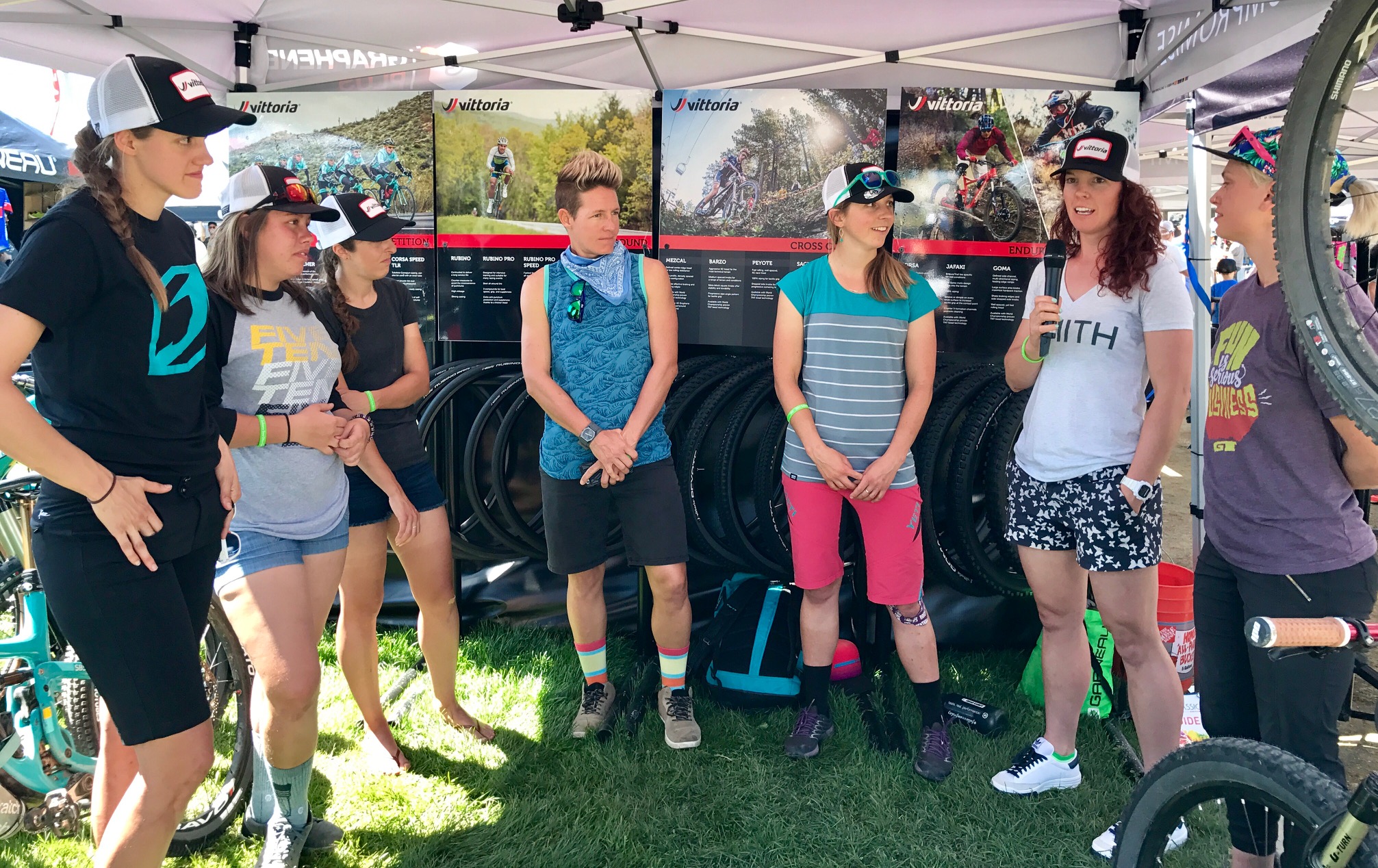 Vittoria tires held question and answer sessions with its female athletes on Friday. The women discussed everything from how to get started in racing to tire selection.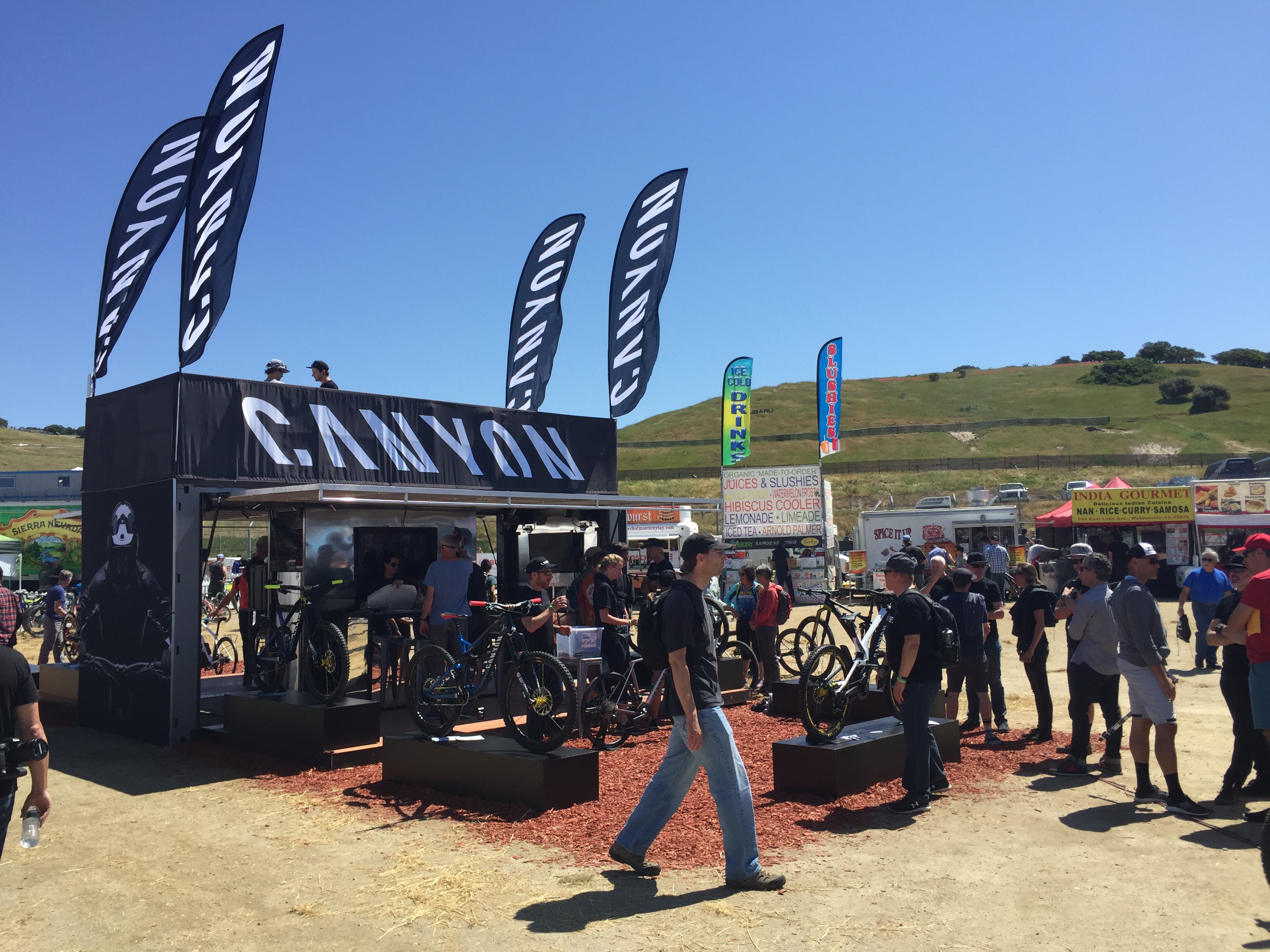 German consumer-direct brand Canyon exhibited for the first time this year and its booth was bustling with people throughout the four days thanks to a daily bike giveaway, t-shirt swag, and anticipated arrival into the market from cycling enthusiasts.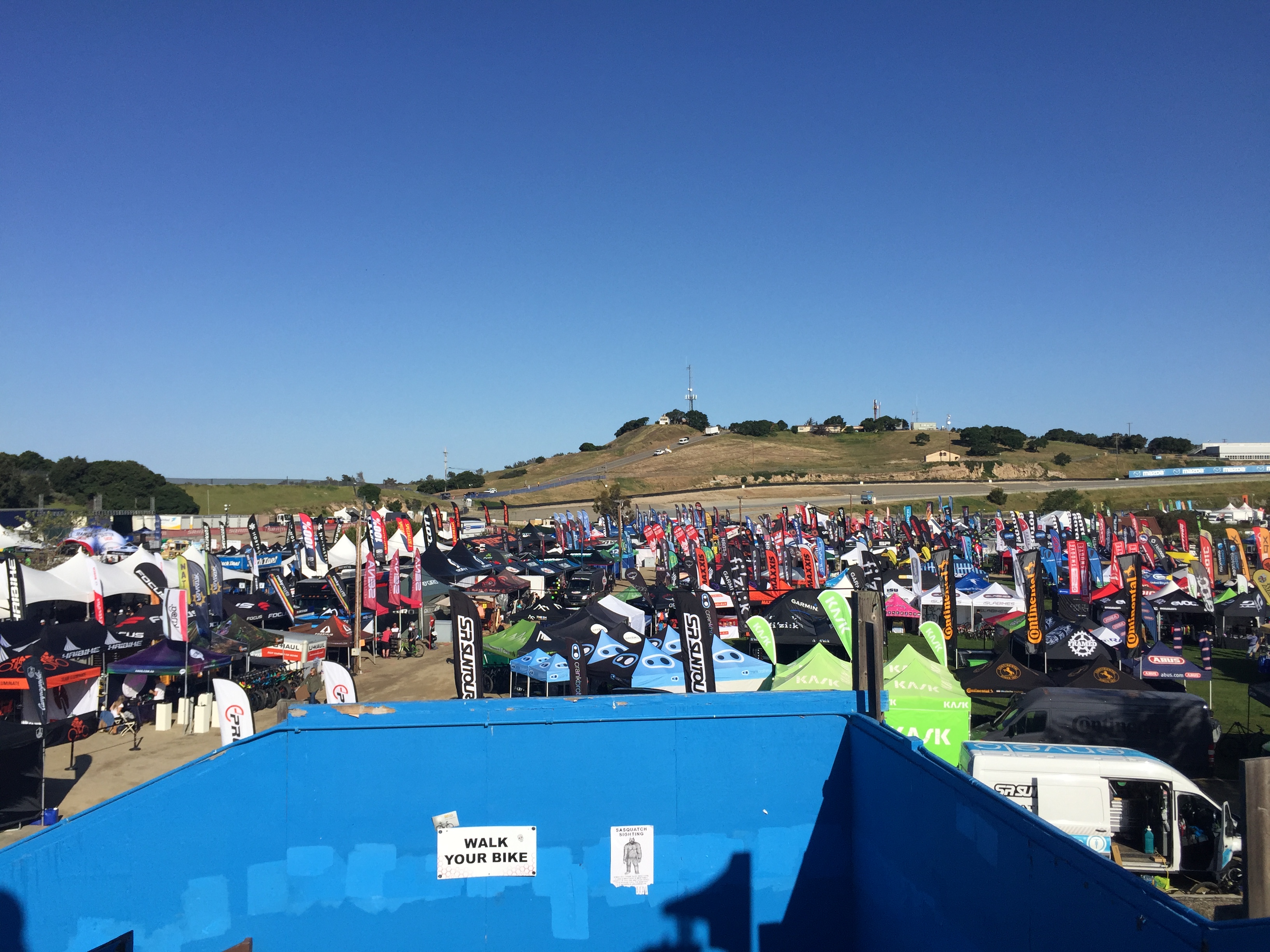 The Sea Otter expo grew 18 percent this year, with more than 400 exhibitors showing their wares in the dust bowl. Sea Otter had to move the awards stage and kids' play area outside of the main expo to make room for additional booths.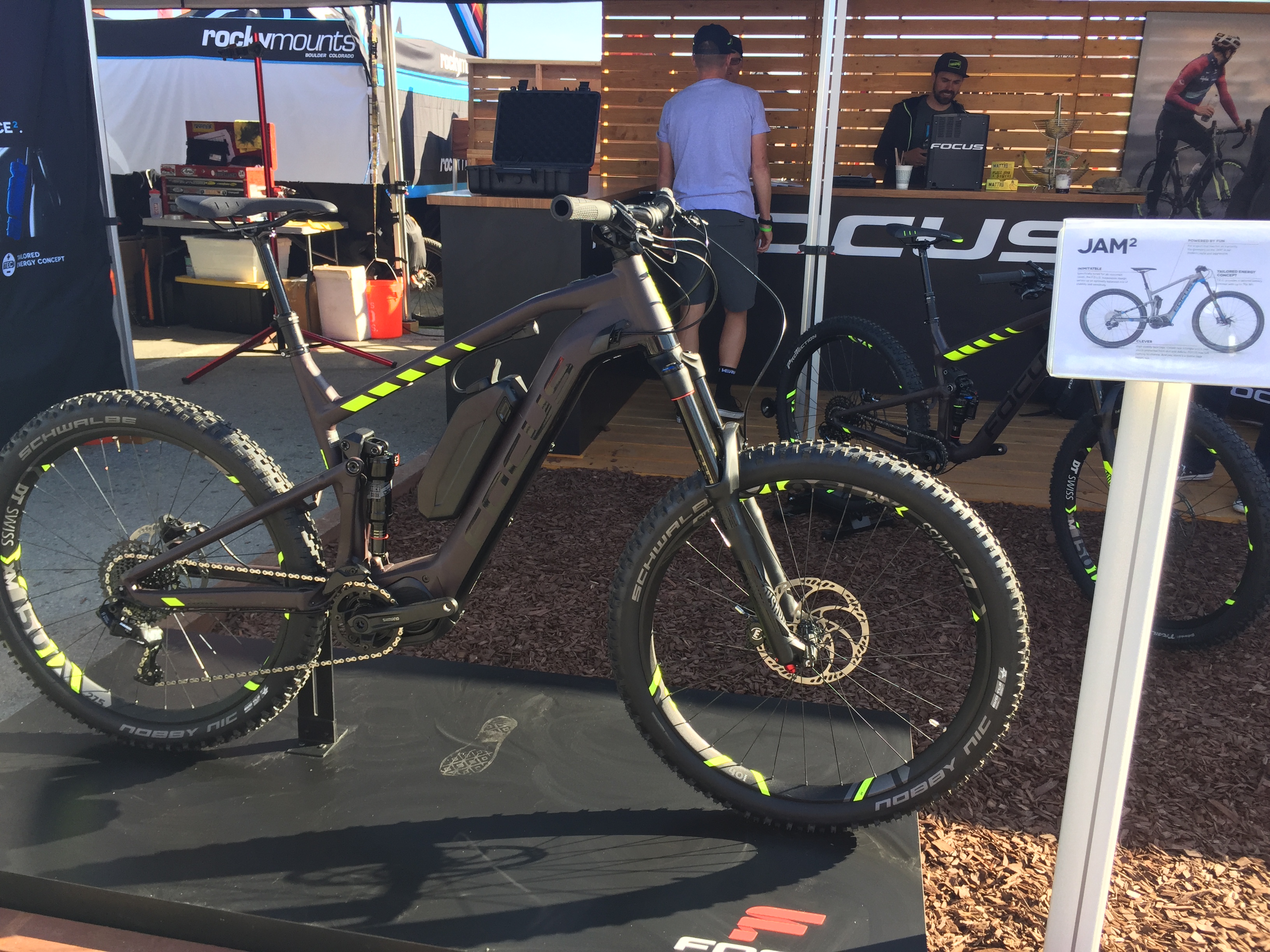 Focus displayed the Jam2, which uses Focus' proprietary battery with Shimano's E8000 motor. The battery is encapsulated in the downtube, but an additional battery can be attached for an extended range. "What the Shimano system does is it allowed us to build a bike and gets the motor out of the way so we can have standard length chainstays and pivot points," said Focus' Rich Kelly.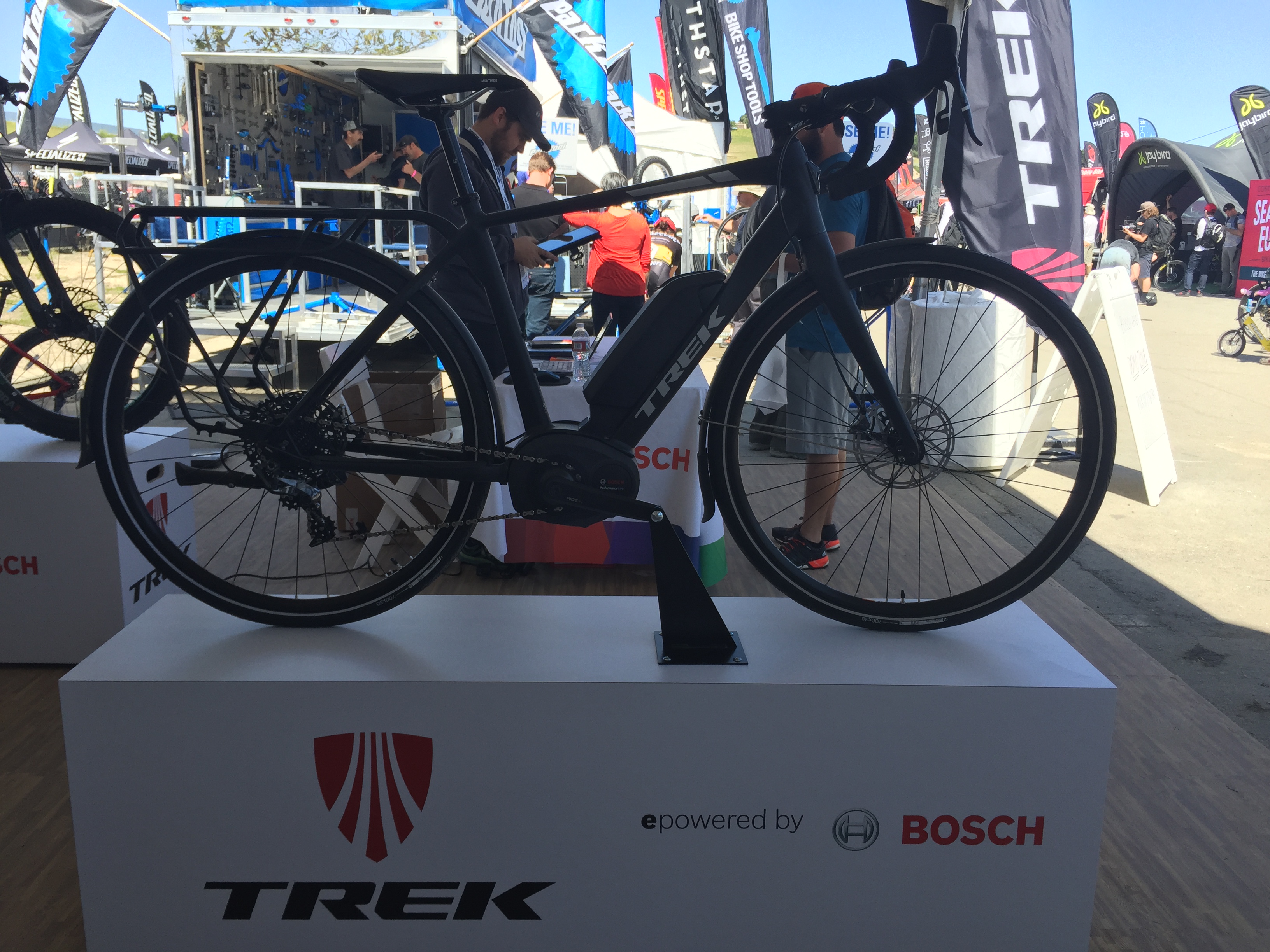 Trek showed its first dropbar e-bike, the CrossRip+ for the first time at Sea Otter. The bike, which becomes available in late June, has integrated front and rear lights, removable fenders and removable racks. It's based on Trek's regular CrossRip model, which has been part of its line for many years.