PRESCOTT, Ariz. (BRAIN) — Jay Clark and Herman Neudert are industry design veterans and longtime mountain bike riding buddies who lost touch with each other over the decades.
But soon after meeting up again for the first time in years ("Thanks, LinkedIn," said Clark), the pair decided they had some ideas for a new mountain bike brand that they needed to act upon.
Clark has been a designer in the bike industry for decades, starting with Syncros in Vancouver in the 1990s. That's where he met Neudert, who was then a Syncros-sponsored racer who specialized in 24-hour solo races. Besides his riding abilities, Neudert, who is German by birth, had a degree in industrial engineering and sometimes raced on Reynolds 853 steel frames he built himself.
Over the years the pair went separate ways: Clark went on to work for Serotta and Cannondale Sports Group, helping develop everything from super high-end custom carbon frames to Schwinn's innovative line of SmartStart kids bikes and Guru's fitting system. He's now an independent design consultant, living in Prescott. His firm consults with companies in and out of the bike industry.
Neudert worked for the bike mass market brands Dynacraft and Pacific for a time, and also launched a motorcycle component brand (www.hdesausa.com) and several other companies. He's designed furniture for Williams-Sonoma. He now lives in Marin County, rides every morning, and travels frequently for mountain bike adventures.
About two years ago the pair met up for some riding in Sedona, Arizona, and started bouncing around ideas for a mountain bike frame line. The result is Prescott Cyclery, which is taking delivery of its first batch of aluminum hardtail frames this month.
The Prescott 396 TR frames, named for a Prescott trail, aim for a distinct part of the market. They retail for just $700, allowing a rider to build up a bike for under $2,000 if they choose. They are considerably less expensive than carbon frames, but are designed for experienced enthusiasts including racers on a budget.
The frames are designed for trail/cross-country use and can be used with 27.5-inch-plus or 29-inch tires. Potential customers are encouraged to consider using the plus-sized wheels for training and general riding and 29ers for racing and special occasions. When used with plus tires of 2.8-3 inches and 29er tires of 2.2-2.4 inches, the frame's handling remains consistent.
The partners said the 396 TR frames are "future-proof" and flexible with Boost rear spacing, Shimano thru-axle configuration and flat-mount rear disc mounts. A dropped right chainstay allows clearance for up to a 36-tooth chainring and the BB30 bottom bracket allows use of an eccentric for single speed use if desired. The 396 TR is designed to be used with a 120mm travel suspension fork.
"It's for a sports rider who knows what he wants," Neudert said. "You could build it up for $2,000 or build it with high end parts for $8,000, which is still a lot less than a carbon bike with those parts and you can have two bikes (by swapping wheels): one for the week with the plus tires and one with 29er race wheels."
Both partners said manufacturers have learned how to optimize aluminum in recent years so that alloy frames offer nearly the same performance as carbon for much less money.
"Really innovative materials (like carbon fiber) come with a serious price tag," Neudert said. "With aluminum you give up a little weight but it gives the best value for the buck."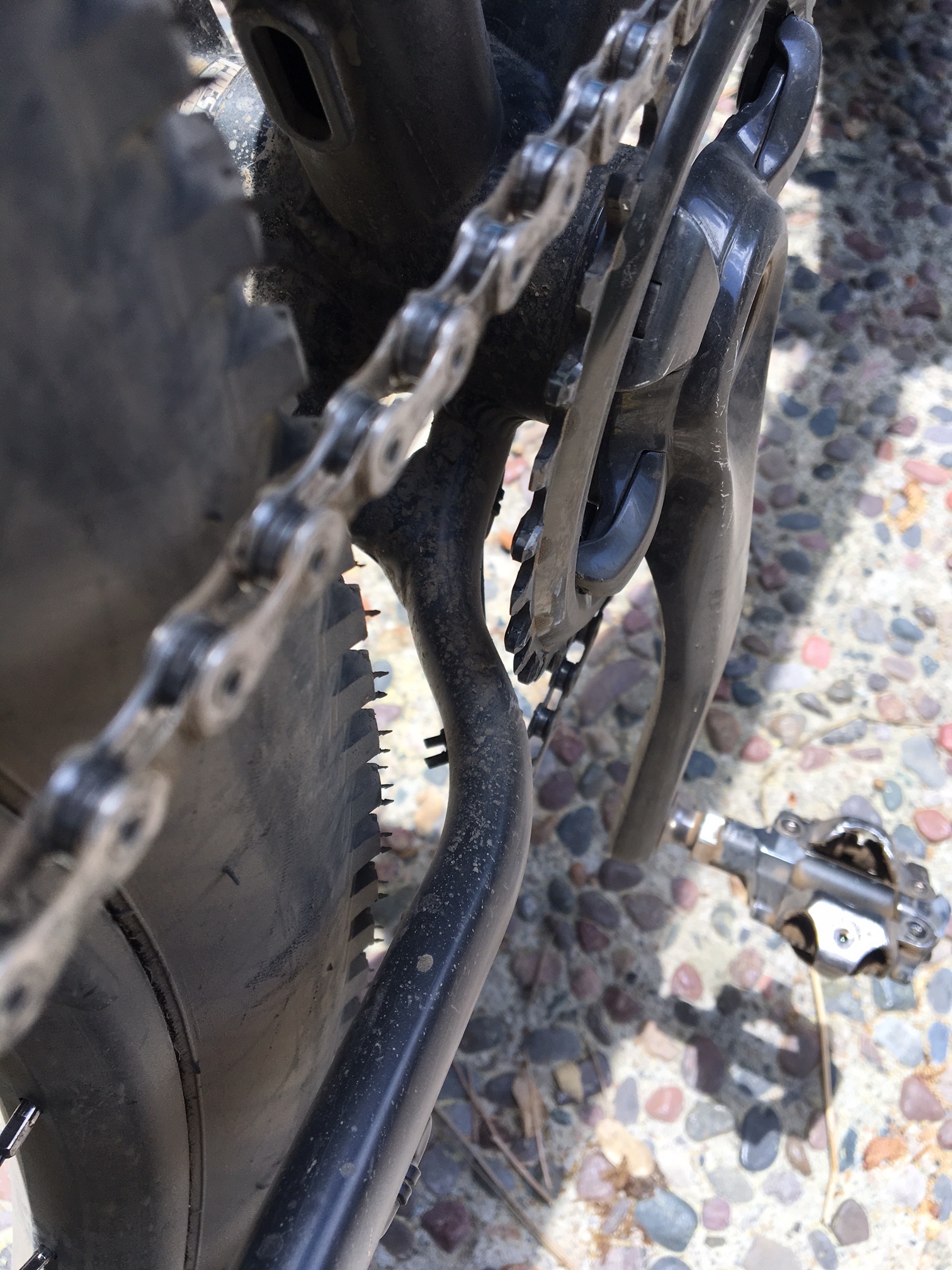 In developing the 396 TR Clark made use of his bike fitting expertise — developed while working at Serotta and on the Guru system — to design three frame sizes that fit a wide range of riders and produce a neutral handling trail/cross-country ride.
"I am a big fan of proper bike fit," he said.
As an example of his attention to fitting details, Clark noted that the frame's lay back seat angle was designed around a zero-setback seatpost, since most dropper posts have no setback. Some frames on the market continue to be designed around posts with setback, which is common with non-dropper posts.
The 396 TR frame has a bent seat tube (the seat post doesn't point at the center of the bottom bracket). That design helps the frame fit a wide range of rider sizes. "We did that for fit, not for tire clearance," Clark said.
The company has already sold much of its first batch of frames direct to consumers. Clark participates in races around the Southwest and has a lot of local support thanks to social media, which helped establish the new brand regionally even before production frames arrived. 
The partners are hoping to set up a small dealer base, starting regionally near Arizona, where Clark lives, and the San Francisco Bay Area, where Neudert lives. Prescott also is offering its own BB30 press fit bottom bracket and they said the brand has more products in the pipeline, including gravel and full-suspension frames.
Clark said that after designing products for other companies for years, the Prescott Cyclery project allowed him and Neudert to put their skills and creativity to use on their own designs for a change.
"The reason we started the brand was because we wanted to," he said. "We are both very passionate about bikes and this gives us an avenue to develop product around our own ideas and put the product out there ... So we did it because we could and we feel like we can bring a better product to the market. We are putting over 40 years of combined design experience into our product and seeing what we can do."
More information: Prescottcyclery.com.