MONTEREY, Calif. (BRAIN) — Shimano released a wide array of updates to its popular Deore XT group on Wednesday, prior to the opening of the Sea Otter Classic.
Besides an 11th rear cog, the updated group has options that respond to recent trends promoted by SRAM, including a 1x11 option, a cassette option up to 42 teeth, and crankset options that position the drivetrain further outboard to work with 148mm OLD rear hubs.
The M8000 group also offers wheels with wider rims and redesigned SPD pedals that promise increase stability. The company is touting updates to the group's finish and function across the board.
The company also announced a few other new mountain bike component options outside the Deore XT group.
Gear options
The new 2x11 and 3x11 M8000 drivetrains feature what Shimano calls "Rhythm Step" gear progression. The double- and triple-chainring drivetrains are designed for an 11-40 tooth cassette, while the company is offering its first 11x42 tooth cassette for the single-ring drivetrain. Previously, the largest cog Shimano offered was a 40-tooth for the XTR 1x11 drivetrain.
Up front, the single-chainring crank is offered with 30-, 32-, or 34-tooth rings; double-ring cranks are offered with 34-24, 36-26, and 38-28 tooth, and the triple is available in 40-30-22 tooth.
The single-ring chainring has a feature Shimano called Dynamic Chain Engagement to increase chain retention. The single-ring XTR group gets the same new feature. The single-ring chainrings are stainless steel. In photos, the new chainrings appear to have taller teeth than normal, but do not appear to use the wide-narrow shaping that SRAM and others have adopted for single-chainring drivetrains.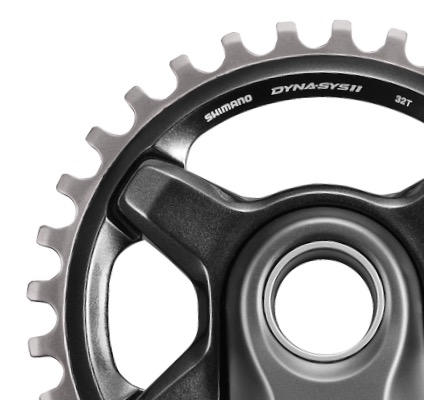 Not Boost: '+3mm.' The new XT cranks have options for a drivetrain shifted outboard by 3 mm to work with 148 OLD rear hubs, similar to SRAM and Trek's Boost drivetrain options. Shimano's name for this option is  "+3mm,"  and it's available in 1x11 with 30-, 32-, and 34-tooth rings, or 2x11 with 36-26 tooth.
Other updates
Shimano said the XT bottom bracket has improved durability, lighter weight and reduced seal drag. It's available in press fit and threaded options.
Front and rear derailleurs receive a complete makeover for improved stability and reduced shifting effort. The rear derailleur's RD+ clutch is now externally adjustable to balance stability vs. shifting effort.
The group also gets the Side Swing front derailleur design first introduced on XTR, for reduced shift effort and increased tire clearance.
Shift levers were redesigned for ergonomics and reduced shift effort. They have longer, textured levers and when paired with Shimano's Opticlick cable, promise a 20 percent reduced shifting effort.
The new brake levers have an integrated master cylinder, which reduces weight and frees up handlebar space.
Wheels and pedals
The new WH-M8000-TL-275/29 and WH-M8020-TL-275/29 wheels have tubeless-ready aluminum rims with internal widths of 20 mm and 24mm respectively. The rims are about 40 grams lighter than previous models and all wheels have 28 butted spokes front and rear.
The group's new PD-M8000 Race and PD-M8020 Trail pedals promise increased stability thanks to a wider contact area and lowered platform. The Race pedal has a 2.8 mm wider platform and the Trail pedal platform is 3.3 mm wider, compared to the previous generation. Both pedals have a platform height that is reduced by 0.5 mm.
Updates outside XT
Shimano also announced a new XTR crank (FC-M9020-B1) that is compatible with +3mm 148 OLD hubs, a non-series 2x11 mountain bike crank and new lighter thru axles.
The XTR crank option is called the "B" version of the XTR M9020 crank, designed for the +3mm chainline. It will be offered with 30- or 32-tooth rings.
The new non-group FC-MT700 cranks will be offered in a 36-26 tooth double, and offer a less expensive option for riders and OEs wanting to upgrade to an 11-speed offroad drivetrain.
Finally, Shimano is introducing a new thru axle called E-THRU, a hollow axle with built-in tension adjustment that allows riders to adjust lever position and clamping force. The company said an optimized thread pitch makes for quick wheel changes and the hollow aluminum axle saves weight.