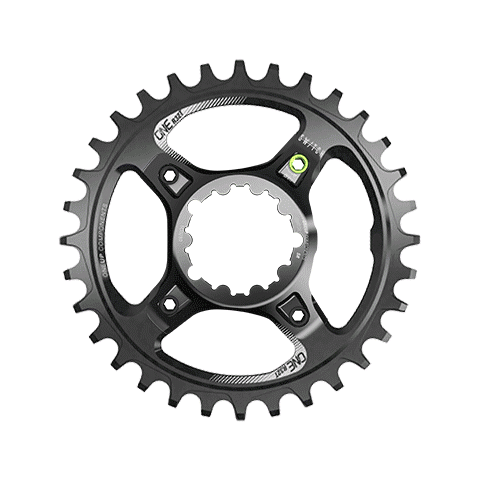 SQUAMISH, British Columbia (BRAIN) — OneUp Components is introducing a system to make it faster than ever to change chainring sizes on one-by mountain bikes with direct mount cranks. The company said the Switch system also reduces the cost of replacement chainrings, increases compatibility with new chainline offsets and makes it easier for retailers to cover the ever-growing number of chainring standards without a huge investment in inventory.


The company also is offering discounted Switch dealer kits in a custom storage case.
Rings can be replaced in less than a minute with only a 4mm allen key, without removing the crank. The system does not require a direct mount spider removal tool to change rings. 
"Simply loosen the bolts two turns, unlock the ring by rotating it by 20 degrees and pull it over and off your crank. Reverse these steps to install your new ring," the company said.
A Switch chainring and carrier retails for the same price as OneUp's direct mount chainrings (starting at $63), but the ring and carrier can be replaced individually at lower cost (replacement rings start at $40).
The company said it will offer all the major mounting standards, ring sizes and offsets in round or oval. That includes:
Five direct mount standards: SRAM, Race Face, Cannondale, E13 and Hope.
Five ring sizes: 28-36.
Two profiles: round and oval
Three offsets: Regular, Boost and Super Boost
"Your shop can have a replacement direct mount chainring in stock for virtually any walk-in repair. No one wants to miss another ride while waiting for replacement parts," the company said.
More information at oneupcomponents.com.