MONTEREY, Calif. (BRAIN) — Kids' bike companies are flooding the Sea Otter expo this year, and most of them are clustered around the skills area for young riders. These are not full-line bike brands that offer kids' bikes as an afterthought. Rather, these brands only make bikes for kids, and many are displaying here for the first time.
Two big trends just hitting the market are "first bikes" for kids moving off balance bikes to their first pedal bike, and higher-end kids' bikes spec'd — and priced — like adult bikes.
"Balance bikes are helping kids transition to bikes at much younger ages than in the past — many times before they are 3 years old. The new Cnoc Small targets those little riders, giving them a bike sized just for them," said Tim Goodall, president of Islabikes USA (Booth 157).
These first bikes are built around 14-inch tires and are sized for kids with inseams as short as 13 inches. Models you can see here include Islabikes' $420 Cnoc 14 Small, Woom's $340 Woom 2 (Booth 413), Frog Bikes' $320 Frog 43 (Booth 905), PreVelo's $359 Alpha One (Booth 318) and Cleary Bikes' $350 Gecko 12-inch (Booth 327).
These bikes are not spec'd with smaller "adult" components, but feature kid-specific components and features like smaller-diameter handlebars, shorter cranks, smaller pedals, narrower Q-factor, better-designed brake levers, and narrow, short saddles.
"It used to be parents didn't want to pay more than Wal-Mart prices for a kids' bike, but that is changing," said Jeff Giesler, Frog Bikes' West Coast and Canada regional manager.
"What more parents are finding out is a higher-quality bike can be passed on to younger siblings and it holds a higher resale value. Plus we offer enough sizes that you can properly fit a child to a bike," Giesler added.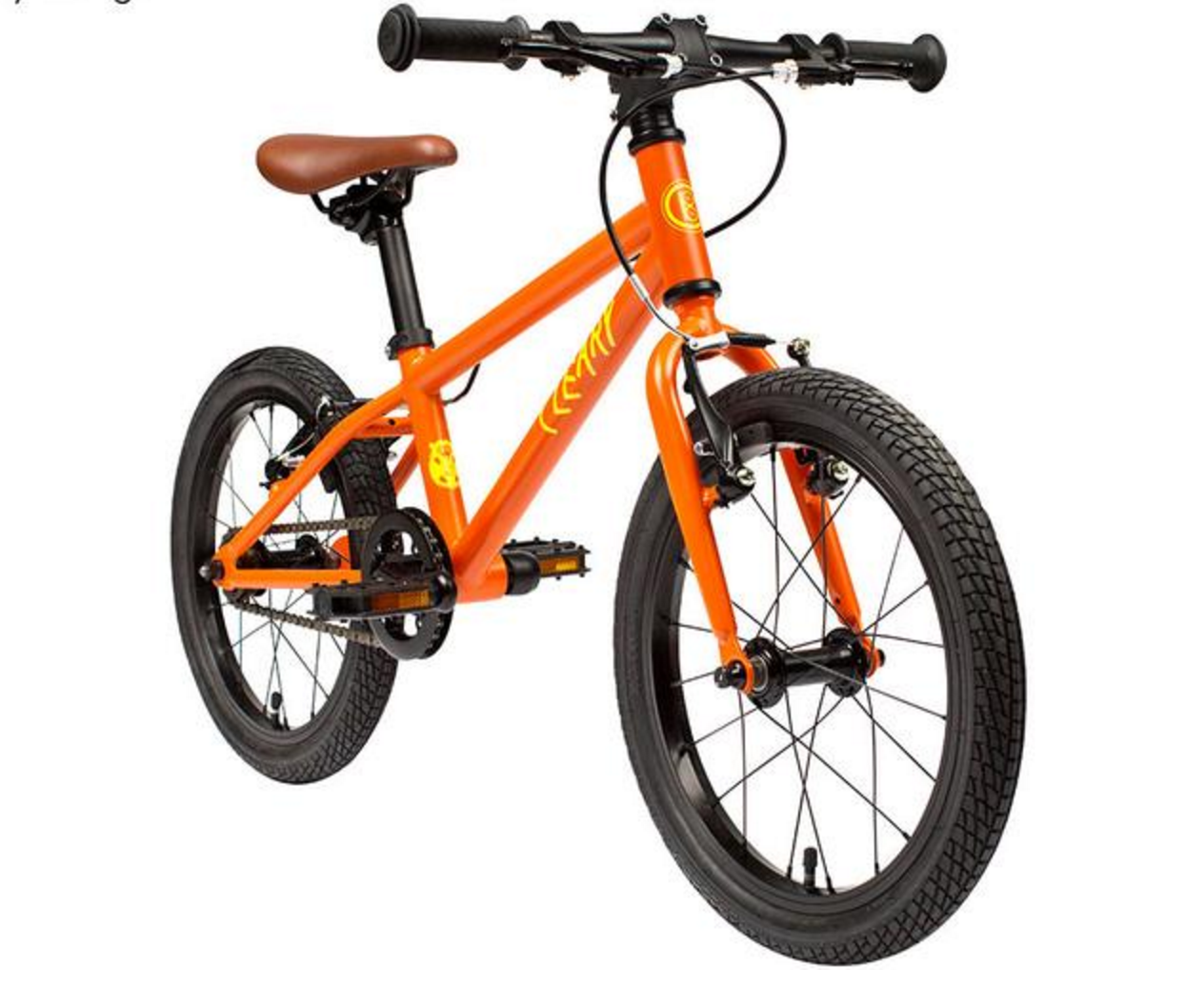 Most of these companies provide some sort of buyback program to help parents afford a bike for a quickly growing child. But at the same time they say demand is so high for high-quality kids' bikes that parents have no problem selling an outgrown bike for 70 to 80 percent of what they paid for it.
Bikes on display come in wheel sizes from 12 to 26 inches to fit kids from a year old into their teenage years. And they come in styles to match how their parents ride, be it drop-bar road, flat-bar road, track, hybrid or mountain bike.
The Frog Road 58 is a drop-bar road bike for a rider with a 58-centimeter inseam (23 inches). And there are Frog Road 67 and Road 70 models for taller kids. Islabikes offer three sizes of its Luath drop-bar bikes from $650 to $800, and all are spec'd with cantilever brakes for road and off-road use.
Bikes like PreVelo's $499 Alpha 4, Woom's $450 5, Islabikes' $650 Beinn 24 and Frog's $450 Hybrid 62 have narrower tires than full-on mountain bikes but more tread than road bike tires, so they are good for mixed-surface riding just like an adult hybrid bike.
Do 25-pound-plus kids' mountain bikes turn you off as much as your kid? What do you say to sub-20-pound bikes with frames made out of titanium, carbon or alloy? Kids' mountain bikes never looked better.
If you are really looking for a light bike, forgo the suspension fork, as it usually adds three or more pounds to the bike.
Trailcraft's $2,700 Ti Pineridge 24 Pro (Booth 426) — spec'd with a rigid titanium fork, Shimano XT 1-by 11-42 cassette and Stan's NoTubes wheels — weighs just a touch over 19 pounds. The company's $1,775 Aluminum Pineridge 24 Pro comes with a suspension fork and weighs a little more than 21 pounds. Trailcraft's 24-inch titanium fork is available separately, for parents looking to lighten a bike they already own.
Islabikes is launching its Pro Series bikes at Sea Otter. While its main-line bikes are no slouches, the Pro Series road and mountain bikes feature upmarket graphics, lighter smooth-welded frames, better component spec, and an upmarket price tag to match. The $2,300 Creig 24 mountain bike has a RockShox 30 Gold fork, a SRAM and Shimano mixed drivetrain, and Avid hydraulic disc brakes. Total bike weight is less than 20 pounds.
"We realize there are not too many parents that will spring to buy a high-end racing bike for their kid, but if you want the best kids' bike it's our new Pro Series. Stop by and lift any of the bikes — you will see just how light they are," Islabikes' Goodall said.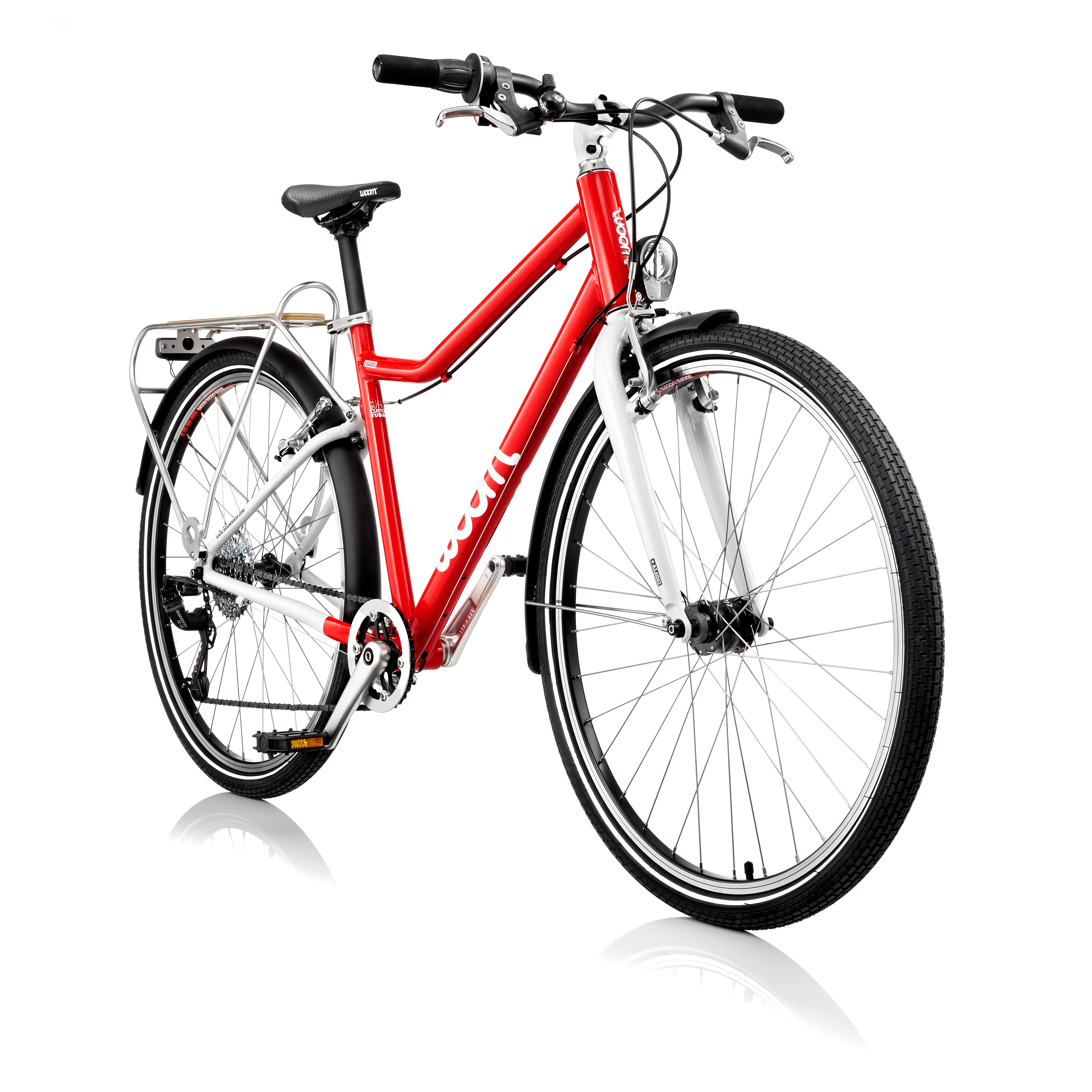 If your child is too small for a 24-inch bike, don't despair, Woom's $3,499 Woom 4 Carbonara Di2 Anniversary Special Edition kind of says it all: carbon frame and fork, Shimano XTR Di2 drivetrain, 20-inch carbon rims and sub-16-pound weight.
"We really made the bike more as a marketing tool than a model in our line. But we have sold more of them than we anticipated and may keep making them in limited numbers," said Billy Flores, Woom's operations manager.
Cleary Bikes, from nearby Sausalito, has more reasonably priced mountain bikes. Its $560 Meercat is a rigid model with 24-inch wheels. PreVelo's $899 Zulu Four, another 24-inch mountain bike, has a Suntour air-sprung fork. These bikes are only a few pounds heavier than then the much more expensive kids' mountain bikes at the expo, but they still have disc brakes and 1-by drivetrains and come in a variety of colors.