MONTARGIS, France (BRAIN) — After more than three years in development, Hutchinson Tires has launched its ElevenStorm compound, which the company is now using for its Fusion 5 tubeless-ready Galactik race, Performance and All Season road models. It will bring the new compound to its tubeless and tubetype tires later this year.
Hutchinson showed the new tires to the media in May at an event at its factory and headquarters in the small city of Montargis, France, located one hour south of Paris. As part of the launch, editors toured the factory, which has been in the same place since the company was founded in 1853, and met with Hutchinson designers, engineers and other staff.
"We had one simple request: to develop the best compound on the market. The goal was to improve grip, puncture resistance and rolling resistance," said Stehane Gonnet, research and development manager for Hutchinson's tire division. "It wasn't so easy — every manufacturer can make tires with good grip or good puncture or rolling resistance, but doing all three at once is a big challenge. We have developed countless versions and tests to achieve this new compound."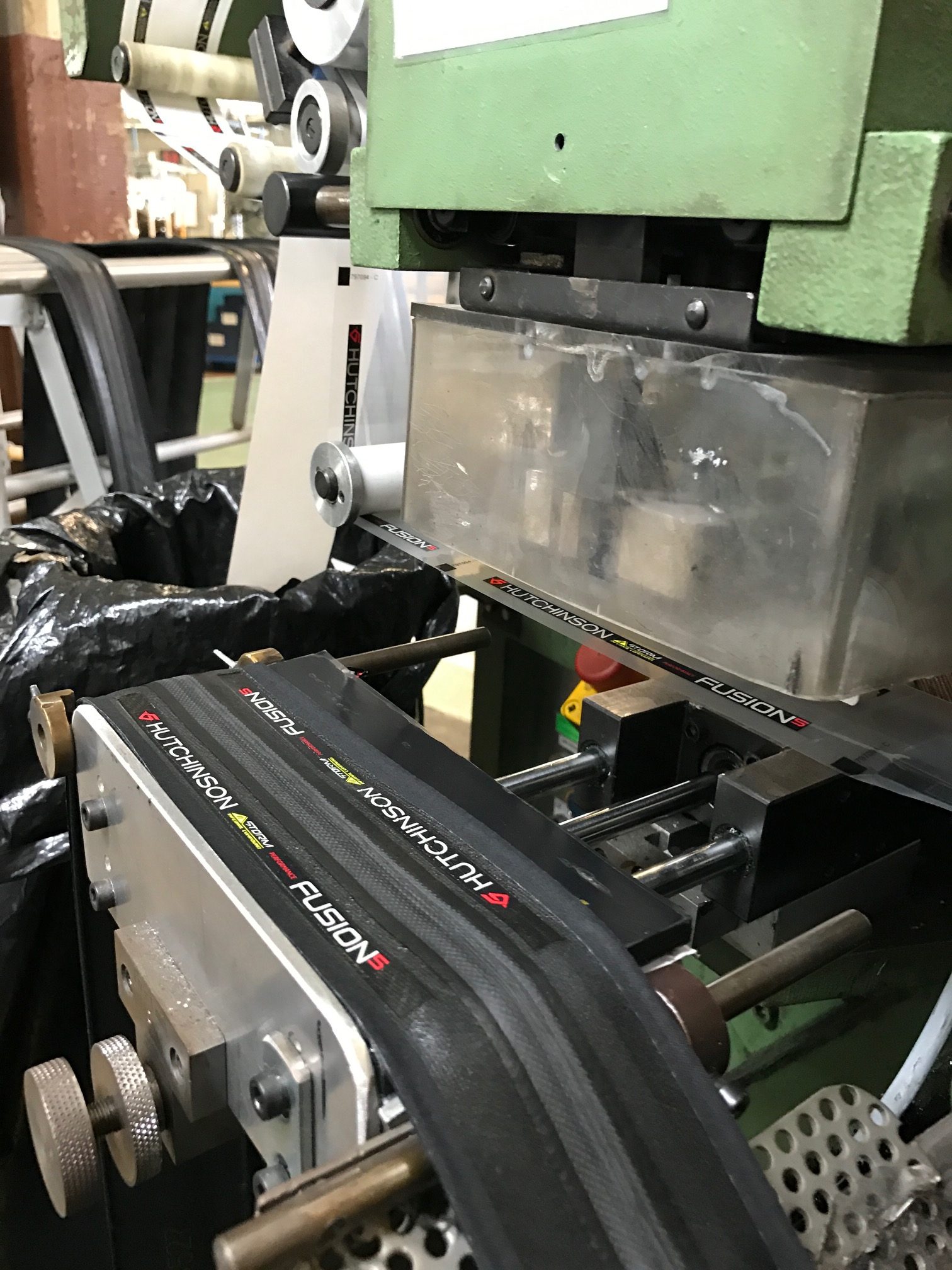 ElevenStorm is a completely new technology for Hutchinson, which began making bicycle tires at its factory in Montargis in 1890. The ElevenStorm name was inspired by the Beaufort scale, which is a measure of the maximum level of power of a storm, with 11 being a step below the hurricane classification. The company said the reference underlines the compound's extreme side and ultimate performance.
Hutchinson tested ElevenStorm in the field and in various laboratories, focusing on grip, mileage, comfort, rolling resistance and puncture resistance. Due to differences in construction, tests were split by tire model and type – tubeless, tubetype and tubeless ready.
"Having exceeded laboratory results with field tests has been a key point to optimize development," said Joel Baez, service course manager at Hutchinson. "Duplicating the three constructions and three dimension with convincing results from ElevenStorm was another challenge.
Baez said that using ElevenStorm for Hutchinson's Fusion 5 Galactik race tire, improved rolling resistance by 6 percent, mileage (tested for wear at 40 miles per hour for 5,000 kilometers) by 14 percent, and grip was improved 6 percent on wet surfaces and 2 percent on dry.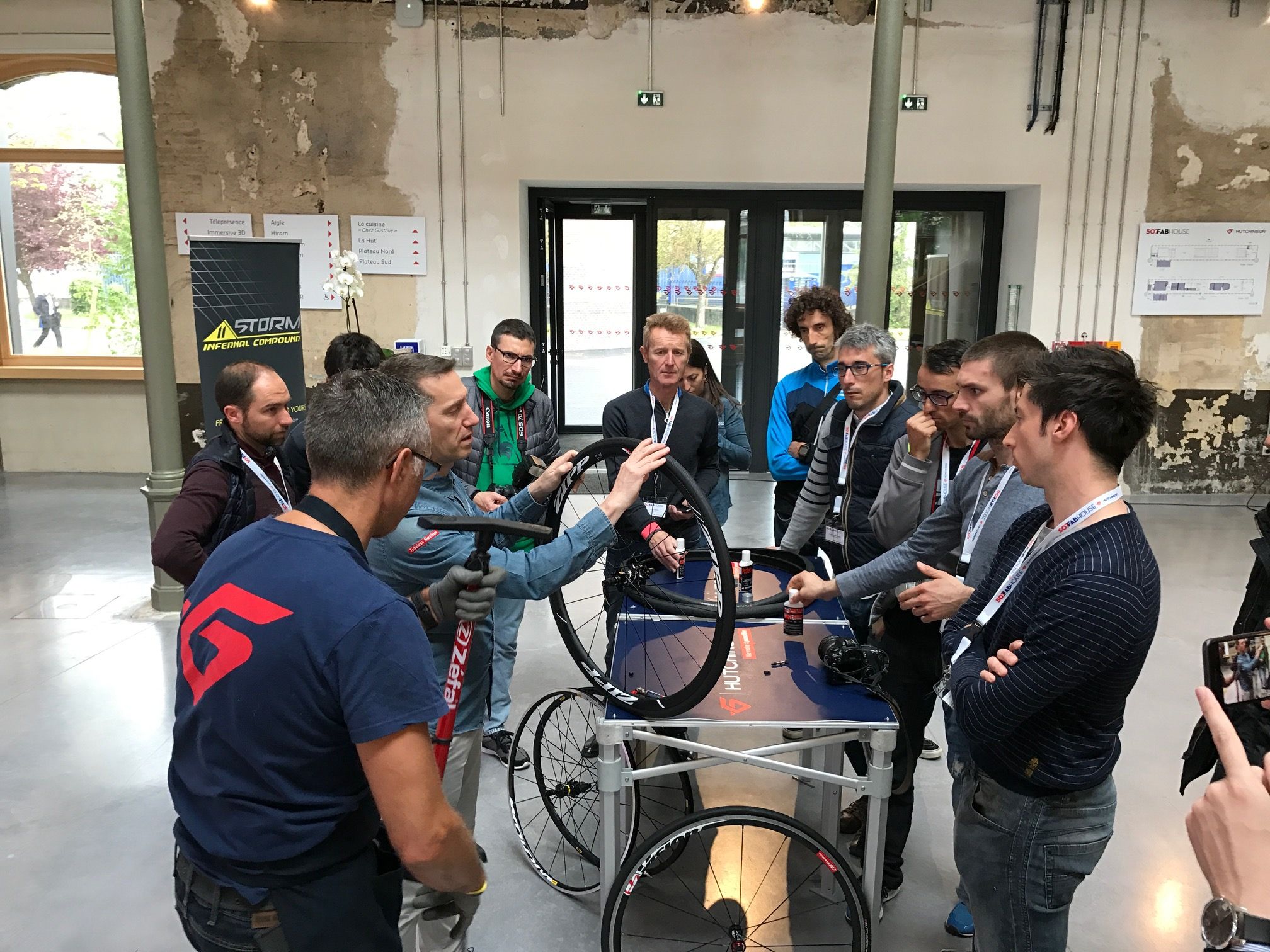 With its Fusion 5 Performance model, available, rolling resistance improved 14 percent, mileage improved 19 percent, wet grip by 11 percent and grip on dry surfaces improved by 3 percent. For its All Season model, the main goal was to improve mileage, and Baez said that improved by 22 percent, but rolling resistance also improved by 11 percent, grip in wet conditions by 6 percent and on dry surfaces by 3 percent.
But another test criterion is comfort, which Hutchinson's chemistry and materials manager Audrey Foricheir said is a bit more subjective and harder to measure. Tire weight also improved with the use of the new compound. Each ElevenStorm Fusion 5 Galactik tire weighs 180 grams.
"Comfort is one of the most important and depends on so many factors," Foricheir said. "You have to consider vibration absorption, casing behavior and feedback from the road. Many criteria have improved, and I think we maybe have the lightest tire on the market now."
Tubeless ready Fusion 5 Galactik, Performance and All Season models using ElevenStorm are available now for $86.99. Hutchinson currently has 700x25c sizes in stock with additional widths becoming available in the fall. Tubetype and tubeless versions will also be available this fall. Hutchinson will also begin using new packaging and provide ElevenStorm POP displays later this season.
Look for more about Hutchinson's factory in Montargis in Bicycle Retailer's September 1 Eurobike issue.