First day Eurobike report: New stuff from Wike, CeramicSpeed, Oakley, Saris, Gates, Bryton, and more.
FRIEDRICHSHAFEN, Germany (BRAIN) — The July timing might be a change, but Eurobike remains a key product introduction opportunity for many suppliers. Here's a look at some of the introductions BRAIN spied on the event's opening day. 
Wike
Canada's Wike got a lot of attention — and a Eurobike award — for its Salamander, a front-loading child carrier bike that very quickly converts into a three-wheeled stroller. It has been quite a different response from what the product received when it was launched at Interbike last year. "Europe is about 10 years ahead of North America, don't you think?" asked Wike's Bob Bell. "The only people who stepped into my booth at Interbike were Europeans."
Wike is the largest North American manufacturer of bike trailers, most of which are sold consumer direct. The company also imports a line of products for the dealer market. The Salamander will sell for about $3,500; see the video below to see how it converts.
Wike was one of the many bike transportation and utility exhibitors at Eurobike, where you could see everything from pedal-powered street cleaners to tow-behind pop-tents and lending libraries, and at least one electric-assist cargo carrier that can carry standard pallets. 
CeramicSpeed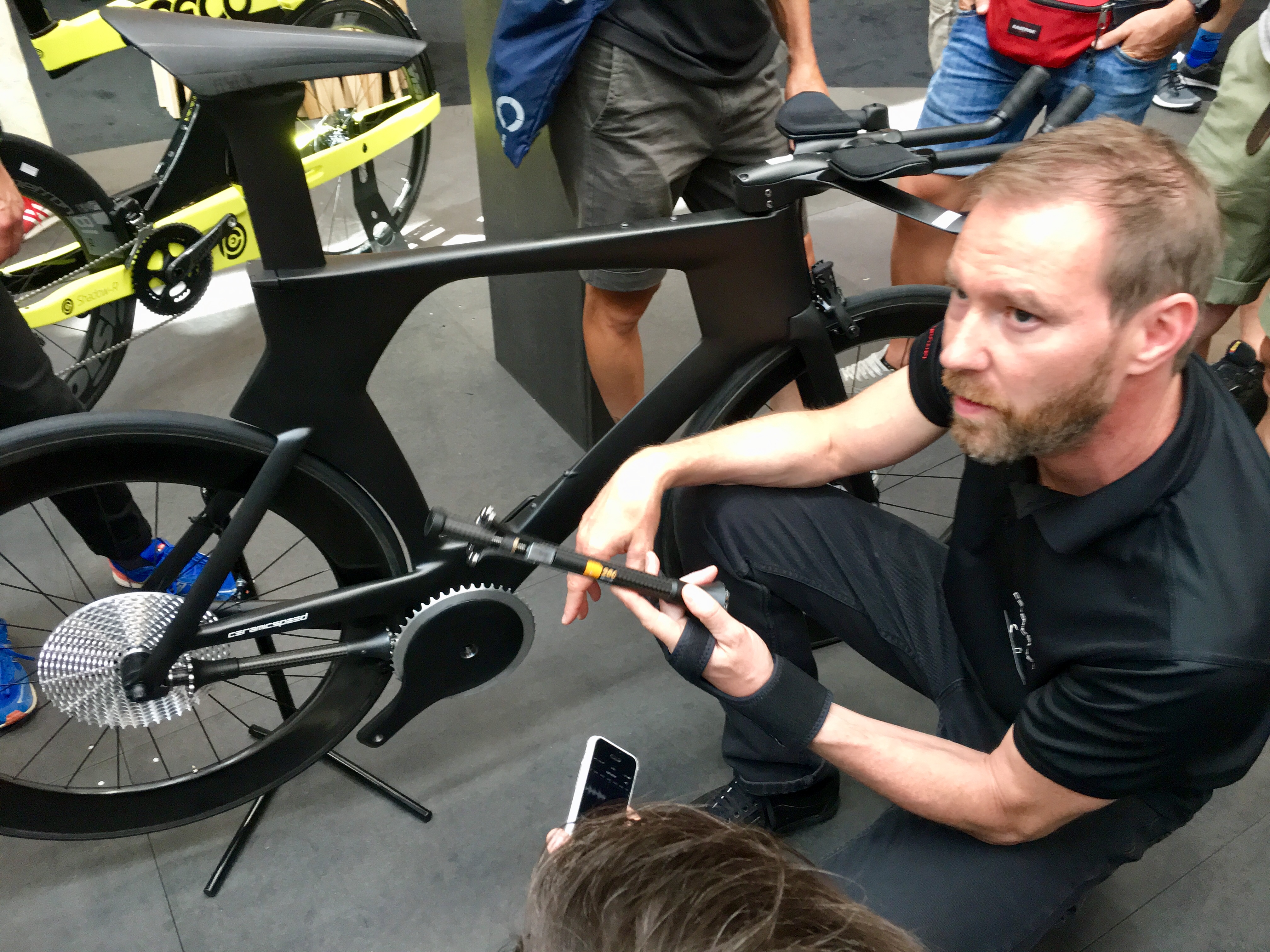 CeramicSpeed's Driven drivetrain was also a Eurobike prize winner. The Danish company worked with the mechanical engineering department at the University of Colorado to develop the system, which it claims has 49 percent less friction than chain-and-derailleur drivetrains.
"A traditional chain-and-derailleur drivetrain contain eight points of sliding friction, which is generated from the articulation of the chain at these points. CeramicSpeed's new Driven concept impressively eliminates all eight points of sliding friction," the company said. 
Driven uses CeramicSpeed bearings in a pinion-style drive shaft system. The bearings transfer torque from the front ring through a carbon drive shaft, then onto the 13-speed rear cog.
"We achieved a 99 percent efficient multispeed drivetrain while eliminating the chain and complex rear derailleur," said Jason Smith, Ceramic Speed's chief technology officer and the founder of Friction Facts. "Advancements in drivetrain technology have been evolutionary since the 1920s. Driven is truly revolutionary given its unique rolling element power transfer and unmatched efficiency. The Driven concept has the ability to change the way the cycling industry views drivetrain design and drivetrain efficiency."
The system is still very much in prototype phase, and Smith said CeramicSpeed would likely partner with another company if it ever brings it to market. While the system met the design goal of reduced friction, other challenges and advantages of the system have not been fully explored, he said. 
Oakley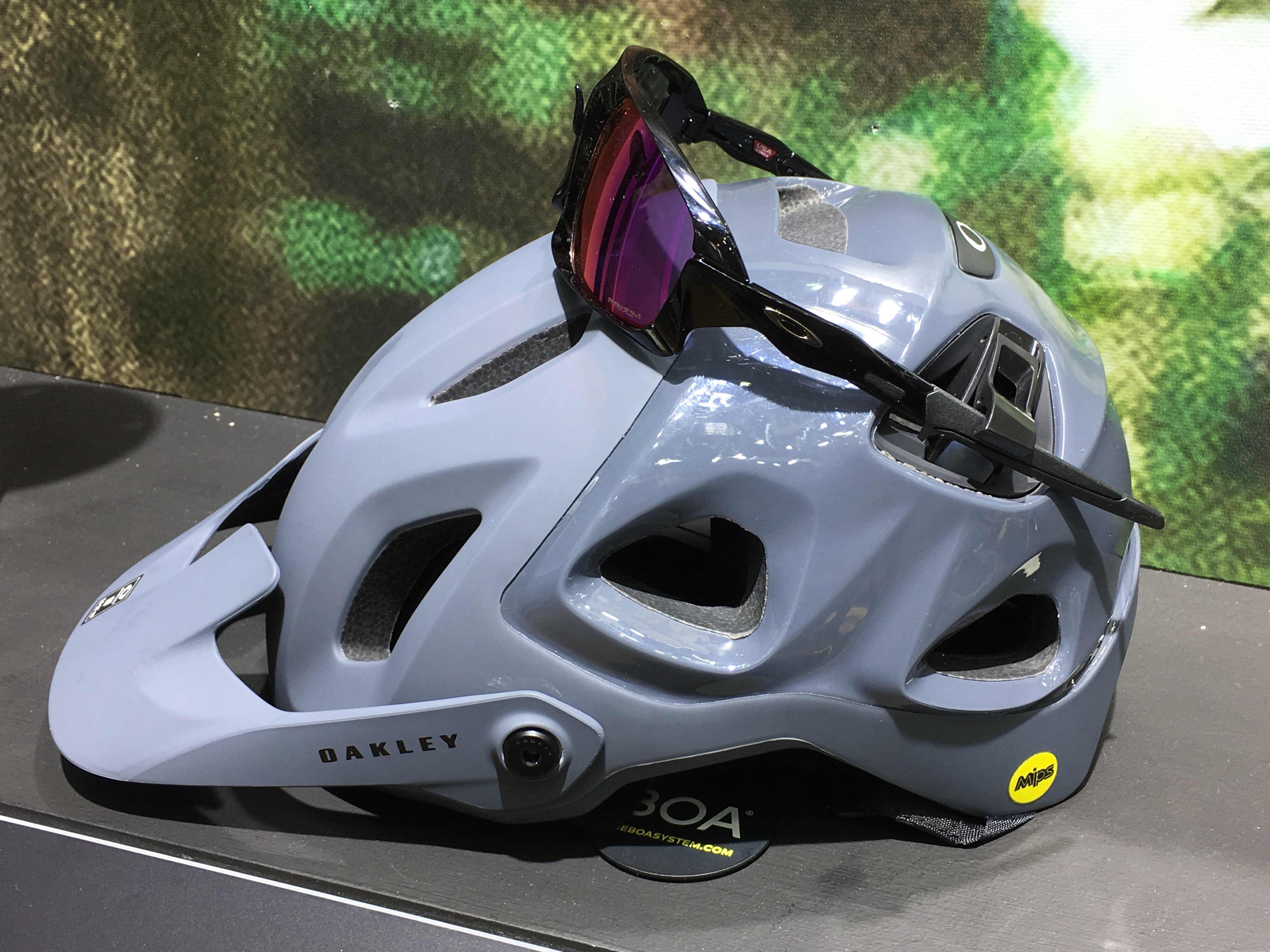 Oakley, which entered the road cycling market two seasons ago with its helmet and clothing line, is now getting deeper into the mountain bike market, with some coordination from multi-time world champion downhiller Greg Minnaar, who has been an Oakley-sponsored athlete for 21 years — pretty remarkable given that he's only 36 years old.
On Monday, Minnaar attended the launch of Oakley's mountain bike helmet, the DRT5.
The enduro-style helmet features the MIPS system and a Boa strap system (although not the integrated MIPS/Boa system that was launched Sunday. An Oakley spokesman said that might come next season).
The DRT5's most notable features relate to the company's strongest segment: eyeware. The slim Boa system allows sunglasses to attain a three-point connection with the rider; a four-channel forehead sweat band channels sweat off to the side, keeping it from dripping onto the lens; and finally, two sturdy clamps on the upper rear part of the helmet provide a secure way to stash sunglasses. The Landing Pad stowage hooks can be left unclamped for quick use, or locked down for bumpier terrain or off-bike use.
The DRT5 will be available in March 2019 for $200 retail.
Oakley also showed two new mountain bike-specific goggles, three mountain bike jerseys, an overshort and bib liners.
On the road side, Oakley showed off its 2019 model year colors and a new jersey material that contains the graphene wonder material. Oakley said the graphene helps regulate body temperature. The Dimension Data team will debut a jersey with the new material at the Tour de France on Tuesday. 
Gates BMX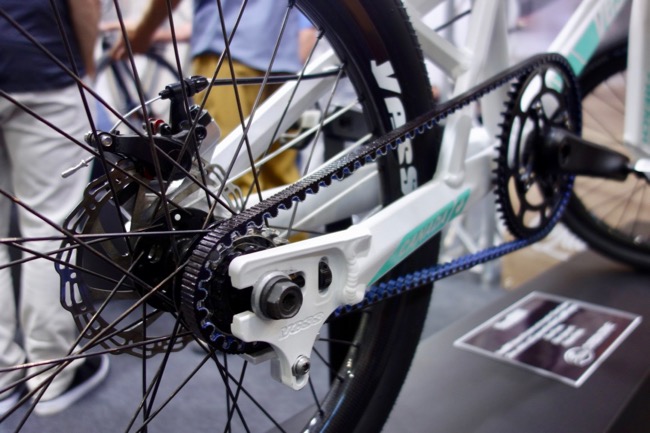 Gates was showing a wide variety of e-bikes and mountain bikes with its Carbon Drive drivetrain, and also showed a rarely seen belt-drive BMX bike.
Gates, along with the bike brand Yess BMX, had petitioned the UCI to allows the drivetrain in international competition, and the rules body granted that approval in January. The drivetrains had been used in non-UCI competition for several years.
Gates made a special 108-tooth belt specifically for BMX use. Next up: Gates may petition the UCI to allow the Carbon Drive on the velodrome.
Gates also showed new rear sprockets for Shimano internally geared hubs, a line of aluminum rear sprockets for Pinion gearboxes, and new components for several mid-drive e-bike systems. For mechanics, Gates launched a Professional Belt Tension Tester and a Professional Frame Alignment Tool for assembly factories.
Bryton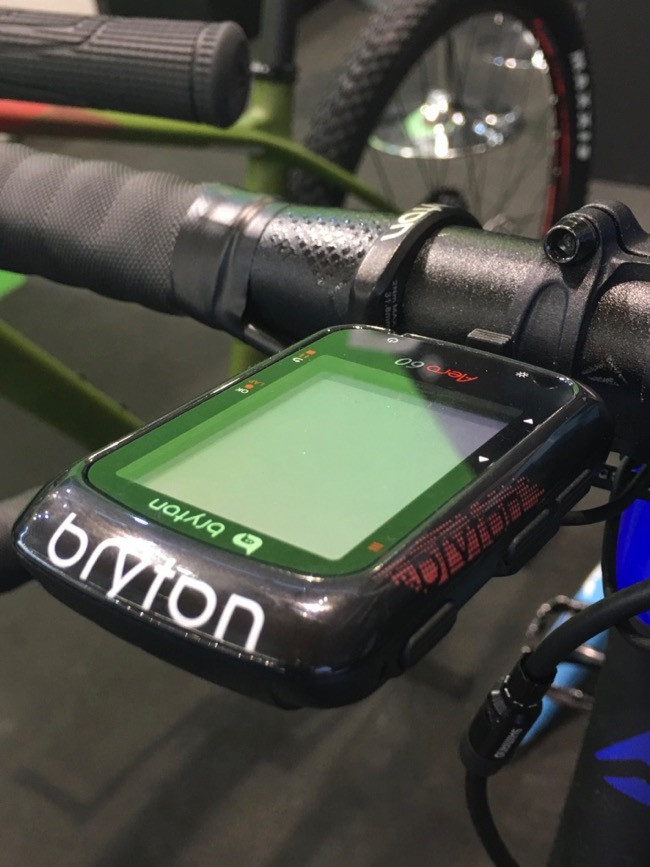 Taiwan's Bryton showed off its new Aero 60 GPS model, which comes with a streamlined aluminum handlebar clamp and retails for 200 euros. The Aero 60 has nearly 80 functions, including bike-optimized Open Street Map mapping, smart notifications, ANT+ and Bluetooth LE connectivity, and GPS/Glonass/BDS/Galileo/QZSS navigation. 
Saris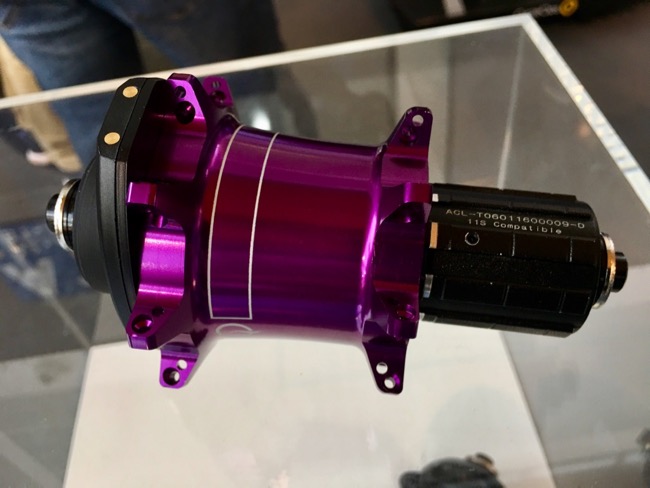 Saris is showing several updated trainers and training software, as well as a new disc-brake compatible PowerTap hub. The new G4 power meter hub doesn't require a proprietary disc rotor, like previous PowerTap hubs; it uses a standard Centerlock rotor attachment. The G4 also has a rechargeable battery that uses magnetic charger cable attachment, rather than a Micro-USB plug, which could get contaminated with dirt and water. The company said production versions will not be purple, like the show model shown above. 
Saris' Hammer trainer is now called the H2 and features cadence detection, a more robust realistic ride feel and a headless use mode, for riders who don't want to use a computer or headunit to train. Accuracy has been improved to plus-or-minus 2 percent. It retails for $1199. The new M2 trainer (previously called the Magnus) gets the same firmware updates as the H2, including cadence detection and improved ride feel. It retails for $599.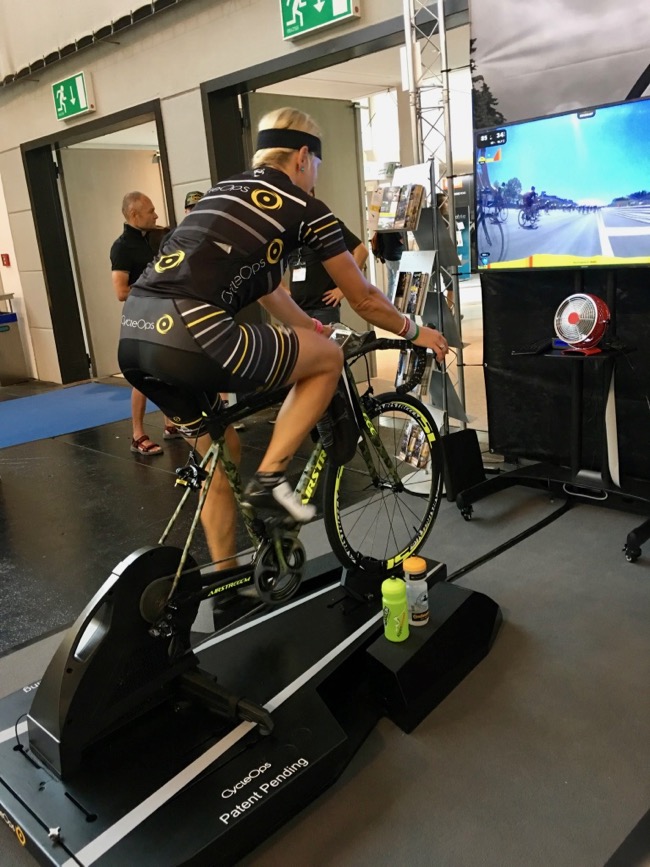 Saris also showed an unnamed platform that can be used under a trainer. The platform can rock and move forward and back to respond to ride movements, which increases the realism of the ride and also reduces fatigue on long stationary rides, said Saris' Erick Albers.
"With Zwift, a lot of people are spending a lot of time on trainers," Albers said. The platform movement allows the bike to move under the rider as it does on the road. "When you ride a static trainer, that movement is transferred to saddle pressure and handlebar pressure," he said.
There are currently no specific plans to bring the platform to market, he said. "We just brought it to see what kind of feedback we'd get."