LAS VEGAS (BRAIN) — Panasonic, an e-bike pioneer that has been on the sidelines of the mid-drive motor boom, is making a new bid for market relevance by announcing a partnership with Kent International.
Kent's specialty brands, Van Dessel and Univega, this spring will launch the company's first e-bike models incorporating new Panasonic mid-drive systems. The e-bikes will be assembled in Kent's South Carolina factory and sold in North America and Europe. Panasonic intends to announce partnerships with other U.S. and European brands in the coming months.
"What we've launched here is just the tip of the iceberg," said Reid Sigety, vice president of the Electric Bicycle Business Unit for Panasonic North America.
The Japanese electronics giant, which posted sales of more than $73 billion in 2018, said the system is not just another electric bike motor. "We're looking at this as the micro-mobility industry. I think that's a really important piece," Sigety said.
To emphasize the point, Panasonic debuted the e-bikes at January's sprawling International Consumer Electronics Show alongside the new Harley-Davidson electric motorcycle, LiveWire. While Panasonic doesn't make the engine for the LiveWire, it is providing a cellular connectivity system that will let LiveWire owners check the motorcycle's status, such as battery charge and available range, and offer theft protection, through a Panasonic app.
Sigety said similar features will be incorporated in the e-bike system soon, probably in the second generation.
"People like to talk; people like to navigate; people like to do all sorts of things when they're in their car or on their motorcycle," he said. "Why wouldn't they want to do those things on their e-bike?
Panasonic's announcement is significant for Kent International.
"They're completely vested right now in this project. I feel very fortunate that we're going to be their partner in this thing," said Arnold Kamler, chairman and CEO of Kent.
The bikes will be sold exclusively through IBDs. With Japanese motors, Taiwan-made frames and U.S. assembly, the bikes largely bypass the recently imposed tariffs on Chinese-made e-bikes and other bike products. Just a handful of parts will come from China, Kamler said.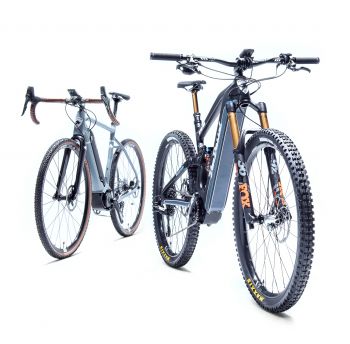 "On an item that's going to be $2,500 or $4,000, the non-e-bike components are only a few hundred dollars at most. If we have to pay an additional tariff on that, it's not a big deal," he said.
He said the Univega models have the potential to sell up to 10,000 units, and the Van Dessel models up to 3,000 units in the U.S. and 20,000 worldwide. Kent eventually plans to sell a complete line of "deluxe e-bikes" under the Van Dessel brand in the U.S. and Europe.
The initial line of Panasonic-equipped e-bikes will include two Van Dessel models – the full-suspension Captain Shred e-mountain bike, with a retail price of up to $8,499, and the hardtail e-gravel bike, which will retail for up to $6,499. Van Dessel plans to race the Captain Shred in this year's World Mountain Bike Championships, where the UCI has sanctioned its first e-MTB world championship series.
Under the Univega USA brand, Kent will launch the Univega UVG-1 e-touring bike.
The Panasonic drive systems offer some promising specs for e-bike enthusiasts. Its top-of-the-line GX0 system, used on both Van Dessel models, weighs 2.95 kilograms (6 pounds, 8 ounces) and generates 90 nM of torque.
The X0 system, which appears on Univega UVG-1 touring e-bike, weighs 3.7 kg and generates 80 nM of torque.
Editor's note: This story appeared in the Feb. 1 issue of Bicycle Retailer & Industry News.