A version of this article appears in the February issue of Bicycle Retailer & Industry News.
By Alan Coté
Recently published documents show that Fox Factory may be adding crankarm sensors to its super-techy Live Valve suspension control system. Besides the performance advantage this might add, the company is angling to bolster its presence in the OE market through component bundling. Put simply: Currently if a bike maker wants to add Live Valve to a model, they need to spec' a Fox shock, Fox fork, and the Live Valve system itself. If Fox follows through and adds a crank sensor to Live Valve, the bike brand might need to spec' a crank from Fox-owned Race Face or Easton, as well.
Current Live Valve systems include electronic sensors to control compression damping for both front and rear suspension. Sensor types include front and rear accelerometers, as well as orientation sensors to determine if the bike is climbing, descending, or even unloaded in mid-air. Sensors are wired to a central microprocessor, which controls damping of both shocks simultaneously. Fox says the system responds to sensor input in 3 milliseconds – orders of magnitude faster than the time it takes a rider to flip manual lockout levers. Lockouts and/or variable damping are desirable to help eliminate unwanted suspension movement, or pedaling bob, particularly when climbing hills.
Patent filings from Fox show additional sensors that may be part of the system, notably a crank sensor. A U.S. patent application published last fall is part of a family of Fox patent filings, with parent applications that date back as far as March 2009. This patent family is focused on the technology that Fox has produced as the Live Valve system, with the patent description also disclosing applicability to suspensions for other vehicle types in addition to bicycles. Live Valve suspension is used in the Ford F150 Raptor truck, as well as some models of the Polaris Dynamix UTV.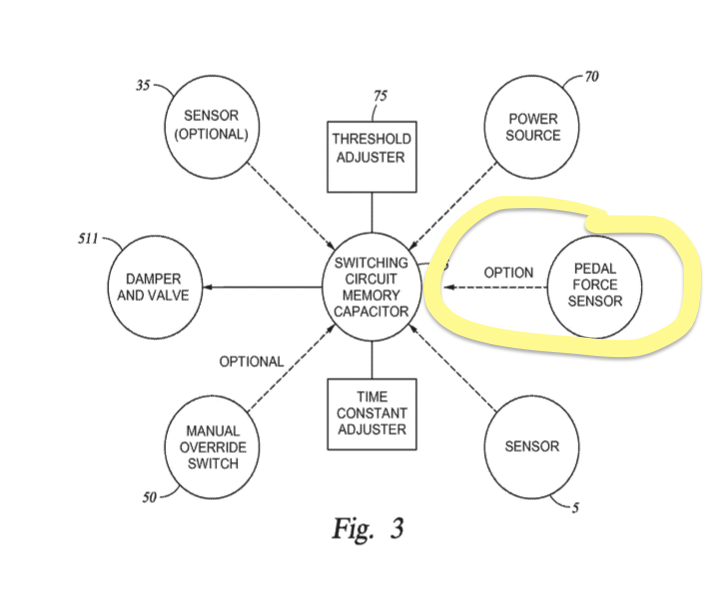 Specifically, the October application describes one of the sensors as a "pedal force sensor," while also suggesting that it may measure acceleration only. This could mean a power meter type sensor on the crank, similar to what's offered by Stages, 4iii, and others (Easton has also offered a crank spindle-based power meter for its cranks). Increased pedaling effort, signifying climbing or sprinting, could signal the system to lock-out the suspension, perhaps in conjunction with input from other sensors.
A much simpler and cheaper arrangement would use an accelerometer to measure pedaling cadence – where a rider coasting signals dampers to open up and let the suspension be fully active. Cadence sensors have been in use for decades, of course, and can be added to any crank. Use of a cadence sensor to modulate suspension has also been done by the Accell-owned French brand LaPierre, with its EI system, which they tout as "the first intelligent suspension."
Patents aside, another document shows Fox's interest in using sensors to gain broad OE component spec. The company's Q3 2020 Investor Presentation includes a slide titled: "Growth Opportunities and White Space." Text on the slide includes: "Components market penetration through strategic OEM relationships," and "Evolution of Value Chain integration e.g. Live Valve integrated with crank sensor, bundling of components."
To be fair, Fox could make the crank sensor an option that could use another brand's power meter or cadence sensor, making it unnecessary for a bike brand to buy a Fox crank. Could be. But Fox itself used the phrase "bundling" in its corporate communication. And it's not hard to imagine that the system could eventually integrate with handlebars, stems, dropper posts, and even wheels — all available from Easton and Race Face.
Notably, financial information in the same Fox investor report cited shows the company spent $4.4 million in 2019 on patent litigation. In Q3 2020 alone, they spent $1.6 million on such patent battles. While detail on these costs is not available, they've likely been incurred in Fox's long-running intellectual property disputes with SRAM.
Fox and SRAM have been engaged in a web of patent lawsuits against each other dating back at least to 2016, involving claims on chainrings, thru-axles, and suspension. In addition to producing drivetrain, brake, and other components, SRAM also owns RockShox suspension, Quarq power meters, Zipp wheels, and Avid brakes. While Fox does not offer derailleurs, shifters, or brakes, the two companies are direct competitors for OE and aftermarket sales in suspension, cranks, cockpit, and wheels.
Fox released Live Valve in 2018, after years of development. The company called it a 'halo' product, adding approximately $2,000 to the retail cost of a bike. At that price it's unsurprising that OE spec has been limited to some high-end models from Giant, Pivot and a few other brands. Fox does not offer a general retrofit kit, and says the system only works with frames that are designed to be Live Valve compatible.
Will Live Valve be the arrowhead for Fox to increase their OE sales? Spec' sheets for new bikes over the next few years will tell.
BRAIN reached out to Fox for comment on the Live Valve evolution. We haven't heard back yet. 
Alan Coté is a Registered Patent Agent & principal of Green Mountain Innovations LLC. He's a past contributing writer to Bicycling, Outside, and other magazines, and a former elite-level racer. He also serves as an expert witness in bicycle-related legal cases