SEASIDE, Calif. (BRAIN) — Coefficient Cycling is taking a fresh approach to handlebar packaging and display materials. The company said its goal was to provide purchasers of its carbon bars — which sell for $350 and $399, depending on model — with an upscale unboxing experience.
The company also has set out to give IBDs display materials appropriate for a pricy product that's visually unique.
"We felt with a high-end product like this bar it should be packed as elegantly as a helmet is, or as a drivetrain group from one of the big manufacturers," said Coefficient COO and co-founder Rick Sutton.
The handlebar packaging consists of a recycled cardboard box that leaves the center of the bars exposed to display its unusual shape. The packaging also explains the features and contains athlete testimonials. The packaging also includes bar endcaps, made of foam that is 60-90% recycled, that protect the bar ends from scratches.
The packaging is made in the U.S. — Coefficient provides its U.K. distributor with the packaging specs so they can have it made locally. Dealers and distributors buying the bars in bulk can received the bars without packaging to reduce packaging costs and environmental impact.
Previously, Sutton said, Coefficient had packaged its bars much like other brands. "We had done a pretty little header card with hanger hole on it. Zip-tie the header to the bar and away you go. We wrapped in bubble wrap for shipment so when it gets there it looks nice.
"But we did an analysis of the time it took (to package a handlebar for shipping), and got feedback from the marketplace, and then we did this. The packaging costs are a little bit more than before, but we make it up in efficiency," he said.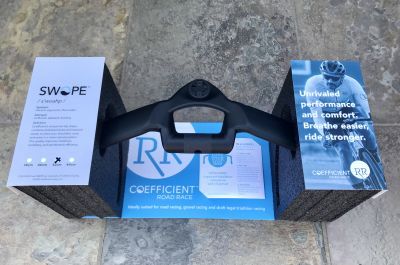 With the new packaging the bars still ship in the same size box, he said.
Coefficient's sheet metal retail display works on a shelf, counter, or on slatwall. It includes a changeable feature card for each of the company's two handlebar models. Each display ships with 25 feature cards for each model. It's preferable to the old retail standby of sticking drop handlebars on two slatwall pegs, he said. 
Coefficient sells dealer direct in the U.S. and has a European distributor based in the U.K. 
More information: coefficientcycling.com.