A version of this article appeared in the January 2022 issue of Bicycle Retailer & Industry News. (Subscribe here if you are not receiving the print magazine).
WHITE CITY, Ore. (BRAIN) — Cerakote, a spray-on ceramic polymer finish, has been available for over a decade and is a mainstay in the firearms industry, where it is lauded for its tight tolerances, chemical and corrosion resistance and other attributes.
In the last few years, NIC Industries, the Oregon company that sells Cerakote (as well as Prismatic Powders for powder coating), has been looking to diversify into other industries. Cerakote now appears on watches, auto and motorcycle parts, electronics, CNC-printed parts, coffee mugs and more.
Cerakote's Jeremiah Gooding said some bike makers discovered the finish even before the company began to reach out to the industry a year or two ago. Gooding, an account manager for Cerakote's lifestyle clients, said his role is now to "make sure we are not seen as just a firearms supplier."
Cerakote regularly features bike projects in its Instagram feed and Gooding and other company managers have spent time with various bike industry finishers, training them in using its finishes on bikes and parts.
In the last year Silca, Rodeo Labs, Alchemy, MRP, Sage, VYNL, We Are One Composites, Merlin, Dean and other brands have shown products with the finish.
The thin, matte-like appearance appeals to handmade builders, who often use masking to contrast it with shinier finishes like paint or polished titanium.
 

 

 

View this post on Instagram
But beyond the Instagram-worthy appearance, Cerakote has other strengths and weaknesses relative to other options.
Denver's Flux Customs paints bikes and parts for builders and consumers, offering wet paint, powder coat and Cerakote.
"Cerakote wins for the weight-weenies," Flux owner Chris Ellefson said. The finish can shave ounces off a frame compared to powder coat or wet paint.
Cerakote also is excellent for parts that flex or bend, like spokes, he said.
"You can bend a part in half and it won't crack," he said.
Unlike powder coat, Cerakote will cover sharp-edged details like frame lugs.
Cerakote is applied very thinly — at 1 to 2 mils (.001-.002"), compared to wet paint, which is 4-6 mils depending on how many coats are applied, and powder coat, which can be 8-10 mils. It's so thin that Cerakote can be sprayed on threads with no need for chasing before assembly.
A downside is that most Cerakote finishes need to be baked, which can be a challenge for carbon fiber.
And, despite some marketing that presents Cerakote finishes as virtually bomb proof, Ellefson said powder coat — thanks to its thickness — is more resistant than Cerakote to scratches and abrasions like cable rub on a frame.
 

 

 

View this post on Instagram
"I tell customers to be conscious of bag straps and cable rub; that kind of thing will wear through eventually," he said.
Ellefson concedes that Cerakote's E Series finish is extremely durable, but that series is rarely used on bike products because it requires a 300-degree bake and has limited color options. Most bike products use Cerakote's H Series.
For a glossy finish with fades and other features, wet paint is still Ellefson's favorite.
As for cost, Ellefson said it's a wash; all else being equal, he charges the same for paint jobs whether he sprays with paint, powder or ceramic.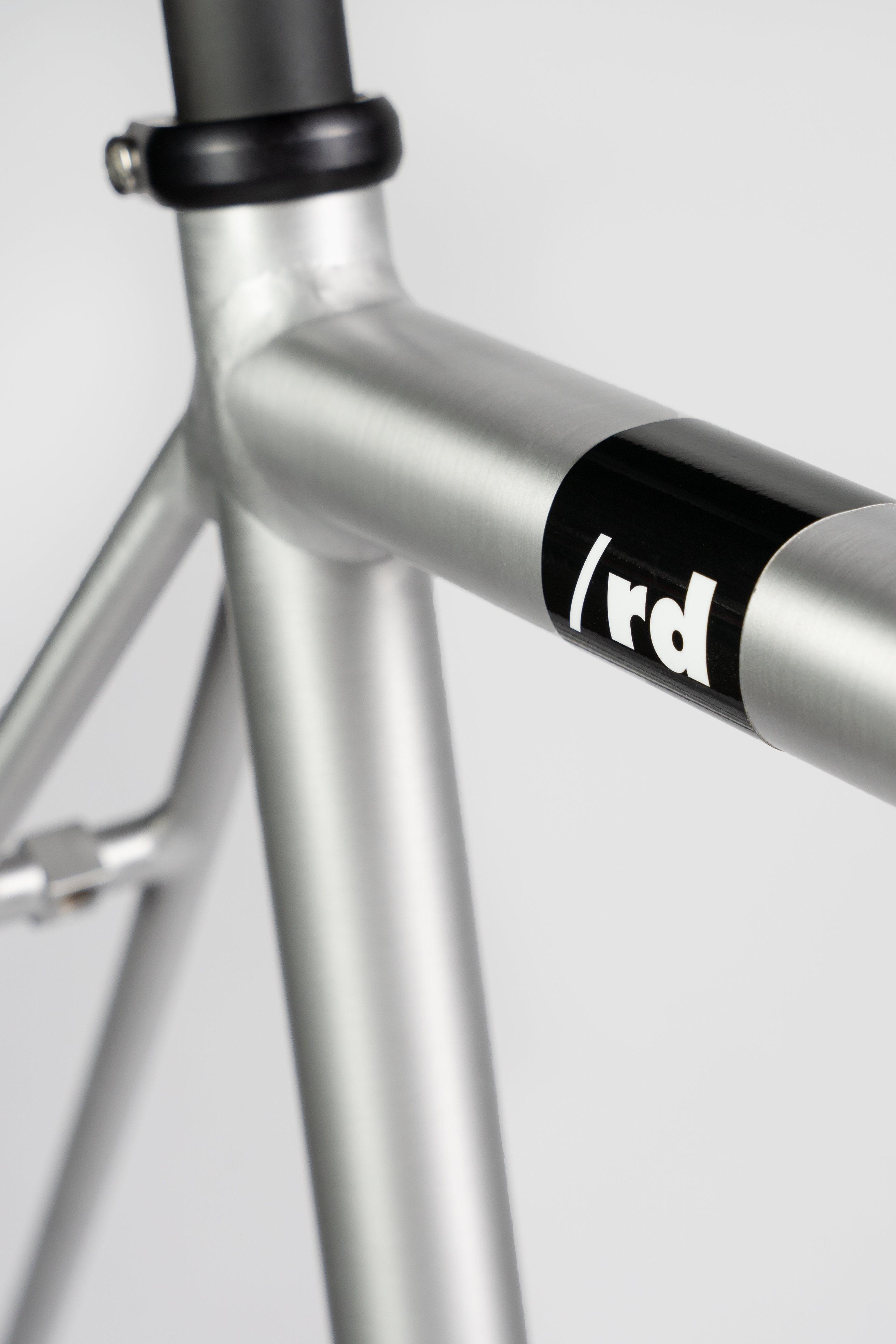 VYNL, a consumer-direct bike brand based in Boulder, Colorado, uses a clear Cerakote finish on its "raw" finished frames. VYNL owner Max Clauson said he prefers Cerakote's matte finish to the glossy wet clear paint.
"The Cerakote clear adds oxidation protection without changing the look of the aluminum underneath like regular clear coat does," he said.
Clauson said he reserves the finish for road frames. "It's really thin, so for gravel it has some questionable durability qualities in my experience. On the road it's probably fine," he said.
Frame and component makers are learning how to use the trendy finish on carbon. Flux has used Cerakote to paint carbon rims and other parts. And Alchemy's newest carbon gravel frame, the Rogue, features Cerakote's H Series finish.
"We are experimenting with lower temperatures and longer cure times to dial in the curing process on a carbon frame," said Phil Harwood, Alchemy's head painter. "Since many variables affect cure times such as shop temperature and humidity, it is currently a work in progress, but the magic number seems to be right around 200 degrees," he added.
Harwood said he's confident the H Series finish will hold up to cable rub.
"It is at least three times thinner than a traditional paint clear coat, not to mention the basecoats and undercoats often applied in a wet paint job, so there is far less material for a cable to potentially rub through," he said.
 

 

 

View this post on Instagram