A version of this article ran in the October issue of Bicycle Retailer & Industry News. 
NATICK, Mass. (BRAIN) — A veteran of bike retail and supply, Jonas Mikolayunas has devoted the last several years of his career to developing a tool that many bike shops didn't know they needed: A brake-disc burnishing machine.
If Mikolayunas' Disc-O-Matic machine becomes a shop staple, mechanics may or may not be overjoyed. It could replace technicians' mid-day laps pedaling around the neighborhood, breaking in new pads and rotors with starts and stops. But the shop time and cost savings could be significant, and when it's snowing or 100 degrees, even the most dedicated mechanic might prefer to stay inside, anyway.
Mikolayunas' company, bonaslabs.com, was set to begin accepting dealer orders this month, with deliveries starting in November. Coincidentally, Sinter, the Slovenian brake pad manufacturer, also plans to begin delivering a similar device early next year. 
It's not clear how many shops regularly bed-in replacement pads or rotors, or the brakes on new bike assemblies. Some retailers tell BRAIN that they do the bed-in procedure on test rides. 
"I have no data to say one way or another either about how many shops do a proper bed-in for the customer, but my inner cynic would wager not enough," said Jenny Kallista president of the Professional Bicycle Mechanics Association and owner of the Appalachian Bicycle Institute. "I teach my students how to properly bed-in disc brakes in a similar manner as SRAM or Park Tool, both of which have videos and detailed directives on how this is best done," she said. She said students are taught to avoid switching pad materials on a rotor that has already been bedded in. 
At Landry's Bicycles, the Boston area's largest retail chain, new assemblies and new pads always get the bed-in procedure. And since Landry's sometimes assembles 400-500 bikes a week, that's no small task, Mikolayunas said. He worked at Landry's for eight years and his new business is near Landry's Natick location and he's watched the mechanics at work.
"These guys are taking bikes out to ride up and down the hill for 10 or 15 minutes. They get sweaty, they have to come back and take off their helmet to get back into assembly mode," said Mikolayunas. "If it's raining or snowing, they might set aside the bikes to do later, but the bikes might get moved somewhere first — things happen," he said.
Landry's now has nine prototype Disco-O-Matics across its locations.
Disc-O-Matics look a bit like a piece of Ikea furniture, with a hardwood frame and rollers. Dual rollers are positioned to keep bikes stable as mechanics set front or rear wheels on them and step on a foot pedal to start up the 1 horsepower motor that drives the roller. The motor registers the drag from the brake and flashes a light to let the mechanic adjust when the bedding is complete. Different pad materials require different amounts of bed-in, which Mikolayunas is working to document. 
The science of tribology
All manufacturers recommend bedding in new pads and rotors by making multiple stops (or near stops) at increasing speeds. Mikolayunas said he found little detailed information from bike brake makers on the process, but there is more science in the powered vehicle world. He's been reading up on tribology, which is the science of wear, friction and lubrication and also a cunning addition to your industry vocabulary.
Mikolayunas learned that bed-in is actually a two-step process. 
The first step is the bedding, which increases the surface contact area between the pads and the rotor. 
"The initial surface area contact of a new brake pad on a new rotor is relatively small," he wrote in a product document he shared with BRAIN. "The amount of surface contact is known as 'percentage bedding' and the goal is to maximize this percentage before moving to the second process.
"A small percentage gain occurs almost immediately as, under initial clamping pressure, the piston, seal, pad and rotor come into alignment and square with one another," he wrote.
More surface area contact is created as the pad compound conforms to the shape of the rotor.
Once there is sufficient surface contact percentage, the next step is the burnishing, the transfer of material from pad to the rotor. 
Mikolayunas said mechanical, thermal and chemical transitions occur during the burnishing. A type of burnishing would occur if a rider took a bike with a new set of pads to the top of a hill and dragged the brakes all the way down. But without the initial bedding step, that burnishing would occur on a small percentage of the surface area and result in brake noise and power issues. 
"Failure to properly bed-in and maximize surface area contact prior to burnishing leaves less surface area to shoulder the burden of the high-temperature stresses and causes irreparable damage to the friction surfaces," Mikolayunas said in a document shared with BRAIN.
The machine
Mikolayunas has professional furniture-making experience, so it made sense to build the Disc-O-Matic chassis from engineered wood. His experience in bike retail informed the product's details, however. 
For example, the tool is built with no proprietary parts or permanent bonds. Instead, it's 95% assembled with standard metric bolts, allowing any shop to repair, update or modify it easily. The v-belt that drives the roller is adjusted with an imperial-sized wrench — which is included with the machine and stored inside the chassis. The belt itself can be bought at any auto parts store. 
"'Right to Repair' is pretty big in my book," he said.
The chassis is designed so it's stable in use, and also stable when placed on its rear end for any necessary service. 
There is a 2-year warranty on the motor, electrical components and bearings and a lifetime warranty on the chassis. 
The chassis is made from Baltic birch plywood, while the roller drums are endgrain hardwood. The endgrain accepts transferred tire rubber during operation, which increases drive traction as the machine is used. The hardwood also damps the sound from tire knobs, he said. 
Mikolayunas has filed provisional patent paperwork on some features of his product, including its brake pressure gauge and its ability to adjust for different wheel sizes.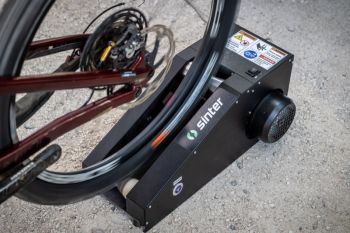 Sinter's new product will retail for around $1,000, said Bruce Fina, the company's U.S. sales director. It will be Bluetooth compatible and eventually mate with a mobile app that mechanics can use to run the bed-in process, but the app is not expected to be available immediately. The machine is already in use by the Unior Sinter race team and will be available from Unior USA, which distributors Sinter pads in the U.S. 
Fina said bed-in is critical for riders who want to get the most from their brake systems. "When brakes are poorly bedded in they all perform similarly," he said. 
CycleOn, a Dutch company, offers a similar machine that sells for about 1,500 euros; it's not clear if the product is available in the U.S.
The savings
Mikolayunas estimates it takes less than one minute per brake to use his machine, compared to 10-15 minutes doing an outside bedding process. If a retailer currently beds in all new disc-brake bikes, the bike assembly time savings would be significant.
Mikolayunas said bedding-in brakes on new assemblies and service could reduce returns for poor brake performance or noise. 
"If someone comes back with a squealing brake because the pads were never bedded in, the only solution might be giving them a new set of pads and rotor. Shops don't make much money on new bike sales as it is," he said. 
Like most mechanics, Chris Murray, the editor of BikeMechanicNews, loves a new tool. He said the Disc-O-Matic could be useful for high-volume retailers. "Honestly, I like it. It might be tough for smaller shops to swing the cost of, but I do see the value in it. The mechanics may be a bit sad though if they enjoyed their test rides to bed in brakes, but chances are they will do the hard work with the machine and still do a test ride after to confirm things feel right."
(Murray recently ran an interview on his site with a SRAM engineer on proper brake bed-in procedures.)
Ready to launch
Besides his time at Landry's, Mikolayunas has worked on the supplier side of the industry at Evil Bikes and e*thirteen. That, and his woodworking experience, made this product an ideal project, he said.
"After a few years focused on this, I'm finally ready to launch it. I stepped away from the industry for a while, and decided this project allows me to do my own thing and utilize a bunch of skillsets I have. I like working with tools and solving problems, and having spent the better part of my life in the bike industry, I have an idea of what small businesses need," he said.
The Disco-O-Matic will sell for about $3,500 and be available for store purchase in November. A website, www.bonaslabs.com, went live on Oct. 1.