BROOKLYN, N.Y. (BRAIN) — It's possible, in some distant future, that an e-commerce customer support specialist with literary and dramatic aspirations will write a stage musical set in her cube farm.
Possible, but unlikely.
But a bike shop — a real, gritty, kerosene-smelling, brick-and-mortar storefront, in pre-gentrified Brooklyn, back in the day before social media, "showrooming" and clipless pedals — now THAT's a setting and an inspiration worthy of Broadway, or at least some multiple of off-off-Broadway.
Elizabeth Barkan proves it. The ex-road racer, ex-bike messenger, ex-bike shop owner, actress, singer, hand model and spin-class instructor co-wrote and stars in a one-woman musical, "Bike Shop," which will be produced June 20-July 6 this year at Manhattan's Theater for the New City.
While the plot is not autobiographical, "Bike Shop" was inspired by a store that Barkan and a partner ran in Brooklyn's Fort Greene neighborhood in the early 1990s. The main character is Bobby, a mechanic who has retreated from life following a traumatic accident. She works in the shop founded by her Irish-immigrant grandmother in the 1930s. During the production, Barkan plays all six parts, including the grandmother and an array of colorful customers. During much of the play, she speaks and sings while working on a bike.
"What I like about the bike shop is there's something so warm and cozy about it. It's very human and like its own little set," Barkan told BRAIN in a phone interview this week. Although the musical spans several decades, the bike shop set doesn't change much.
"No matter what decade you are in, the tables are in same place; it's the same shop. The bikes change, though," she said.
Barkan is a lifelong bike lover who was a messenger in her teens, and raced for a time on the Winning-Peugeot road team. She attended the LaGuardia High School of Music & Art, the inspiration for the film "Fame." Even while working as a messenger, racer and a retailer, she pursued her love of theater.
"It's hard to sing while truing a wheel!" — Elizabeth Barkan 
"Even when I had the bike shop, I was auditioning, doing off-off-Broadway musical theater. … I played Glenda in the Wizard of Oz and I did a whole bunch of off-Broadway shows. Then I did some commercial work and some hand modeling, whatever paid the bills."
The day job had its benefits. Barkan often got stuck with parts cleaning chores at the store, using kerosene as a degreaser. "I was doing hand modeling and I had my hands in kerosene 90 percent of the time. People would ask my secret for having such soft hands, and I would say, 'kerosene!' "
"A different time for bike shops"
Brooklyn retailer Will Wood provides most of the bikes, parts and tools that make up the "Bike Shop" set. A neighbor and the holder of an MFA degree in acting himself, Wood has been a friend and supporter of Barkan and her production for years.
"We had that shared interest and background in bike shops and theater, so I certainly could appreciate her vision," he said. "I've certainly been at least an ear to listen to her ideas since the beginning, although in truth most of my support has been in letting her take parts and frames that we were throwing out."
Wood's store, Spokes and Strings, is in Brooklyn's gentrified Williamsburg area. He also offers his own custom urban bike line, called NYC Bikes. He has deep respect for Barkan's pioneering store.
Barkan's shop, Fort Greene Cycles, was not far from R&A Cycles, a major retailer. But while the area has now gone more upscale, in the late 1980s and early 1990s it was more like the Wild West. Barkan was held up several times, had a gun held against her head and was once robbed by a gang of adolescents with baseball bats.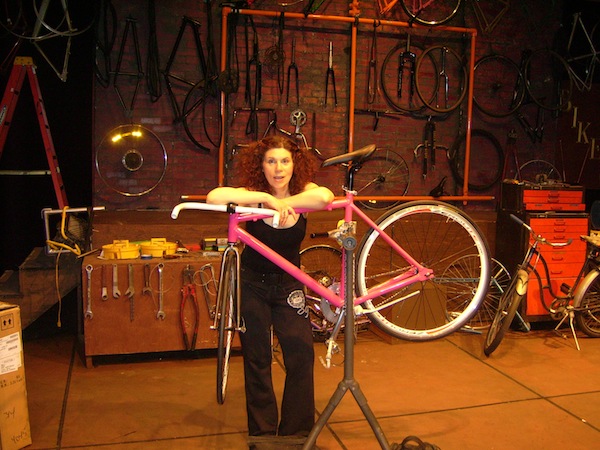 "We think we've got street cred because we've been running a shop here for 15 years," Wood said. "But she was here 30 years ago in a much more challenging part of Brooklyn. Back then it was not just about hipsters in skinny pants coming in to buy the latest thing. It was a different time for bike shops," Wood said.
"I'm fixing bikes, baby"
By coincidence, Wood and Barkan each had thought (probably daydreaming while assembling a bike) that it would be good theater for a performer to assemble a bike from parts on stage, then ride off on the complete bike at the end.
Barkan has experiemented with the idea, and with building a wheel on stage during "Bike Shop," but the challenge of performing the task while acting and singing proved too much.
"It's hard to sing while truing a wheel!" Barkan said. "But I am working on stuff while I'm up there. I'm fixing bikes, baby."
Barkan began working on the stories behind "Bike Shop" more than 10 years ago. It began as a seven-minute solo performance, like a stand-up, focused on bike messenger stories. She did a reading of a more complete play in 2009, and later began collaborating with other writers, lyricists and composers to develop the idea.
An earlier version was performed at the Theater of the New City in early 2012, and last year Barkan raised $3,500 on Kickstarter.com to pay for a musician who performed during a production in a vacant Manhattan storefront, supported by the Chashama nonprofit.
This year's production is the most elaborate yet, with a four-piece "Bicycle Band" accompanying the performance, onstage with Barkan. The production has a choreographer and is directed by Gretchen Cryer, a veteran New York actress and writer. 
"An hour would go by ..."
The frequent robberies at Fort Greene Cycles were a major reason Barkan left retail. She went on to become one of the first certified spin instructors, and still teaches indoor cycling classes.
But she fondly recalls her time as a retailer, especially the customers, some of whom inspired the characters in "Bike Shop."
"I like people and I loved when people came in (to the store), and we'd get into these conversations. They'd come in, I'd talk to them, an hour would go by … I made a lot of friends when I had a bike shop," she said.
More information: bikeshopmusical.com.