UPDATED with reactions from John Burke and others.
MILWAUKEE, Wis. (BRAIN) — Chris Kegel, owner of the Milwaukee retail chain Wheel & Sprocket and a longtime advocate for cycling, died Tuesday after a months-long struggle with bile-duct cancer.
Kegel's influence extended throughout the bike community and industry nationally and internationally. He was an early supporter of the International Mountain Bicycling Association, a board chairman of the League of American Bicyclists and a founding board member of BikesBelong, which became PeopleForBikes.
His fellow residents of Milwaukee and Wisconsin — cyclists or not — knew his cheerful face from his charitable work, promotion of bicycling and his store's TV ads and other promotions. Since his illness became known last September, they honored him with a "slow roll" public ride that attracted more than a thousand riders. Officials declared statewide and citywide Chris Kegel Days this fall, and Kegel received an honorary doctorate degree in business from the University of Wisconsin-Milwaukee, a school he left to focus on working in bike retail.
Kegel learned of his illness' severity as the Interbike show opened in September. At the show's opening breakfast, the industry toasted his health as he watched via live video feed. Supporters wore green #kegelstrong wrist brands throughout the show.
One on one, Kegel shared his love of bicycling with all levels of riders who came to his stores, especially beginners and casual riders who could relate to his non-threatening and admittedly non-athletic persona.
"I don't look like a typical bicyclist and I never did," Kegel told BRAIN in an interview last fall. 
"The snobbery around bikes is something I try to get around. When I first started, I went after the customers who other shops wouldn't take care of anymore. (Other shops) thought they asked too many questions, they were a pain. But I just loved sharing a love for bicycling with people," Kegel said. 
His family has dealt publicly with his illness, sharing updates on a website and on Facebook, even as they took on full management of his businesses in his absence.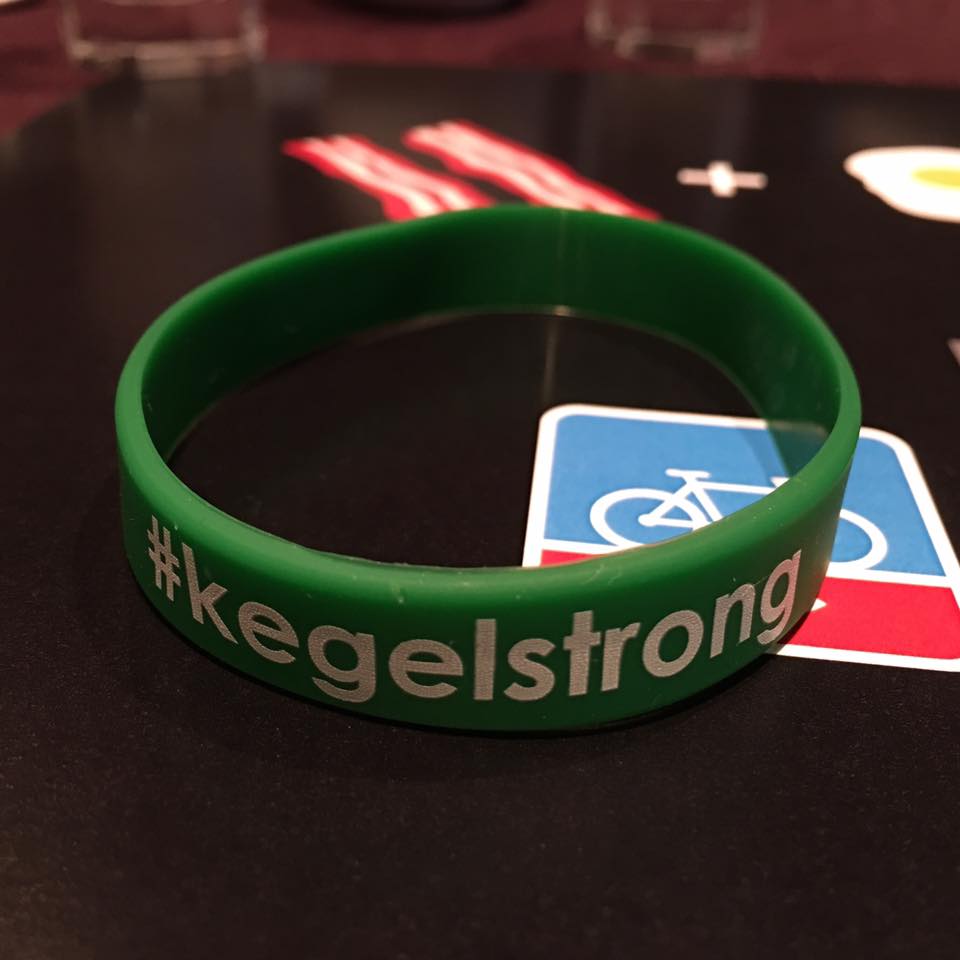 Kegel's eldest son, Noel, is the CFO of Wheel & Sprocket, which has seven locations. Daughter Amelia handles marketing and events, and daughter Tessa does graphic design. Kegel's son Julian owns and runs the family-owned German restaurant, Kegel's Inn.
Soon after revealing his illness, Kegel began talking to industry leaders about a new foundation in his name. The Kegel Foundation will preserve his legacy by supporting various projects.
In the interview with BRAIN in October, Kegel said he wanted to create a foundation that could fill in the gaps in funding and support for bike projects. The focus was on getting things done, he said.
"I was very fortunate in the late 1990s to get involved with bringing the bike industry into advocacy, and we got a lot of good things done," Kegel said. "The foundation is a way to keep that legacy going."
The foundation's mission is "to continue Chris Kegel's commitment to improving lives by providing greater access to cycling and supporting the community through enhanced infrastructure, ride support, and opportunities to introduce more people to the joys of cycling."
The industry reacts
Trek president John Burke, a fellow Wisconsite, had a long relationship with Kegel.
"The guy was just a legend. He was a guy whose legacy will live on and grow as time passes and there are very few people you can say that about," Burke told BRAIN on Tuesday.
Burke said Kegel was an "idea man," and a great listener and teacher.
"He taught me the value of listening to a customer. He built a great business and he built it one customer at a time. In advocacy he taught me to build bridges and to make friends. And he taught me about hard work. You know, you couldn't go to a bike event in Wisconsin and not see Chris there pumping up tires and shaking hands and telling stories," Burke said. 
Kegel served on countless nonprofit boards in leadership positions, in and outside the bike industry, including the National Bicycle Dealers Association.
"Chris and I used to joke that he had served on every board of every nonprofit in the bike world," Tim Blumenthal, president of PeopleForBikes, told BRAIN on Tuesday.
Blumenthal met Kegel when Blumenthal was named executive director of IMBA in 1993. "I don't know a lot of people who have the patience to serve on any boards. But he did, and he didn't just sit there doodling. He was always committed and creative and helpful. … He had just a clarity and simplicity about strategy, coupled with a level-headed style."
Chris Fortune, the president of Madison, Wis.-based Saris Cycling Group, said he and Kegel were kindred spirits and "partners in crime" who had a relationship in business, Wisconsin and national bike advocacy, and personal friendship that dates to the 1980s.
"I will miss the friendship more than anything else," Fortune told BRAIN on Tuesday. 
Fortune spent a lot of time with Kegel this fall and winter. Much of that time was devoted to discussions about the Kegel Foundation.
"We talked a lot about how the foundation could be the most meaningful and effective." He said the foundation will work on a number of fronts devoted to regional and national advocacy, including the development of future bike advocacy leaders.  
Donations to the foundation can be made at peopleforbikes.org/page/contribute/chris-kegel-foundation.