SEATTLE (BRAIN) — When REI announced that it would send 16 female employees to Barnett's Bicycle Institute for a women's-only course, the outdoor retailer received more than 350 applications. The two-week course was held at BBI's campus in Colorado Springs, Colorado, earlier this month. It was the first of its kind for the retailer and for BBI.
"It was an exciting initiative to host. The energy was different and there was a new excitement," said Jeff Donaldson, who recently became BBI's general manager. "We were a happy host and would love to see an all-women's master class happen again."
Since 1994, REI has worked with BBI to offer its employees mechanical training via a Master Technician course, which is based on BBI's Bicycle Repair and Overhaul course but is tailored to suit REI's needs. The Master Technician course is held two to three times per year with all 16 slots filled by REI employees but throughout the year REI sends an average of 25 additional staff to attend other classes at BBI.
About 10 percent of attendees have historically been women — a figure REI would like to see grow. The women's-only class was inspired by REI's Force of Nature initiative, which it launched this spring to advance gender equity in the outdoors.
"When we launched our Force of Nature initiative this spring we wanted to create experiences for women and a community around outdoor activities, invest in organizations and programs to get more women involved in the outdoors and really change who the face of the outdoors is — and to change the narrative by telling more stories about women in the outdoors," said Laura Swapp, REI's director of public affairs and next generation marketing. "So providing an opportunity like this internally for our female employees was really complementary to what we are doing with consumers through Force of Nature."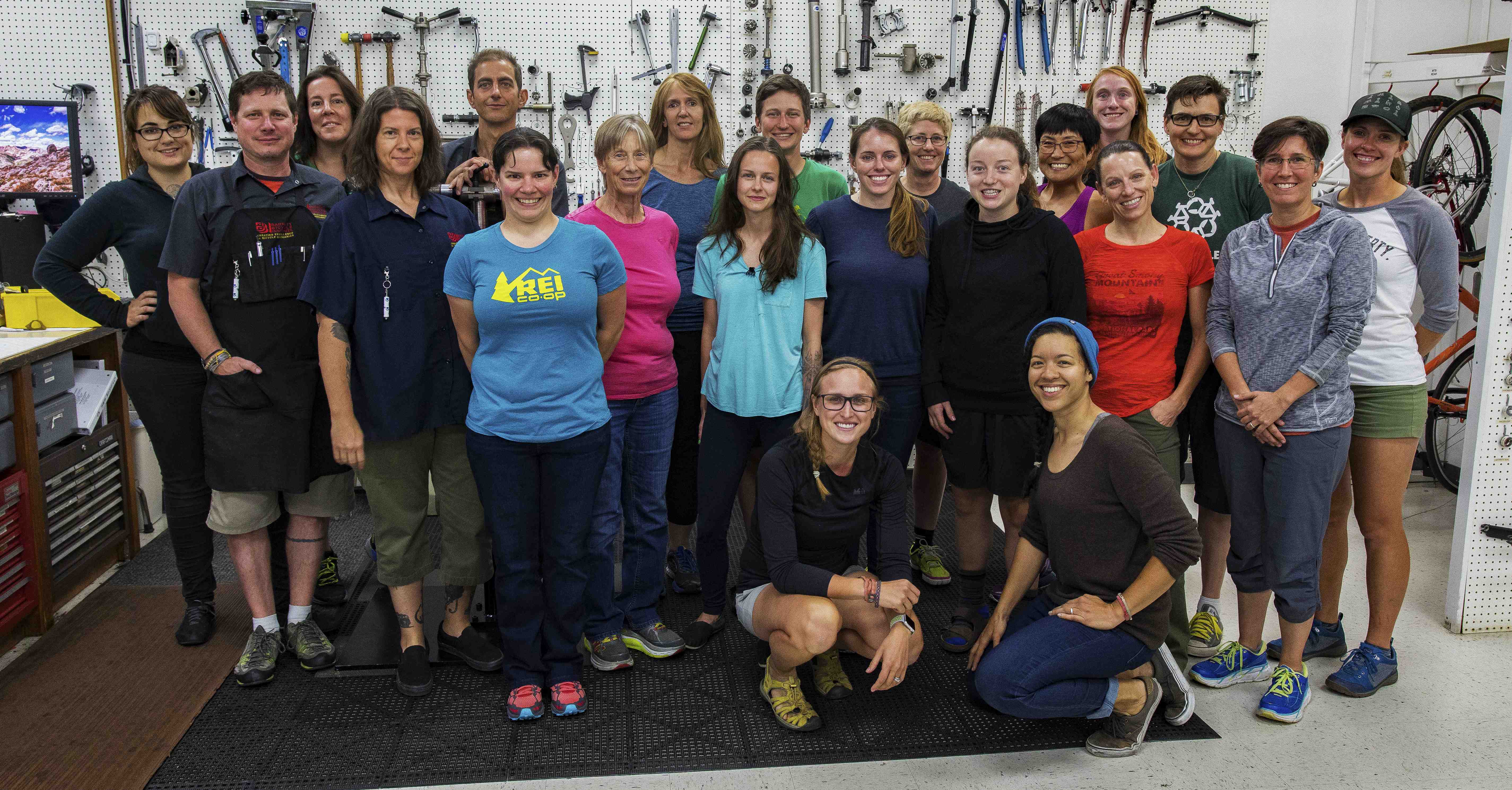 The 16 women who attended the course traveled from 16 different stores across the U.S., spanning from Alaska to North Carolina. REI retail analyst Dan Broome-Raines said that four experienced female REI master technicians also attended the course to provide guidance and mentorship, something that is standard for REI's Master Technician course at BBI.
Susie Stevens began working at REI in St. Louis, Missouri, in 2014. Stevens, who worked as a certified athletic trainer at a university for 20 years, was looking for a career change when she decided to join REI. She started in shipping receiving, worked her way up to sales and programs coordinator, with the goal of one day working as a bike tech. This past January, there was an opening for a mechanic at the store, and Stevens was hired. She worked side-by-side with a master technician in the bike shop, starting with building boxed bikes.
"The opportunity for the women's-only class at Barnett's came from REI headquarters, everyone in the company could apply, so I did and I was accepted," Stevens said. "I'm not sure what I did to deserve it out of almost 400 women."
"What you did to deserve it was you expressed a commitment. Store management had seen your level of commitment and passion, your director supported you and you're an excellent employee," Broome-Raines told Stevens during a conference call with BRAIN. "We knew we should invest in you. That's what you did to deserve it."
Stevens attended BBI and received her certificate a few weeks ago. She now works as a tech full time in the bike shop at REI in St. Louis.
"It was a phenomenal experience. It was engaging, collaborative and supportive. There was a lot of laughter and talking and it didn't feel competitive," Stevens said. "All of the women in the class have kept in touch via Facebook and we continue to help each other. I still have a lot to learn, but now I have so many good tools and resources to use. I just need to practice — a lot!"
Based on the high level of interest for its first women's-only course, Broome-Raines said REI would consider offering more classes in the future but that there are no concrete plans yet.
As part of its Force of Nature initiative, REI has also increased the number of women's clinics, weekends and travel opportunities it offers.
"We want to facilitate a camaraderie by offering women's-only events because it's not always easy to find. There is momentum around women in the outdoors and there is tremendous opportunity there," Swapp said. "We offered clinics and other programs before Force of Nature, but now we are figuring out how to scale them and offer them in more communities."
"One of the most waitlisted of all of our classes is the women's bike maintenance clinic," she added.