OVERLAND PARK, Kan. (BRAIN) — BRAIN's first Dealer Tour of the Kansas City area got underway Tuesday as we pedaled to four shops, all south of the city itself, in Kansas and Missouri. In the evening, we drove up to the Velo Garage and Tap House in North Kansas City.
The variety was impressive — as were the nearly universal reports of strong sales in early 2018 from the stores we visited. The region is currently enjoying an extended late spring period of relatively cool, dry weather, extending the recreational riding season a few more weeks before the summer stickiness arrives.
Our ride leaders from the Cycling Kansas City club navigated us safely through our suburban route. We encountered few new bike facilities, but were able to comfortably share the road with drivers as we went through leafy neighborhoods and around the Kansas City Art Institute and the city's Sculpture Park. The club members also warned us to avoid "a Benji" — the $100 fine for rolling through a stop sign in Kansas. 
First stop was Midwest Cyclery, a name that's been a mainstay in the region for decades, but is now enjoying a second life.
Gus Baanders opened the first Midwest Cyclery in 1972 after emigrating from the Netherlands in the 1960s. The store's trademark is the image of a Dutch windmill, which at least one customer had tattooed onto his leg.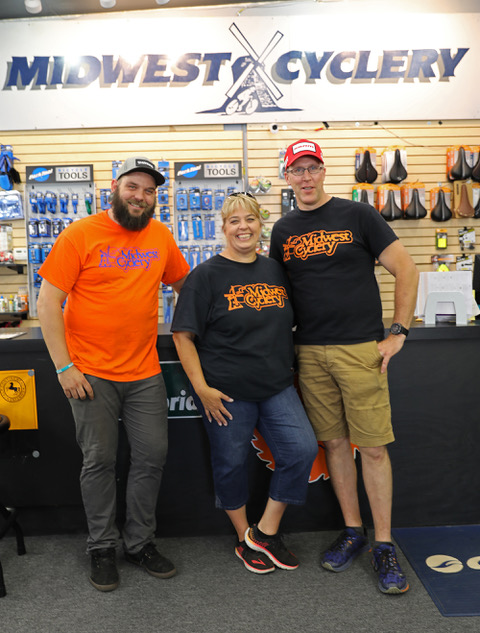 Although she said she has no windmill tattoos, Christina Baanders Decker grew up in the stores, washing windows at age 7 for a quarter, and she couldn't stay away.

In 1994, Baanders Decker took 23 years off from bike retail to raise her kids, but in 2015 she and her husband Bob Decker bought Midwest Cyclery back from the person who had purchased it from her dad 20 years earlier.
Six weeks after the purchase, a fire forced them to relocate the store to its current 7,000-square-foot location, of which about 4,000 square feet is retail space. The space needed some work — she said a tree was growing inside when she took it over. But the crew quickly got it back up to speed and the shop is now thriving, with a strong service business and sales of everything from high-end mountain bikes from Pivot to e-bikes from Giant and Haibike. The store also carries Kona, Norco and Bianchi.
Next stop was RevolveKC Community Bike Shop, a nonprofit that has been operating since 2008, now with two locations. The operation's mission is to help homeless and low-income people, including kids and ex-cons, get bikes for transportation. Revolve has agreements with several area municipalities and universities to collect bikes at "big item" trash pickup days, keeping the bikes out of landfills. It also accepts individual bike donations that are restored and either sold or given away.
RevolveKC's executive director is Theresa Van Ackeren, who is also owner of our next stop, Family Bicycles.
Van Ackeren founded the store in 2008 after a long corporate career. As the name suggests, the store is a friendly, welcoming place that serves recreational cyclists and families, with an average adult bike sale of around $400. It also increasingly offers higher-dollar gravel bikes.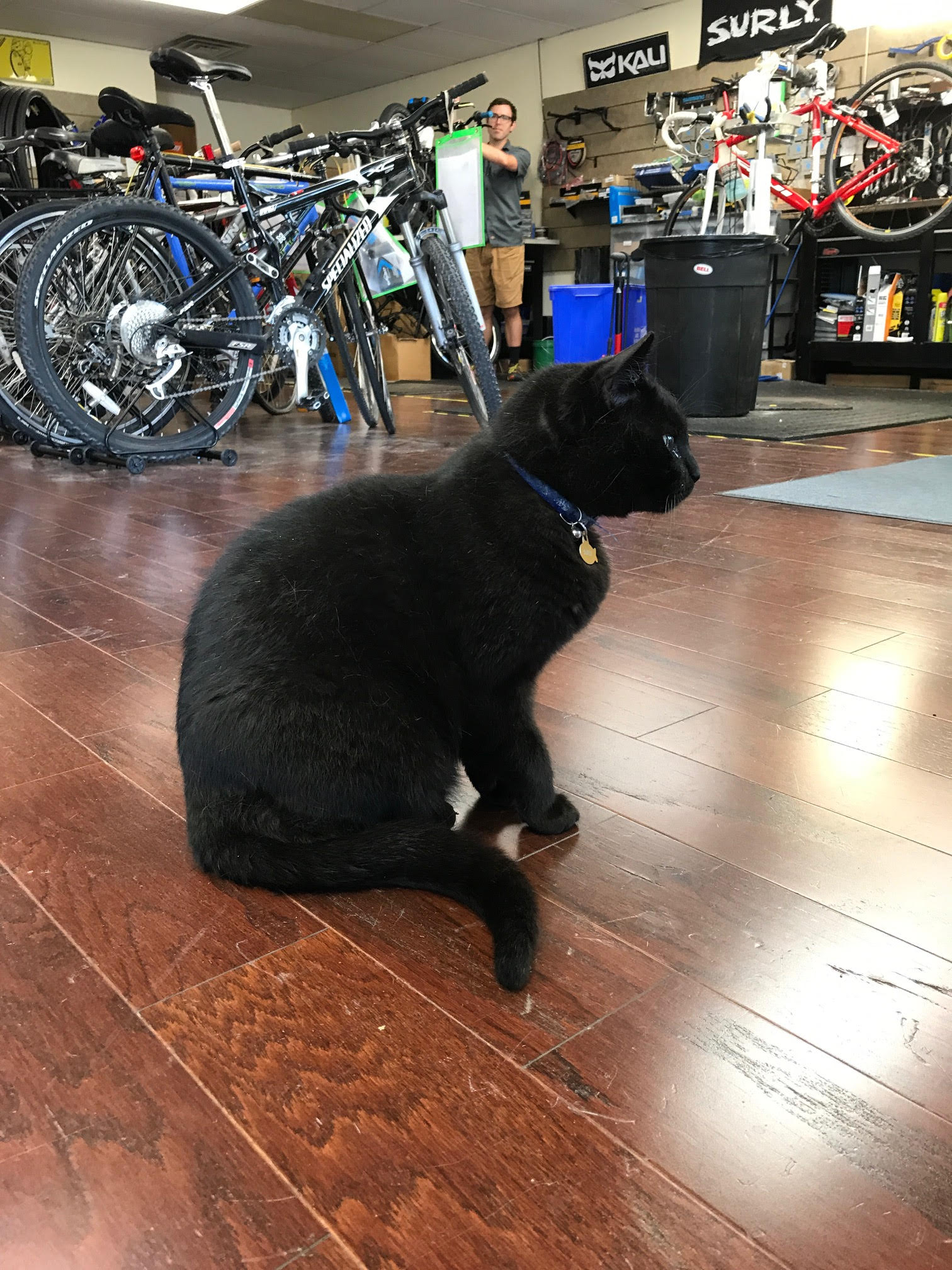 "We're the nice store," Van Ackeren said. "We don't talk down to you about your bike, we don't refuse to work on it ... We don't talk in jargon. We really try to meet you where you are, and try to figure out what you really want out of your bicycle."
The store carries Surly, Fuji, Breezer and Jamis.
Our final stop by bike was one of the two Erik's Bike & Board locations in the area, part of the growing Minneapolis-based retail chain. The Kansas City stores were BikeSource stores before Erik's acquired them in late 2016.
The massive location we visited, in Leawood, Kansas, is being renovated, but the managers let us poke around anyway. The other area Erik's location, in Overland Park, recently completed its remodeling, which included the addition of a garage door so that the store can bring in Taxa camper trailers, which Erik's recently began stocking at some locations. The door also makes it easy to send riders out on test rides.
After a quick break, we drove up to North Kansas City to tour Velo Garage & Tap House and sample its wares. Kiley Sutter launched the operation in 2016 as VeloWagon, a 1969 VW bus that offered mobile bike service — and beer taps. Last year, the business settled down into a renovated industrial space with a bike shop and tap house. Sutter has brought on Michelle Schmiedeler and Kevin Higgins as partners, and the place was absolutely rocking on a very pleasant Tuesday evening in late May. We recommend the Shoegaze Saison from Baltimore's Stillwater Artisanal Ales.
The Dealer Tour is sponsored by Garmin, which is headquartered in the area. Co-sponsoring the tour are Chamois Butt'r — another local brand — and Salsa Cycles, which provided a fleet of gravel bikes for tour participants.
Readers can follow along on social media including Facebook, Twitter and Instagram using the hashtag #braindealertour. Full coverage will be in the June 15 issue of Bicycle Retailer.