SEATTLE (BRAIN) — The bike community across the country, including colleagues at at least two bike shops, is mourning the death of S.J. Brooks, who died in a cougar attack while mountain biking near Seattle last Saturday.
Brooks was an employee of Seattle's G&O Family Cyclery and a co-founder of the Seattle chapter of the Friends on Bikes organization, which is dedicated to fostering a community for women of color who love riding bikes. 
According to a posting on G&O's Facebook page, Brooks was key to the shop's rebuilding following a 2016 explosion that destroyed its building. 
"S.J. was a trained art historian and photographer. They were an amateur carpenter and a crafty maker of things. S.J. was a lover of ideas and thoughts and philosophies. S.J. could teach anyone anything. SJ was strong, smart, kind and generous. And funny as hell," the shop's Facebook page reads. "We will always miss S.J., but their presence will be part of our work and part of the cargo bike movement in Seattle for a long time to come."
"S.J. could overhaul a headset, teach you the fundamentals of art history and '90s hip-hop, all while inviting you on a bike ride."
Brooks, who preferred to be referred to by the pronoun "they," was scheduled to speak about Friends on Bikes and be a part of a panel at this summer's WTF Bikexplorers Summit in Whitefish, Montana. The Summit's organizers have renamed a scholarship program in their name. The scholarship will allow five women, trans, femme and nonbinary cyclists to attend the conference.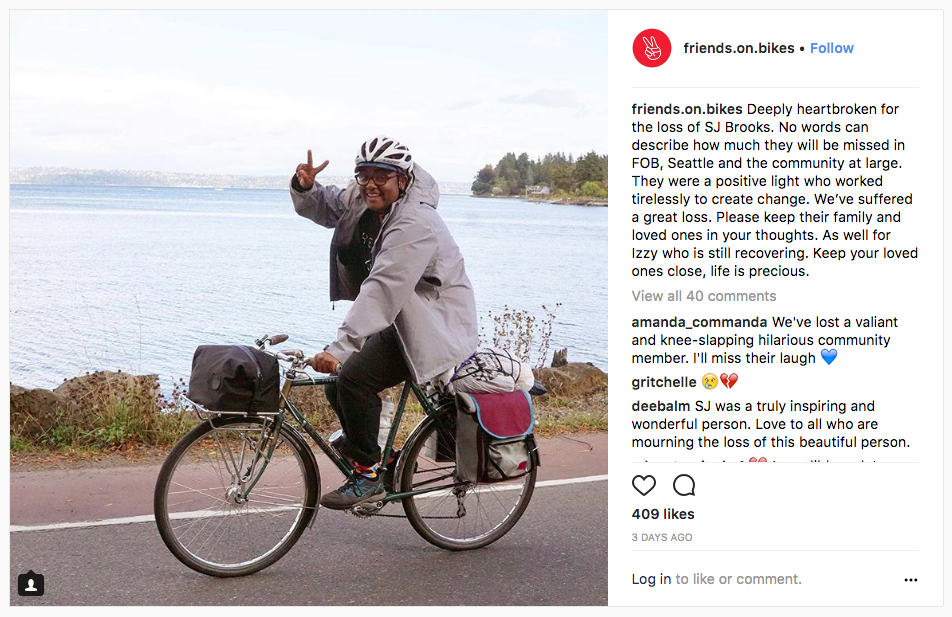 Brooks also was active in the Boston bike community, and was on the board of Bikes Not Bombs, an organization based in Jamaica Plain, Massachusetts. "S.J. was an avid cyclist and a strong supporter of Bikes Not Bombs who participated in our vocational educational program, rode in our annual Bike-A-Thon for many years, and served on our Board of Directors from 2012 to 2016, before moving to Seattle," the organization said on Facebook. "We truly valued S.J.'s deep commitment to inclusion at Bikes Not Bombs and the cycling community."
Brooks also worked as a mechanic and staffer at Broadway Bicycle in Cambridge, Massachusetts, from 2009 to 2016.  
"They were an exceptional mechanic who taught courses in bicycle maintenance and repair, helped develop shop policy, led meetings and made the people they worked with feel loved and cared for. S.J. could overhaul a headset, teach you the fundamentals of art history and '90s hip-hop, all while inviting you on a bike ride," Broadway Bicycle said on its Facebook page. "S.J. was the co-worker that made sure you had a ride home when the weather was terrible.  They were the kind of person you just wanted to be around."
According to a LinkedIn account, Brooks also worked for a time as a machinist and finisher at Seven Cycles, the titanium bike builder in Waterrtown, Massachusetts. 
Brooks attended McGill University in Montréal and first entered the bike world there, hanging out at the city's Bikurious store.
Brooks was riding with Isaac "Izzy" Sederbaum northeast of Snoqualmie, Washington, when the pair was attacked by the cat. Sederbaum survived but was severely injured. A GofFundMe campaign has been established to help support Sederbaum's recovery.