Updated with comments from suppliers Serfas, J&B, Defeet and Industry Nine.
SOUTHPORT, N.C. (BRAIN) — Tuesday was supposed to be the grand opening for Matt Jones' second store, which is in this community near the mouth of the Cape Fear River. Instead, Jones spent the day boarding up the new location of City Bicycle Co. ahead of Thursday's expected arrival of Hurricane Florence.
"We're not being evacuated yet, but it's already started to look like a ghost town here, even three days out," Jones said. The mayor of Southport — a quaint town that has been used as the set for many a TV series and movie — ordered all visitors and tourists to evacuate the town Monday. Residents are supposed to leave Wednesday.
Retailers up and down the coast of North and South Carolina and into Virginia and Maryland were boarding up this week as the Category 4 storm bears down. More than 1 1/2 million people have been ordered to evacuate coastal areas ahead of the storm, which could place normally dry land under as much as 10 feet of water. The National Hurricane Center predicts the storm will hit the coast Thursday or Friday and said Florence will remain "an extremely dangerous major hurricane through landfall."
A Hurricane Watch has been declared from Edisto Beach, South Carolina, north to the Virginia/North Carolina border. Some Virginia beach areas also are being evacuated and the mayor of Washington, D.C., and the governor of Maryland have declared states of emergency.
Jones said shipments to the area have already been delayed, so opening his new store properly would have been a challenge in any case.
"We have a lot of inventory in UPS limbo. Everything is jacked up because of the storm," he said.
Jones opened his first store, City Bicycle Co., in nearby Wilmington about two years ago. He said he expects that store to be closed starting Wednesday. The Wilmington store is in an old building that has survived many a storm, so Jones is not overly concerned.
Jones also said he has confidence in his insurance.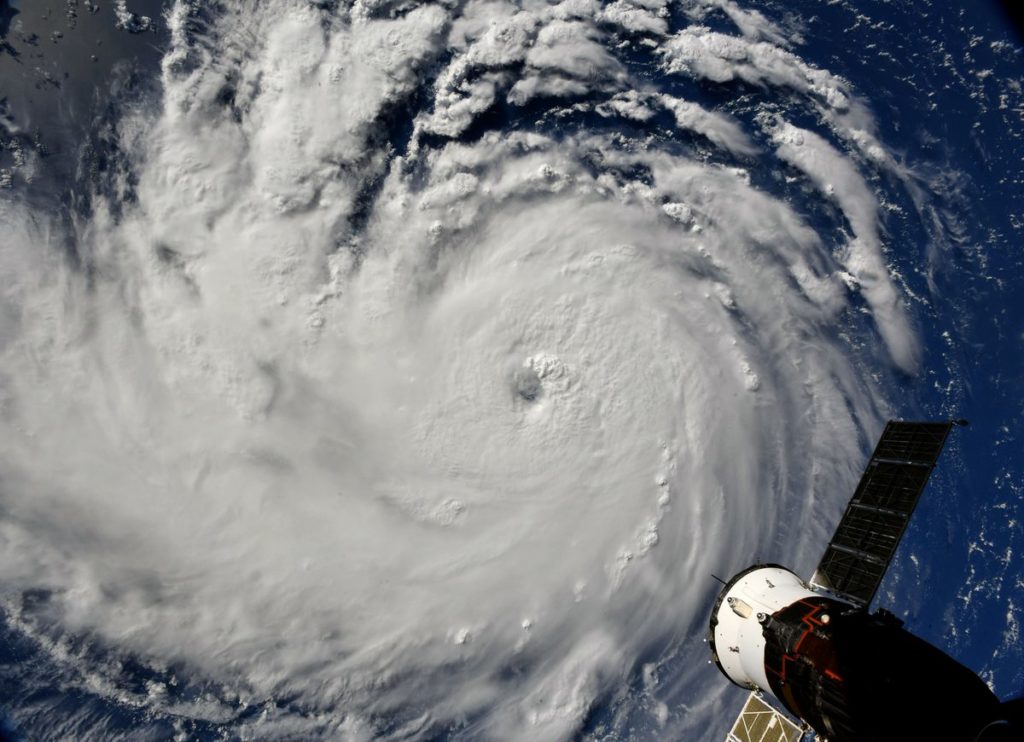 "You never know until you have to use it. I've never made a claim; I've just been paying in. Hopefully I won't have to make a claim this time but I'm glad I got it."
Another Wilmington store, Bike Cycles, was open Tuesday but will evacuate Wednesday, operations manager Kyle Mathews said.
Mathews said the plaza where the shop is located is shutting down so there was no choice to stay. The store is located about five miles from the coast but only about three miles from the intracoastal waterfront.
"It went from everyone stocking up on supplies to just getting out of town," said Mathews, who has worked for Bike Cycles for about three and a half years. "Most are heading to Raleigh and Charlotte. We're going to put sandbags at the door and will probably be able to get back in and check on it Friday night."
Mathews anticipates there will be flooding and massive destruction to houses and power lines. The Barrier Islands, which lie just off the coast, are under mandatory evacuation.
"We're in better shape than they are, if you do live out there, you better take what you want to keep and get out," said Mathews, who doesn't live on the islands and will wait until Wednesday morning to decide whether he's evacuating.
Mathews said this the first time Bike Cycles, which is a Specialized retailer that employs eight people full time, has weathered a storm of this magnitude since it opened 12 years ago. The area is a popular beach destination, and the shop does a hefty cruiser and fat bike rental business in the summer.
Down the coast in Charleston, South Carolina, the staff at Charlston Bicycle Company, the city's oldest bike shop, was preparing to close early Tuesday and likely remain closed Wednesday.
"We'll just play it by ear and hold down the fort," service manager Jeff Moore said. "We've boarded up the store in the past, but we're still playing it by ear. We have wood at an off-site location that we can always bring up here if we really need to. We all live pretty close, so we can get here and guard the shop if we need to."
The accessory brand and distributor Serfas has a third-party warehouse in Wilmington, which closed Tuesday, said Erik Braucht, the general manager of the Arizona-based company. "They shipped everything we sent (Tuesday) but ... Fedex informed them no pickups after tomorrow. The building has weathered big hurricanes before and the product is insured so it is mainly keeping the staff safe and with their families so they are closing the rest of the week as of end of day today," Braucht said. 
J&B has a warehouse in Raleigh, North Carolina. J&B co-CEO Ben Joannou Jr. said the company plans to close the facility Friday.
"It looks like Florence will have a big impact on several states," Joannou said. "We're getting everything we can up off the floor including the computer equipment. We have the generators all tuned and ready with a good supply of gasoline. We have plywood just in case we need to close up any openings that weren't there before the storm. 
"We plan to be closed on Friday. Nearly all of our logistics partners are closing early Thursday, and all day Friday. Then they will reevaluate on Monday based on having power and how many people they can get to show up" he said. 
Defeet is hopeful
Sock maker Defeet International is based in Hildebran, North Carolina, far from the ocean. But company founder Shane Cooper said he was preparing for a major storm. "Cat 4s do not mess around," he said. Cooper well remembers Hurricane Hugo, which hit the area in September 1989, leading to about 30 deaths in South Carolina and billions of dollars in damage to the region.
"It was terrible. The problem was the aftermath, trees were down everywhere and if my memory serves me correct no power for like 15 days. I didn't even have running water. Surviving the winds and rain is the first wave, the next wave last a long time. It was hot and muggy with no AC. No cold beers, no hot food. Fallen trees shut down most roadways. The root systems get saturated and wind will topples them," he told BRAIN. 
For Florence, Defeet has prepared generators to run phone, servers and computers, and headlamps to pick orders. "We hope to have no interruptions. We will cover all our work stations with plastic and make sure they are away from windows," he said. 
"Our hopes are that Florence heads back out to sea," he said. "But we must prepare for the worst. This is a very serious storm, I hope folks heed the warnings and find shelter. Not sure how many times I said hope, but we sure have a lot of it."
Component maker Industry Nine sent an email to customers Thursday asking for their patience. 
"So long as we have power and internet service Industry Nine will remain open for business, but we have been forced to close operations in the past due to hurricane-related issues. Thank you for your understanding and continued support," the company said. 
BRAIN editors Toby Hill, Val Vanderpool and Steve Frothingham contributed to this report.