Scheels megastores make huge impact on local retail when they come to town.
Editor's note: A version of this article appeared in the December issue of Bicycle Retailer & Industry News.
LOVELAND, Colo. (BRAIN) — When Scheels All Sports opens one of its gargantuan sporting goods stores in a new community, the local press gushes over the tons of steel and truckloads of concrete needed to build the quarter-million-square-foot stores. They write of the stores' Ferris wheels, mountainous taxidermy displays, oceanic fish tanks and towering bronze sculptures.
Officials and business owners in nearby communities, meanwhile, tally up the "Scheels Factor."
That's the term used by Theresa Wilson, the city budget manager in Loveland, Colorado, when Scheels opened its first Colorado location — in the neighboring town of Johnstown earlier this year.
Wilson calculated that Scheels would draw away enough business from Loveland retailers to cost the city about $275,000 in reduced sales tax revenue in the store's first year.
While Loveland was calculating a possible tax revenue decline due to Scheels, Johnstown, a community of just 13,000 residents, was expecting a major boon. Town officials expected the store to double its tax receipts in its first year. The store also will employ up to 400 people.
Wilson told BRAIN she based her calculation on the impact a new Scheels store had in Sandy, Utah, a few years ago. The calculation was based mostly on the expected decline in sales at major retailers in Loveland, not including the effect on the city's specialty retailers, including its bike shops.
Because make no mistake: Scheels, which now has 27 stores across the midsection of the country, does everything big, including bikes. The chain was Trek's No. 1 retailer last year; its bike departments feature full service areas and bike fit studios, with dedicated department staff and managers. Across all its departments, Scheels' investment in the local community, service and staff education means it has no problem getting accounts with some boutique brands that won't sell to most sporting goods retail chains.
Active locally, quiet nationally
Scheels is based in Fargo, North Dakota, and its stores extend south to Kansas City, east to Southern Illinois and west as far as Sparks, Nevada, where it operates its largest current location, at 295,000 square feet. If you don't live in that part of the country, you might never have heard of the chain. Scheels does little promotion outside local markets and is rarely mentioned in the sporting goods or retail trade media.
BRAIN was shown around the new Johnstown store by a friendly local staff. But Don Doescher, who oversees the chain's bike business at a corporate level, nicely declined to be interviewed. "As you have likely figured out already, we are a very private company and I wouldn't be able to answer many of your questions," he wrote in an email.
The business dates to 1902 and annual sales are estimated at $1.2 billion. It remains privately held by the Scheel family, and employees are given equity after a vesting period.
Scheels' bike department employees often come with experience in IBDs, and say they enjoy the working conditions, benefits and stability of the larger operation.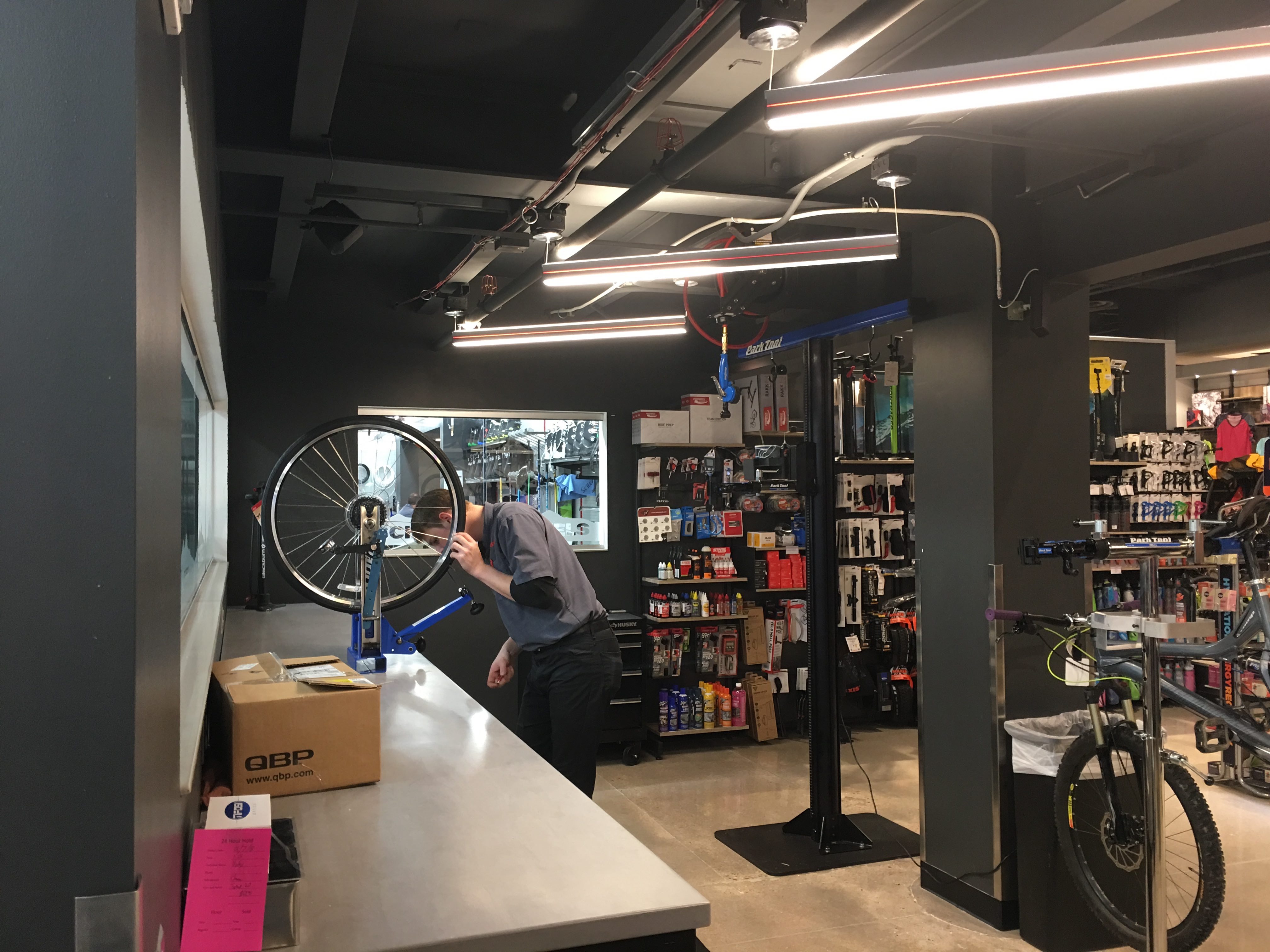 Within the industry, the company is known for its quiet professionalism and merchandising skills. It's also known for reaching a part of the market that other retailers overlook: true rural Westerners who live far from cities and who hunt, fish and ride bikes. Scheels generally positions its stores on busy highways on the outskirts of population centers, allowing easy access for rural families.
"You look in the parking lot and you'll see all these huge pickups," said one former Trek employee who lives near a Scheels in Iowa. "These families come to town for their one shopping trip of the month. They load up on food at Costco and guns and clothes at Scheels. And they might throw in a Trek or two while they are at it."
A red state retailer
Besides the Ferris wheels and stuffed animals, Scheels stores are notable for their patriotic displays. Giant flag murals provide backdrops behind the service desks, and life-sized animatronic and static U.S. president figurines are positioned around the stores.
While retailers including Dick's, Walmart and REI altered their firearm policies and support for the NRA following the Stoneman Douglass High School shootings last winter, Scheels, quietly, didn't budge — and the company rarely provided the news media, including BRAIN, with so much as a "no comment" when asked about it. Scheels continues to offer discounts to NRA members and holds weekend membership drives at its stores.
Steve D. Scheel, the company's chairman, is a regular contributor to Republican candidates, at relatively modest levels given his resources. He made a $1,000 donation to Ted Cruz's presidential campaign in 2016 and a $2,700 donation to Donald Trump's. His son, Steve M. Scheel, the company's CEO, donated $10,000 to a committee opposing a legal recreational marijuana ballot measure in North Dakota. The company also donated at least $10,000 to the cause, according to North Dakota public records. (The measure failed to pass in November.)
The company is rolling out one new store a year and recently announced a second Colorado store, to open next year outside Colorado Springs.
And Scheels is gearing up for its largest location ever. In 2020 it will open a store in The Colony, Texas. It will be 330,000 square feet and the first Scheels south of Kansas, bringing the Scheels Factor to its highest level yet.