Editor's note: A version of this article ran in the November issue of BRAIN.
EL SEGUNDO, Calif. (BRAIN) — As far west as you can get, with nothing but sand between us and the Pacific, we headed to the last retailer visit on our three-day tour.
We were running late, skipped lunch, and the flags on the lifeguard towers showed we were facing a stiff headwind. Boarding time at LAX was only a few hours away.
No worries. But to be safe, it was time to test that "High" mode on our Yamaha Power Assist Bikes.
Yamaha and Kryptonite sponsored our first-ever E-Bike Retailer Tour, where we used the Yamaha bikes to pay visit to 11 stores around LA, all of which sell e-bikes, either exclusively or alongside pedal bikes. Sena provided its R1 smart helmets for tour participants.
Although they all sold e-bikes, the stores we visited varied wildly. Most of them targeted a niche within the e-bike market, be it e-MTBs, e-road, commuting/transportation, or customers who simply want to bomb around on a cool, fast bike.
Buy-in
All the retailers we visited had the pleasure of serving an enthusiastic customer base: Buying a new e-bike is not a routine chore for anyone, yet. Nor is selling one.
Making sure retail staffers have as much enthusiasm as the customer is a prerequisite, several owners and managers told us.
"To be successful, you have to have employee buy-in," said Jason Chancellor, general manager of InCycle in Valencia. InCycle is a sprawling full-line shop offering mid- and high-end road and mountain bikes. The store has only been carrying e-bikes for four years; they now account for about 8% of revenue.
To help employees get on board, the store made sure its vendors, including Specialized, brought around a demo fleet for employees.
"You can't sell something you've never tried," Chancellor said.
At Wheel World in Culver City, manager Randall Araki has added e-bike training to the store's staff education program and now has two sales people who specialize in e-bikes. "I have four staff members who ride e-bikes. Two of them got rid of their cars," Araki said.
Many long-standing bike shops starting e-bike sales find themselves introducing their existing customers to e-bikes. It's not always pretty.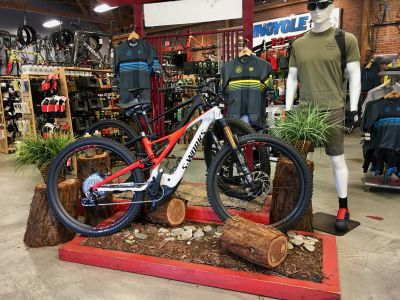 Mike Franze, owner of Fullerton Bikes, once had to bite his tongue when some mountain bro accused him of cheating when he rode an e-MTB on nearby trails.
"I was wearing the shop name so I didn't say anything, but I wanted to say, 'me cheating? You're cheating. You have suspension and a lightweight bike with disc brakes. You should go back to riding a bike from 20-30 years ago if you hate cheating so much!'" he laughed.
Like InCycle, Fullerton adopted e-bikes sales in earnest about four years ago. Now Franze is a believer.
"It didn't take off like I wanted it to, it was a slow start," he said. Now he sells about 100 e-bikes a year.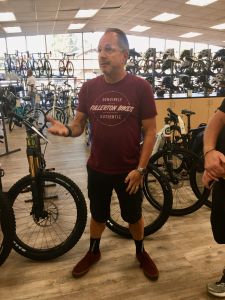 Franze said the emotions he feels when he helps customers with health problems enjoy the sport thanks to an e-bike makes up for any on-trail critics.
"Screw the haters!" he said.
Like Chancellor, Franze, a Giant Partner dealer, had his Giant sales rep bring around a fleet of e-bikes for staff to demo on a weekend. "We all went out and rode e-bikes," he said.
Cunning helps
Some shops have found cunning ways to introduce their customers to e-bikes.
When accompanying a potential (traditional) bike buyer on a test ride, one dealer jumps on an e-bike.
He can keep up and coach customers on features and what they should be feeling. Meanwhile, the customer gets some exposure to an e-bike, still a novelty to most people.
Another retailer told us he takes it a step further, setting up a bike shopper's spouse or partner on an e-bike to join in on test rides. If the partner normally can't keep up, the experience can be an eye-opener.
"Then you might end up selling two e-bikes," the dealer said.
'Like family'
Franze's shop mostly sells mid- to -upper end e-MTBs from Giant. But just across a parking lot sits Electric Bicycle Center, which offers just about everything else with two wheels and an electric motor.
Owner Sam Townsend has been involved with electric bikes since the moped days, when he installed electric conversion kits on bikes. Now his store carries dozens of brands, an over-the-top selection that would be overwhelming if not for Townsend's over-the-top personality, which somehow makes it all work.
"We build relationships here, it's like a family," he said, welcoming the BRAIN crew into what felt like a living room in the corner of his store, with leather couches, floor lamps and a coffee table.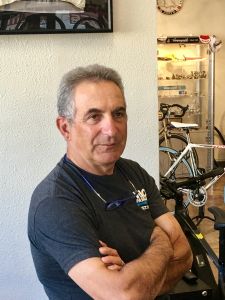 "That's how we work: it's just about building relationships and then everything builds from there. It's a pyramid scheme upside down."
'Why struggle?'
Pasadena Velo is one of the country's best-known pro shops, with walls covered in memorabilia and pro-level clothing, and an array of Pinarellos and other pricey road bikes.
Owner Hrach Gevrikyan is a former Armenian national road champion and Coors Classic racer. If anyone can make it OK for a roadie to get on an e-bike, it's him.
A few years back he took over a space next to his shop. The separate building is now devoted to selling e-bikes and tandems, as well as displaying Gevrikyan's collection of vintage road bikes, jerseys and components.
Gevrikyan said all roadies past a certain age are coming around to the idea of an e-bike.
"Eventually everybody will do it, it's stupid not to do it. Why struggle? It just takes time for some people to realize their body is weaker than their brain is."
Maturity can be painful
Our final store visit before the airport dash turned out to be one of the most thought-provoking.
BRAIN had visited Electric Bikes LA on a 2013 dealer tour. At the time, owner Andrea Busch operated one of the few e-bike-only stores in the country. Customers did their research online and flew in from all over the country to buy bikes. In 2013, she told us that sales were up 30% from the year prior.
Six years later, Busch concedes the market has changed.
Internet competition has heated up, with companies like Rad Power and others offering e-bikes at price points Busch can't match. Other brands that Busch once carried have closed or started selling online exclusively.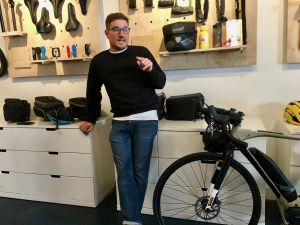 Locally, she no longer has the e-bike market to herself — as the 10 stores we visited before we arrived in El Segundo demonstrated.
"When we first started, people were like, 'what's an e-bike?'" Busch said. "Now they come in and they shop the wattage. They want to know if we can match the price on a 500-watt bike."
Without going into details, Busch said a rainy spring dampened sales, and when it dried out, sales didn't rebound much.
Busch has made it 11 ½ years in e-bike retailing and has a loyal customer base; she undoubtedly will figure out how to shift modes in her business to better suit a market that is changing rapidly and still far from mature.
Leaving El Segundo, we circled back around LAX to our hotel, enjoying a spirited group ride that was just a little faster and less painful than it would be on a regular bike. We made it to the airport in plenty of time. Why struggle?