As retail sales increased by double or triple digits, bike imports were up just 3% through June.
BOULDER, Colo. (BRAIN) — Bike imports are up significantly in recent months, according to U.S. Department of Commerce figures released Wednesday. But importers are still struggling to make up for reduced shipments earlier in the year combined with unprecedented demand from retailers and consumers.
The upshot is that suppliers and retailers are living shipment-to-shipment; even as bikes arrive at levels a bit higher than in recent years, no one has real inventory to pull from.
"Now it's once a week — or sometimes, if we get lucky, twice a week — it's like Christmas. The truck pulls up and we're like, 'OK, it's going to be a good day, or a good weekend,'" said Michael Gacki, manager of the Bicycle Plus location in Coppell, Texas. "If I get 24 or 25 bikes, 21 of them are already spoken for. The others have a life expectancy of maybe three hours," he said.
Gacki said the four-store chain began ordering aggressively early this year, and at one point his location had over 100 bikes in boxes, as well as a packed showroom with about 50 bikes on the ceiling. But most of the store's inventory has been depleted since early May. The store is now taking $50 refundable deposits on bikes on order. "I'm telling people it will be 2-14 weeks, but it won't be any quicker. That's all we can say."
The import figures released Wednesday show year-to-date imports through June, the latest figures available, were up just 3.1% over the same period last year, in units.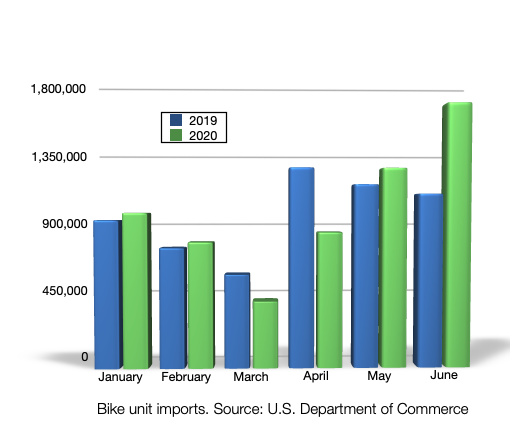 Meanwhile, bike sales at retail were up 112% in units in April and up 61% in May, according to The NPD Group's sell-through data. June sell-through numbers are not yet available. 
About 85% of the bikes imported are bound for mass merchants, not IBDs. Still, the supply-and-demand issues are similar across the two channels, especially this year as IBDs are seeing the most demand for sub-$1,000 bikes, which are sold in both channels. 
In March and April this year, bike imports were down from 2019, by 29% and 31%, respectively, due mostly to Asian factory shutdowns in January and February. Imports rebounded in May and June, but not by the quantities needed to replenish warehouses. Manufacturers have limited ability to increase capacity quickly, and most importers say they are ordering big, but not too big, as upcoming demand is impossible to forecast.
The supply-and-demand imbalance means that while bikes continue to flow into ports and out to stores, wholesalers are not going to get their warehouses back in shape until early 2021 at best.
At the end of January this year, U.S. wholesalers who service the IBD channel had about 560,000 bikes in their warehouses, according to the PeopleForBikes Sell-in reports. By the the end of June, the wholesalers had fewer than 100,000 bikes in stock.
Year-to-date imports were up 3.1%, while retail sales were up 112% in April and 61% in May. 
"The retail channel is completely dry, the wholesale channel is dry. The safety stocks are gone. It's going to take time to refill those buckets and get back to the point where we have inventory on-demand," Bob Margevicius, Specialized's executive vice president, told BRAIN on Tuesday.
Kicking and scratching
Gacki said that at his location sales were up by "huge" levels in April, May and June. And in July, despite losing an untold number of sales due to lack of supply, the store still managed about a 15% sales increase over the same month last year. "We kicked and scratched and clawed and fought our way (to beat 2019's sales level in July)," he said. "It's tough to sell high-end bikes when you don't have pedals!"
It's impossible to count missed sales, but Kansas City, Missouri, retailer Christina Baanders-Decker and her staff at Midwest Cyclery make an effort to do so.
"Saturday alone I think we could have sold another 40 bikes if we had had them," she told BRAIN. Baanders-Decker said store sales were four-times last year in April, May, and June. July sales were up about 75% from last year. She said she did a big pre-season order last year with her main supplier, Giant. But when that inventory ran out, she's been filling in from smaller brands like Jamis, Kona, Bianchi and Reid. 
"I'm still getting stuff, but not as much as I'd like," she said.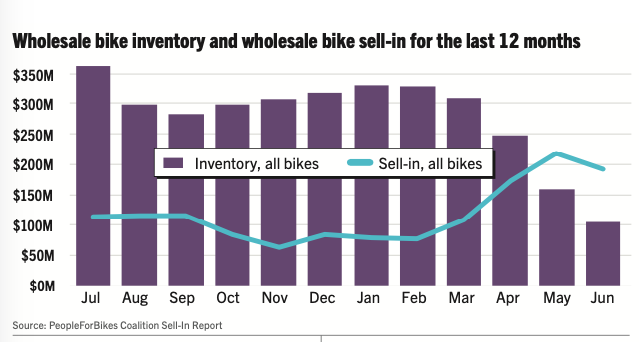 Not all retailers have been picked dry of bikes.
Travis Evans, the owner of Just Riding Along Bicycle Shop in Laytonsville, Maryland, said he got lucky by "over-ordering" early this year. And he said his suppliers, including Jamis, have been refilling orders as needed.
"I lucked out. In March I thought that I had REALLY bought too many bikes and was wondering how I was going to pay for them. I thought I bit off more than I could chew. Then the shut down happened and I had more bikes than ever in stock," he said.
"We just sold our last hybrid last night, and we're starting to get some bikes in from Jamis, just in time. I still have about 40 gravel bikes and 20 high-end road bikes," he said. "All of the competitors (all Trek, Specialized, and Giant stores) ran out way before I did. I had two people drive from Brooklyn for bikes, one from Chicago, and more from far away. I don't carry the big brands, and for once that helped me."