There are lists, and then there are lists ...
A version of this article ran in the April issue of BRAIN.
MILWAUKEE (BRAIN) — There are lists of America's best bike shops and of the "top 100" bike shops. But, BRAIN being a dollars-and-cents kind of business magazine, we set out to identify America's largest: The Big BRAIN Ten.
No subjective reviews, no rankings or votes or opt-in fees from the stores. And, sorry, retailers won't get stickers for their windows. Not that there's anything wrong with those approaches. This was just a different kind of project.
How did we do it?
First we defined what we were looking for: the 10 largest-grossing retailers who sell IBD-quality bikes primarily through brick-and-mortar stores.
BRAIN's mission is to be a news source for the entire industry, including mass merchants, e-commerce, sporting goods stores, non-profits, and the smallest, most wonderfully independent, operations. We love them all.
But, so, yes: We know there are large e-commerce retailers who aren't among the Big BRAIN Ten. All the retailers on our list do some e-commerce, but they are primarily brick-and-mortar operations.
And, look: REI and Scheels are on this list. Even though bikes are a fraction of their businesses, they sell and service IBD-quality bikes (Scheels has been Trek's largest retailer in the past).
But, sorry: Walmart, Target and Dick's (and Amazon) aren't on the list, even though they likely sell more bikes than many in the Big BRAIN Ten. Walmart and Target generally don't sell IBD-quality bikes. Dick's (and some regional sporting goods chains) sell bikes that are close to IBD quality. But they generally don't have full-service shops and the industry has long viewed sporting goods retail as a distinct channel, with products and programs distinct from the specialty channel.
To come up with Big BRAIN Ten, our staff brainstormed a list of 40 large retailers. Internally, we were confident the 10 largest would come from among the 40.
Then we sent a web survey to a group of about 40 suppliers, retailers, and other industry folks. The group included representatives at all the largest bike brands, the largest distributors, trade association leaders, consultants and others. We asked them to pick the largest-grossing 10 retailers from among the list of 40. (We also gave them an opportunity to add any names we had left off).
We examined the responses for consensus, and we have to say, no heavy math was required: the 10 largest clearly stood out. After we profile the Big BRAIN Ten, we'll also share the names of the two retailers who tied for 11th.
It's important to note we didn't try to rank the list. The descriptions below are alphabetical.
Conte's Bike Shop
Year founded: 1957
Number of locations: 15, in Virginia, DC, North Carolina, Georgia and Florida
Brands carried: Specialized, Cannondale, Orbea, Pinarello, Santa Cruz, BMC
Owned by: David Conte and Wayne Souza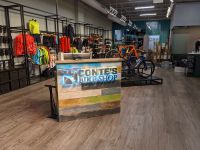 Charles Conte Sr. opened the first Conte's Bike Shop in Newport News, Virginia. His son David Conte grew up in the business and learned the trade at the right hand of his father. Later, David took charge of the family enterprise and in 2014 joined forces with his life-long friend, Wayne Souza, to form the Conte Bicycle Group and carry forward the family tradition.
David continues to be inspired daily by his role as COO of the chain. "First and foremost, it's 'happy retail,'" Conte said. "There are not many retailing segments of our economy where you can change peoples' lives each and every day."
From a broader perspective, Conte sees the opportunity in being a part of America's transportation fabric, especially with the rise of e-bikes. "Current inventory headwinds will abate over time, yet the rediscovery of cycling by the general public will continue to sustain the most significant interest in cycling since the early 1970s. These are wonderful times to be in our industry," Conte concluded.
David's World Cycle
Year founded: 1989
Number of locations: 21, all in Florida
Brands carried: Trek, Electra, Salsa, Catrike
Owned by: David Sanborn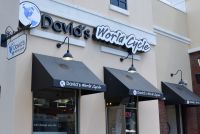 David's World has grown from its original location in Orlando to 21 stores. Sometimes owner David Sanborn acquires "tired or failing" shops; sometimes he starts from scratch when he sees a market he thinks will support a shop.
Until last year, when Sanborn opened shops in Gainesville, Tallahassee and Jacksonville, his stores had all been along the I-4 corridor. Locations range from 1,000 to 8,000 square feet. "It works for us to go into bedroom communities and set up little stores six or seven miles apart," Sanborn said.
Sanborn still treats each store like a start-up, allowing him to pivot quickly. "This year, we saw sales picking up in March, ran a bunch of scenarios, and started back-ordering bikes in April," noted Sanborn. "Now we have product (orders) pushed out to 2023."
It's his passion for cycling and getting others involved that keeps Sanborn going. "The smile on people's faces coming back from a test ride never gets old!" he said.
Erik's Bike Board Ski
Year founded: 1980
Number of locations: 30, in Minnesota, Wisconsin, Iowa, Illinois, South Dakota, Kansas, and Missouri
Brands carried: Specialized, Diamondback, Santa Cruz, Haro, Cervelo
Owned by: Erik Saltvold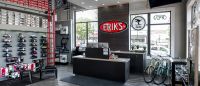 "When I was 13, I received my first bicycle and it sparked my interest in bikes," Saltvold said. "My first 'bike shop' was in my parent's barn house and a simple homemade sign out front brought business to my doorstep. By age 18 I was able to successfully open my first retail store!"
Today Erik's employs over 400 people. "I attribute our success and growth to being able to take calculated risks and being open to continually testing what really works — which has become increasingly important during the COVID pandemic," noted Saltvold. "And most importantly, we invest in training and support for our staff, they are the ones that drive our success."
"I love the passion and the energy that people bring to this industry," Saltvold concluded. "I have never worked a day in my life and I am proud to say that many staff at Erik's would probably say the same thing. We love what we do!"
Landry's Bicycles
Year founded: 1922
Number of locations: 7, all in Massachusetts
Brands carried: Trek, Specialized, and others
Owned by: Transitioning to 100% employee ownership
Landry's is one of the longest operating bike shops in America. The business was established by the Landry Family, and has been owned by the Henry family since the mid-1970s; it's now transitioning to 100% employee ownership.
Over the past several years, Landry's leadership has gradually transitioned from Peter and Tom Henry. The next generation has already assumed responsibility for the company's current and future operations. As co-owners, Landry's employees have a vested interest in collaborative teamwork and exceptional customer service. The staff ranges from 80 year-round to 200 in the height of the season. Mark Gray is the general manager and leads the company with a leadership team.
"We of course want the bike boom to continue and we know it will break at some point," Gray said. "If we do a great job now of building trust with new customers, the surge will last for decades. Helping people discover and enjoy cycling is true to our core mission," Gray concluded. "We have a great history of doing that, and we're always learning."
Mike's Bikes
Year founded: 1998
Number of locations: 12, all in Northern California
Brands carried: Specialized, Santa Cruz, Public, BMC, Salsa
Owned by: Ken Martin and Matt Adams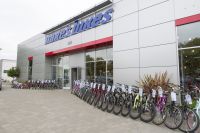 Mike's Bikes, with 260 employees across its retail locations, distribution center, and online fulfillment facility, is the youngest business on the Big BRAIN Ten. Ken Martin was the store manager at the original Sausalito location and has built the business through a combination of acquisitions and opening new locations.
"In my 30 years of selling bikes, I've never seen a market like we're in right now," said Martin. "All the work we've put in to create great systems and procedures and to build sustainable infrastructure is really paying off during the bike boom."
"It's so much fun to see so many thousands of new people on bikes, and my only hope is that we're just at the beginning of this wave," Martin continued. "If we can normalize supply, keep our staff happy and motivated, and keep all these new riders engaged and enjoying the sport, the future is very bright."
REI Co-op
Year founded: 1938
Number of locations: 168, in 39 states and DC
Brands carried: Cannondale, Electra, Tern, Co-op Cycles, Salsa, Ghost, Pure Cycles
Owned by: 19 million co-op members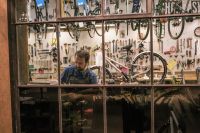 Across its stores, REI carries dozens of top bike brands, including its own Co-op Cycles brand, designed by its in-house bike team, with insights from REI members. The co-op continues to add high-performing bike and e-bike brands to its assortment to meet customers expectations. Each REI location has a full-service bike shop.
"More people than ever fell in love with cycling this last year and at REI we are committed to providing them the very best selection of cycling gear, apparel, service and friendly expertise. We are continuously looking for ways to make it easier for our customers to get out and ride," said Nate Nielsen, REI's general manager for cycle. "We have made significant investments in both our product assortments and customer experience to ensure getting everything you need to enjoy riding is more accessible than ever before."
By the way, REI does significant online bike sales, but the industry consensus is that their brick-and-mortar business alone puts them solidly in the Big BRAIN Ten.
Richardson Bike Mart
Year founded: 1962
Number of locations: Four, all in Texas
Brands carried: Trek, Specialized, Giant, Electra, Cervelo
Owned by: Ken "Woody" Smith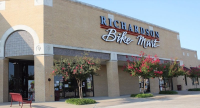 Richardson Bike Mart has been a North Texas institution for cyclists of all stripes. It's 27,000 square foot "mothership" store in Richardson is one of the world's largest. Owner Ken "Woody" Smith got started BMX racing in 1979 and joined the industry in 1983.
Smith continues to be inspired and energized by the industry. "The bike has saved my life in many ways," Smith said. "I love the way bikes can change people's lives. Seeing this happen inspires me every day."
As far as challenges to his success, Smith cited competition from his vendors and shrinking margins. Secrets to his success includes "God's grace, surrounding yourself with staff that are positive, hardworking and grateful, with a serving heart."
Smith describes the business environment for his stores as "awesome now and very good before COVID." He plans to open a few more stores within the next 18 months and bring his online sales into the 21st century.
Scheels
Year founded: 1902
Number of locations: 28, in 13 states across the central U.S.
Brands carried: Trek and a few kids and BMX brands
Owned by:100% employee-owned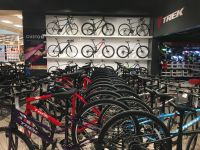 Started by the Scheel family as a small hardware and general merchandise store, the company opened its first all-sports store in 1986. While the stores feature over 80 categories of products, "cycling will always be a major emphasis," Branden Scheel said.
Scheel, the bike shop supervisor at the 250,000 square foot Johnstown, Colorado, store, pointed to the passionate commitment shared by the staff and customers. "We sponsor race teams in many markets, and we also put on Strider events for kids. Our employees get out there and commute to work, we meet and encourage people out on the trails as well."
Scheels has a strong partnership and commitment with Trek. "Working with Trek allows us to push out great bikes with a high degree of personal service," said Scheel. "At the same time, we really focus on creating a comfortable experience with our welcoming, wide-open shopping environments and no-pressure sales staff."
Trek Bicycle stores
Year founded: 1976
Number of locations: At least 100
Brands carried: Trek, Electra
Owned by: The Burke family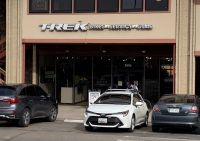 Trek declined to be interviewed for this feature. In recent years, industry sources have told BRAIN that Trek owns 125, 150 or even more stores in the U.S. Could be. Not all stores with "Trek" in their names are owned by Trek, so to estimate the location count, we looked at acquisition news articles we've reported or that we found in local media. We also looked at the locations of retail jobs that Trek Bicycle advertises. We counted 98 locations and we likely missed some (although we doubt we missed 50). We do know that Trek has added about 25 stores just in the last 12 months. In 2021 it added Mike Olson's 13 Trek Superstore and Bike Gallery locations in three states — Olson's group would certainly have made the Big BRAIN Ten list if it hadn't been acquired. (Editor's note: Trek has added at least two more stores since we completed this article).
When Trek acquires stores, it generally offers all employees jobs, with a minimum hourly wage of $15 recently. Many sales and service employees and store managers say they enjoy working for the company, which offers benefits many independent retailers can't. After acquisitions, Trek usually eliminates local senior and middle management, along with warehouse and administrative positions. Employees in those positions soon depart, even if they are offered lower-level positions. Trek's acquisitions can change a retail market significantly, as the stores stop selling other brands that will have to rebuild their dealer base there. Meanwhile independent Trek dealers in the same market are often wary of competing with one of their suppliers.
Wheel & Sprocket
Year founded: 1973
Number of locations: 10 locations in Wisconsin and Illinois
Brands carried: Trek, Electra, Felt, Salsa, Giant, TerraTrike, Riese+Muller, Tern, Yuba
Owned by: Amelia and Noel Kegel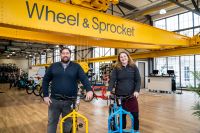 "Wheel & Sprocket is our family business, it's in our DNA, it's intimately tied to who we are in this world," said Noel Kegel. "Our dad, Chris Kegel, had us on the 20-year persuasion plan. In the end he won, the bike shop was just too much fun."
The Kegel siblings and their staffs run on two basic principles: 1) Be a good person: balance passion and discipline; pursue self-improvement; exhibit kindness. 2) Run a good business: understand how money works; win-win, or no deal; invest in relationships.
"Our 50-year legacy can only properly be honored by growing and succeeding in new ways," Noel concluded. "We earnestly believe a community is better when there is a Wheel & Sprocket as part of it. While we are a large bike shop, we have the soul of a small business. We work together as a family, we hustle, we have grit, and we work hard for our customers to earn their trust."
The Number 11s
As mentioned, the Big BRAIN Ten stood out from our consensus survey, but two other retail operations were close behind: Jax Bicycle Center, which has 10 stores in California, and Sun & Ski Sports, which has 30 stores, in Texas and 11 other states. If Trek (or someone else) buys any more stores from the Big BRAIN Ten list, Jax's and Sun & Ski will quickly take their place. Stay tuned.