Siblings bring family values to the North American Handmade Bicycle Show
DENVER, CO (BRAIN) — Exhibitors at the North American Handmade Bicycle Show like to talk about the "family" of artisan builders, and in some cases the familial relationship is literal. The show floor at the Colorado Convention Center included father-son partnerships and a few husbands and wives. It also included at least three pairs of brothers who are collaborating in various ways to make handcrafted bike products.
Hampsten Cycles: Steve and Andy Hampsten
Giro d'Italia winner Andy Hampsten has been marketing bikes under his name since soon after he retired, but the brand really got going in the last several years when his older brother Steve got involved.
Steve and Andy started racing together when they were teenagers in North Dakota, and while Andy went on to race as a pro, Steve eventually became a chef. A few years ago he tired of that and took up welding. Now he and industry veteran Max Kullaway (formerly of Merlin and Seven) produce lugged and TIG-welded steel and titanium frames in Seattle, Washington.
"There have been a series of small steps, and next thing you know, you've become a bicycle company," Steve said.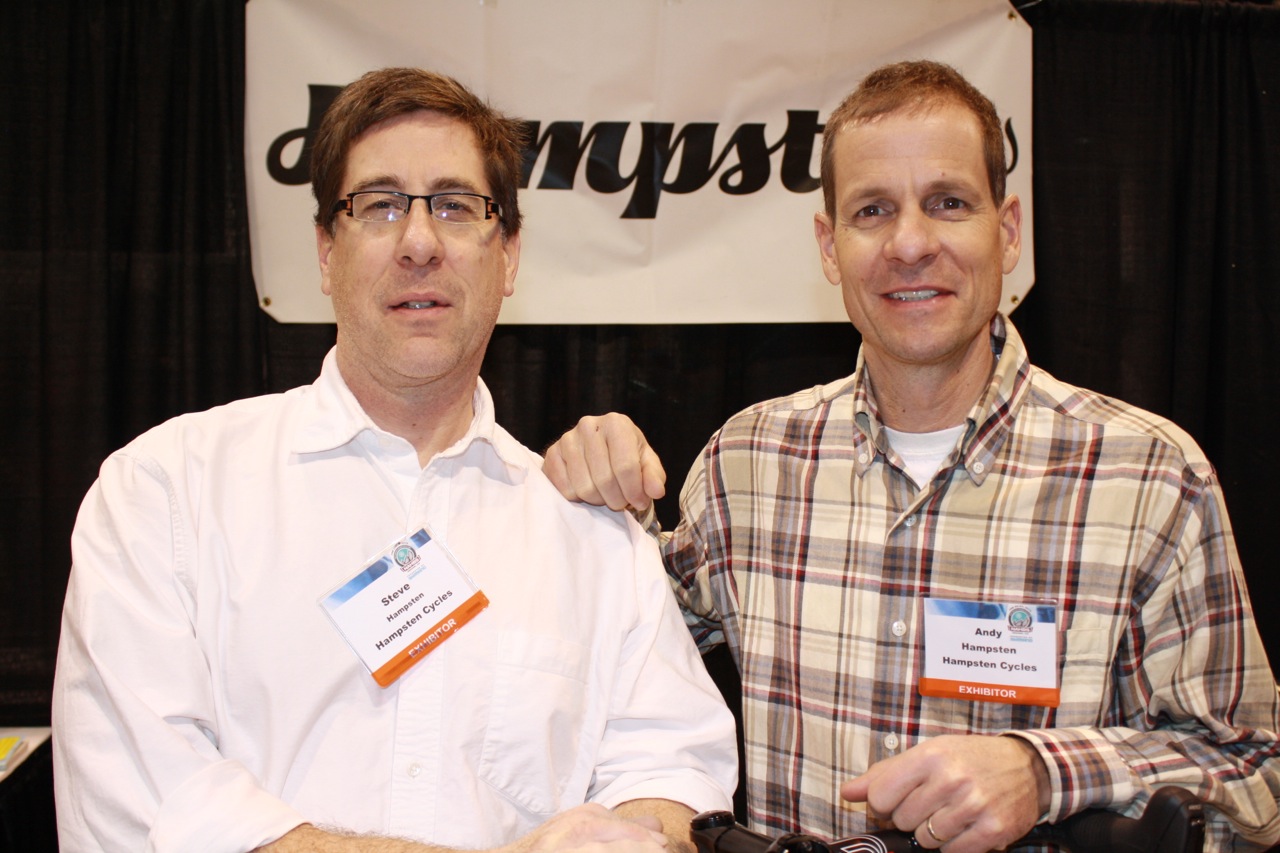 Andy Hampsten lives in Boulder, Colorado, and Italy, where he leads bike tours. Every year about a dozen of his bike tour participants become Hampsten bike owners, he said. The company sells about 60 frames a year.
"Steve does the heavy lifting," Andy said. "I do design and fits. I have got a lot of experience now fitting people—people who are beginners or intermediate road riders, or people who used to ride a lot but are still riding the bike they raced on 20 years ago."
The two brothers communicate by email almost every day. 
"Steve sends hilarious emails," Andy said. "He wouldn't want me to be in the office next to him all day, but this situation is good for us. I'm the nice Hampsten and he is the funny one," he said. 
Wheel Fanatyk:  Ric and Jon Hjertberg
Ric and Jon Hjertberg founded the Wheelsmith bike shop in Palo Alto, California, in 1975 and later founded the Wheelsmith wheel and spoke brand.
Now Ric, who lives in Seattle, focuses on the Mad Fiber carbon wheel company, while Jon, who lives in Whitefish, Montana, is a furniture maker. The two collaborate on Wheel Fanatyk, which markets Ghisallo wooden rims and wheel-building tools and supplies.
At NAHBS, Wheel Fanatyk showed some beautiful handmade wooden wheel dishing tools and bike display stands that Jon made.
In their long history in the bike world, Ric has always been the out-front brother, who fields the media questions and gives philosophic wheel building lectures at trade shows.
"I'm kind of the hermit," Jon said. "I like to be in the background."
That dichotomy works out for the best, he said.
"If we were the same then we'd clash more. And that's hopefully what happens with any group in any company: People find out what they are good at and focus on that."
Ric said the two have "pretty similar attitudes and approaches to things."
"That helps," he added. "We don't have to spend a lot of time bringing each other up to speed about things. We had our clashes early on but we worked through those."
Alchemy Bicycle Co.: Sam and Matt Macuczak
Denver bike maker Alchemy Bicycle Co. features two brothers who work seamlessly together making custom carbon fiber frames.
Matt Macuczak is Alchemy's vice president of R&D and spends a good chunk of his day at the computer in a corner of Alchemy's new factory. Sam Macuczak, seven years younger, is the production floor manager, and spends most of his days with his hands on tools and frames.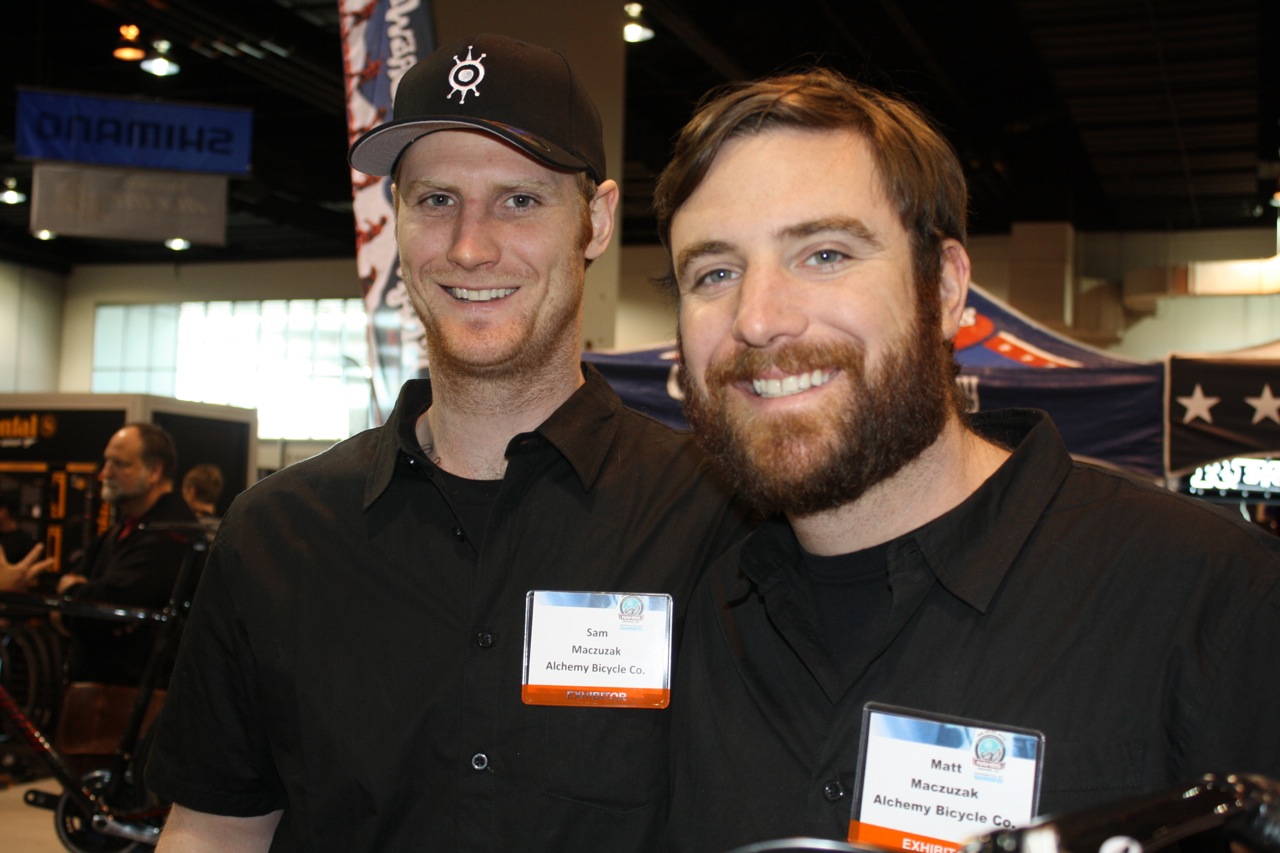 The two grew up in Cleveland, Ohio, and Matt moved to Austin, Texas, where he joined Alchemy and then recruited Sam.
"I was doing all the R&D and it was a lot of work and I needed someone to fill in in production. After he graduated he came to Austin. It got him out of Cleveland and he showed a lot of skill," Matt said.
When Alchemy moved to Denver last year, the two brothers came along on the move.
"We work incredibly well together," Matt said. "We think in similar ways, we have the same drive, the same vision; it makes it a treat to work. I don't have to say things, explain how to do things. He just knows how to do it."
When the two aren't at the factory, they are often together riding bikes or hanging out.
"I see him most nights and weekends," Matt said.