MONTEREY, Calif. (BRAIN) — It had been a number of years since renowned Bay Area chef Chris Cosentino attended Sea Otter. But as a former pro 24-hour mountain biker who raced in the singlespeed category at events all over the U.S. and the world, Cosentino is no stranger to the bike industry. Watching the high-energy chef make the rounds at Laguna Seca last week, talking bikes, reconnecting with former competitors and old friends, and making new ones, it seemed Cosentino had never really left the industry.
Although Cosentino retired from his eight-year race career a few years ago, he has continued to ride for fun and fitness in between running and opening restaurants, making TV appearances, traveling and raising a family.
What has tapped him back into the industry, and brought him back to Sea Otter this year, is his involvement with Chefs Cycle. Cosentino sits on the board of the nonprofit organization, which holds cycling events to raise money for No Kid Hungry, a national program that provides meals to schoolchildren to ensure they start their day properly fed and nourished.
It's a cause that's close to Cosentino's heart — as a chef, a cyclist and a parent.
"One in five kids does not have food for breakfast and start their school day hungry. We, as chefs, are in the hospitality business. Our job is to feed people, and this is a very achievable goal to feed children," said Cosentino, who won the fourth season of "Top Chef Masters," raising $141,000 for the Michael J. Fox Foundation for Parkinson's Research. "For every dollar we raise, we can feed 10 children. That's a whole milk, a fruit and a grain that is put on kids' desks each day."
Chefs Jeff Mahin and Jason Roberts founded Chefs Cycle three years ago, holding fundraising rides in the D.C. area and California that attracted 30 chefs each. In 2016, about 150 chefs came out for the events, and this year Cosentino said close to 300 chefs will ride 300 miles over the course of the three-day Chefs Cycle event in Santa Rosa, California, in May.
The chefs are currently training and raising funds. The organization aims to earn $2 million for No Kid Hungry, and just over $1 million has been raised so far.
"Each chef has to raise $7,500 minimum, but many have a higher goal. Mine is $25,000 and I'm at about $8,000, so I have a ways to go," Cosentino said. "If you don't hit the $7,500 it's a personal charge to your credit card, so the pressure is on. I have a big charity item and a couple other things to help reach my goal over the next month."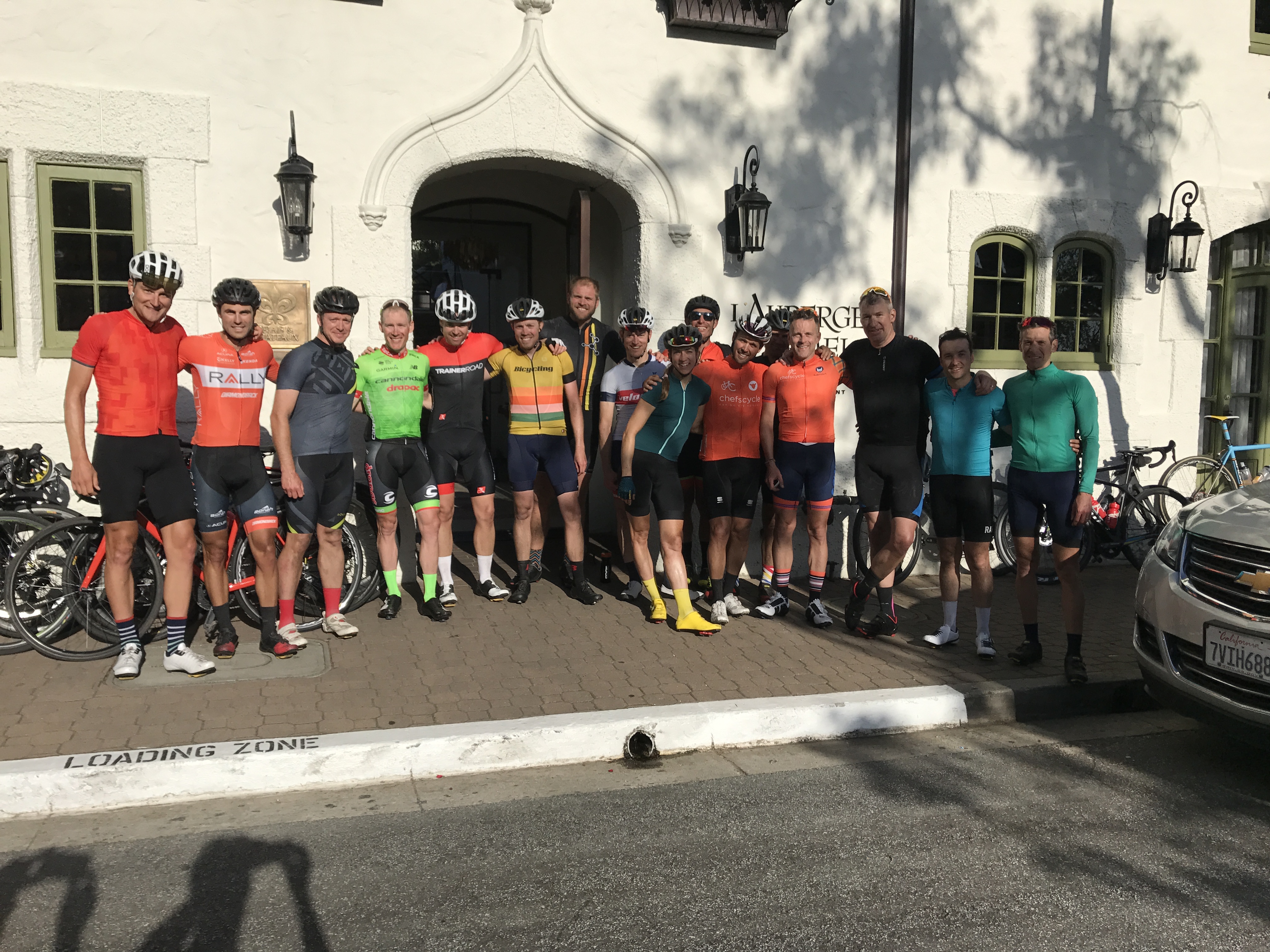 One way Cosentino is helping to boost the total before the event takes place May 16-18 is by hosting CampoVelo this weekend in the Napa Valley, where he is in the process of opening his third restaurant, Acacia House, in St. Helena. Cosentino also operates Cockscomb in San Francisco, and recently opened Jackrabbit in downtown Portland, Oregon.
Cosentino created CampoVelo to attract more donors to Chefs Cycle, providing various packages, including multiple rides, charity dinners and, of course, plenty of wine flowing throughout the weekend.
Pro cyclists Carl Decker, Ted King and Alison Tetrick will lead rides, along with former pro racer and current broadcast personality Bob Roll and Clif Bar founder Gary Erickson. A number of chefs taking part in this year's Chefs Cycle event will also be riding at CampoVelo, including "Top Chef" Season 6 runner-up Bryan Voltaggio, Chefs Cycle co-founder Mahin and Seamus Mullen, among many others.
Lentine Alexis — a chef, former pro triathlete and cycling ambassador for SRAM and Liv who is based in Boulder, Colorado — is also participating in CampoVelo this weekend, and will be completing the Chefs Cycle event in May. Alexis is one of just a handful of female chefs riding Chefs Cycle, but she's working to get more women involved.
"I stick out like a sore thumb at these events because I am a strong cyclist and I have a presence in the bike industry," said Alexis, who previously worked as culinary director for Skratch Labs. "But I'm happy to be a poster child for this, to be able to show that you can spread your passions around. There are so many conversations about how do we inspire not just women, but everyone to ride a bike. I am so happy to watch these worlds — the culinary and bike worlds — collide, because there are so many cool ways the bike can intertwine with food."
While riding, Cosentino said the chefs talk bikes, food and family. There may be industry talk, but the competitive nature of the restaurant business fades away as the pedals turn.
"It's a great feeling because it separates the bullshit, the competitive nature of our industry. It's more, 'hey, how are you doing on the climb?', and 'can we help you up the hill?'," he said. "And chefs who have ridden Chefs Cycle before act as caddies and our job is to help other riders, help change flats and offer a hand of God up a hill. It's all ultimately about having a good time and for a good cause."
"I mean, how cool is it that we can get out there and ride our bikes, enjoy ourselves, get healthy and feed kids? It's a no brainer," Cosentino added.
Chefs Cycle sponsors include Giant Bicycles, SRAM, Rapha and Smith Optics. To support your favorite chef, visit join.nokidhungry.org.
Look for more about Chefs Cycle in an upcoming issue of Bicycle Retailer.