BOULDER CITY, Nev. (BRAIN) — Riders have their own opinions of e-mountain bikes, but Interbike is giving them a chance to gauge the wisdom of the crowd.
The Shootout on E-Mountain at OutDoor Demo is a dedicated e-MTB test ride track with a twist. After demoing a bike, riders fill out a short survey and say what they liked or didn't like about the e-MTB model they rode.
Survey results will be published in an upcoming issue of Electric Bike Action magazine. As an added incentive, retailers are entered in a drawing for prizes every time they take a survey.
The top prize is an eFlow e-MTB from Smartmotion.
"This is a great idea, in my opinion," said Max McAllister, president of Traxxion Dynamics near Atlanta, after filling out a survey. McAllister is an experienced mountain bike rider, but said this was the first time he had ridden an e-MTB in a mountain bike environment.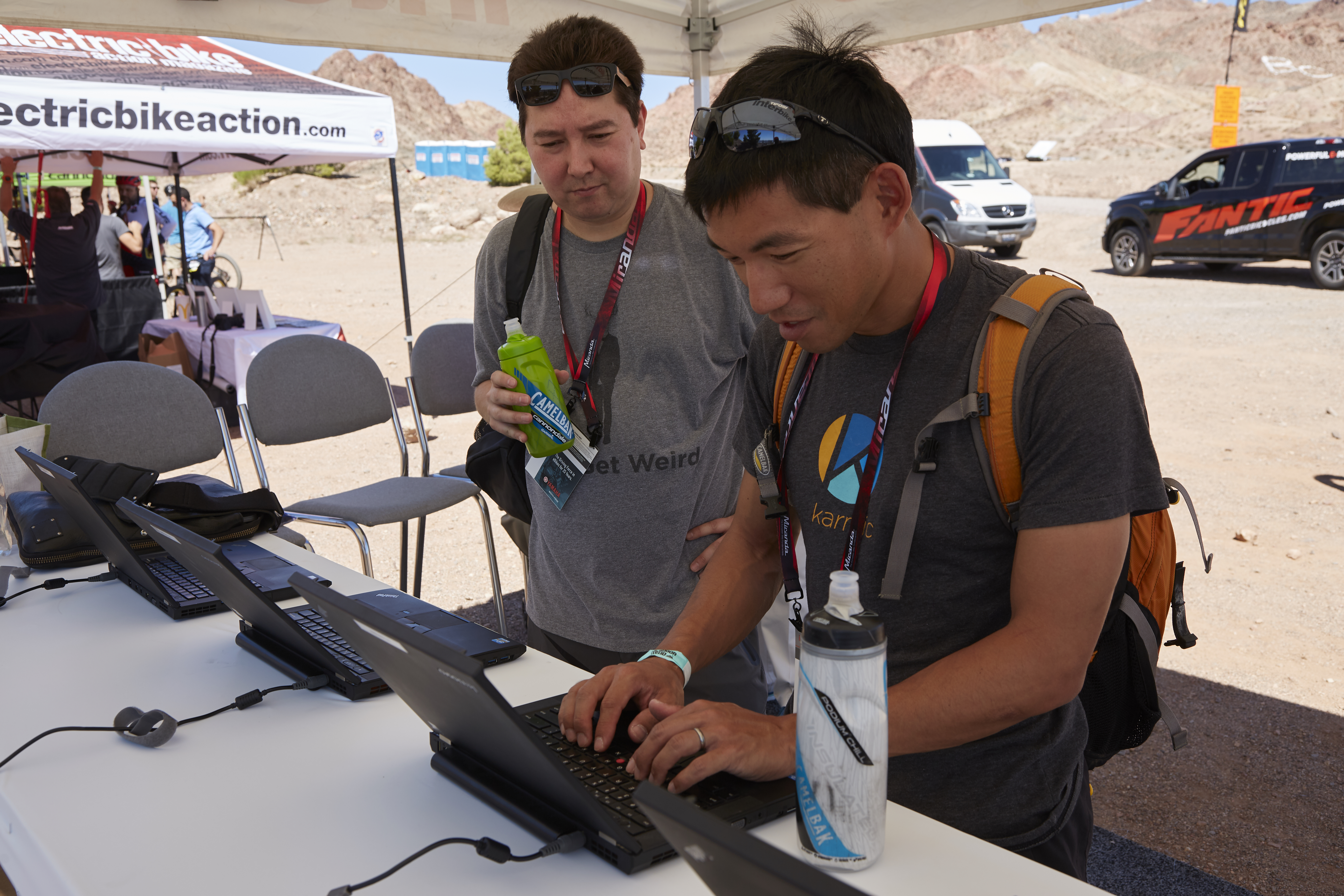 "This is going to expose people who have never ridden e-mountain bikes to the whole idea. Let them ride what the market has to offer — this is a good sampling," he added.
The Shootout drew steady traffic. Within two hours after OutDoor Demo opened, more than 50 riders had taken the survey. The Shootout is in full swing again today.
"It's nice to get a big variety of thoughts on all these things and see where the industry is right now," said Tony Donaldson, editor of Electric Bike Action. The magazine plans to publish survey results in its February issue.
Donaldson worked with Interbike to design the Shootout course.
"I wanted a short loop and a long loop so people could get a variety of terrain," he said. "We wanted to have a good climb in there, which there is, and some fun descents and some flowy stuff so they could check out the suspension and get an idea of the power and weight of these things."
Bill Summer of Webster Cog and Sprocket, a bike shop in northern Wisconsin, said he was looking forward to seeing a range of opinions on different e-MTBs.
"When you've got this amount of people coming in and able to ride, it's giving everybody an opportunity to say what they think," Summer said.
Many of his customers are retirees, and are beginning to get interested in e-MTBs.
"Generally, with people that are close to retirement or retired, you've got one rider that's stronger than the other one, so e-bikes level the playing field."
McAllister, of Traxxion Dynamics, is no casual mountain bike rider. On one calf he has a tattoo of the Specialized lightning bolt, and on the other a tattoo commemorating his participation in the Leadville 100 for the past three years.
But he welcomes e-MTBs, which he calls a "great equalizer."
"It's here. Let's not fight it. Let's figure it out and have fun with it," he said.
McAllister acknowledged that he also has a business reason for riding lots of e-MTBs. His company services suspension systems for motorcycles and mountain bikes.
"I can tell you the e-mountain bike suspension is going to take more abuse than a regular bike because you ride it faster. The average person will beat this bike because they can," McAllister said. "There's going to be accelerated wear on suspension components. That's very obvious to me."