PARK CITY, Utah (BRAIN) — If it takes three occurrences to call it a trend, it seems safe to say 29ers are making a comeback in 2017 product lines. A handful of brands, including Santa Cruz and Kona, have already launched new big-wheeled models, and here at PressCamp, it's the bike du jour on the second day of the event.
From value-priced hardtails and do-it-all trail bikes from GT to a superlight race-oriented rig engineered to accommodate 27.5-plus wheels from Swiss bike maker Open, the emphasis seems to be on versatility this year.
Here is a smattering of what we saw on Day Two:
GT Bicycles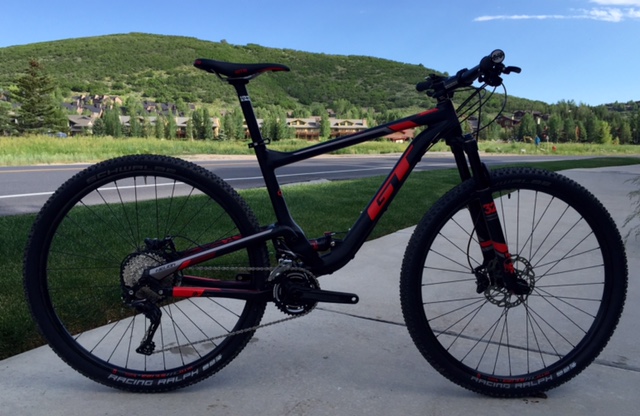 Having invested heavily in its elite-level offerings the past several years, GT has shifted its focus to the entry-level rider in its 2017 lineup.
"We wanted to make improvements in our basic hardtail to give those newer riders a better experience on the trail," said Andrew Cho, GT's digital marketing manager. "The product should be great for any level of rider."
Because customers continued to ask for entry-level 29ers in the midst of the 27.5 frenzy, GT redesigned two models in its value-priced hardtail lineup, including the Karakoram. Featuring long and low progressive geometry, the Karakoram rolls on 29-inch wheels and is spec'd with a beefier build for more aggressive trail riding. It will be available later this year in two builds; pricing is TBD.
On the higher end, a 100mm-travel Helion 29er will join the 27.5-inch Helion in 2017. The carbon frame has an aluminum rear end and features long and low geometry and short chainstays for a more playful ride.
GT also showed its first 27.5-plus model, the Pantera, which is built with a 120mm RockShox Revelation Boost fork and 40mm-internal-width rims.
Open Cycles
Swiss bike manufacturer Open Cycles showed its second mountain bike model, the One+. The brand was founded by former BMC chief executive Andy Kessler and Cervélo co-founder Gerard Vroomen in 2012. Its first product was a hardtail 29er, followed by the U.P. GravelPlus frame. 
Now, Open has expanded its line with a 29er hardtail frame that can accommodate up to 3-inch-wide 27.5-plus tires. "It's a sub-900-gram frame with tons of tire clearance," Vroomen said. "With two wheelsets, you have a full XC racing machine or a go-anywhere bike for all seasons. Depending on the build, you can have a 27.5-plus bike that weighs less than 20 pounds."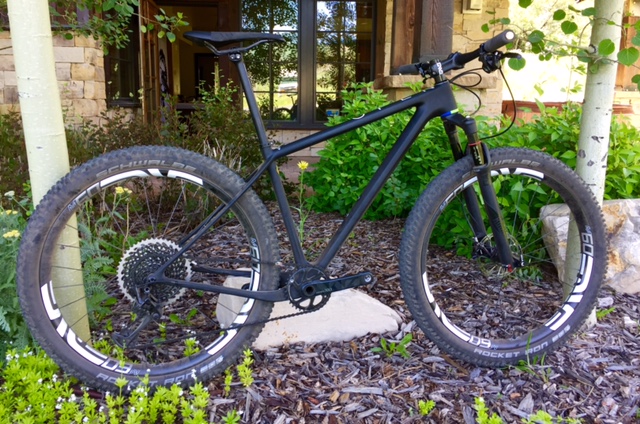 The full-carbon frame features Open's trademark dropped driveside chainstay, a method the company uses to move the stay away from the crowded bottom bracket area, allowing for better tire clearance and a wider stay to increase stiffness. It also features thin chainstays and seatstays for better vertical compliance. Curved seatstays help absorb small bumps while remaining laterally stiff.
The frameset retails for $3,200.
Fabric
The London-based accessory brand Fabric showed a number of redesigned products. For 2017, Fabric has also entered the lighting category, with several products available later this year.
"We've grown from four people in our London office to 14 in just a couple of years," said Fabric's Ian Redfern. "So we're really able to expand outside of saddles where we started."
Its 30-lumen rear light has four settings as well as a built-in accelerometer, which detects slowing speeds and automatically changes the light's function to alert cars and fellow riders that the bike is coming to a stop. Made in a factory that produces diving lights, it's completely sealed and weatherproof. The FL30 will retail for $40.
The FL150 is a versatile light that converts into a "torch" (that's British for flashlight), and has one red and one white light strip.
The included mount can be adapted for front use. It's USB rechargeable and will retail for $50.
The brighter FL300 and FL500 also convert to a flashlight, and can be switched from mode to mode with an easy-to-use dial. They retail for $60 and $80, respectively, and will be available early fall.
White Lightning
After more than a decade with the same logo and branding, White Lightning has a new look.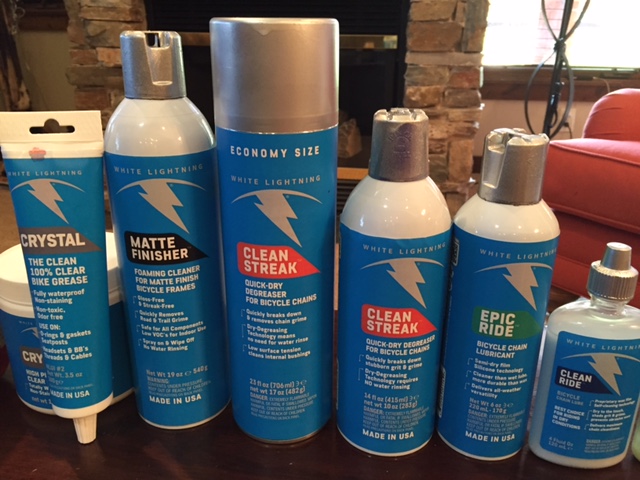 "Our look was a little dated. When people saw our logo they would say 'Woooooo, Metallica!' Which was fun, but we really wanted a new look," said Derek Goltz, marketing manager for White Lightning.
The line is unified with a bright blue label, which retains White Lightning's color-code system to differentiate product. "It's simple and easy to understand," Goltz said.
"It's also easier to self-shop because there's more descriptive copy on the front of the label."
Shops should start seeing some rebranded product in about a month. In an effort to increase awareness about the importance of proper bike maintenance, White Lightning is offering clinics and supporting more events, particularly women's rides and races, like the Bell Joyride program.
White Lightning also showed off its Matte Finisher for cleaning matte-finished frames made of any material. Its foaming action will safely clean matte finish frames without leaving a glossy residue.