Trek, Giro, Nike, Anheuser Busch and Honey Stinger distance themselves from the banned racer, who stepped down from his foundation.
BEAVERTON, OR (BRAIN) — Lance Armstrong stepped down as chairman of the Livestrong Foundation on Wednesday, hours before several long-time sponsors severed ties with Armstrong, who has been slapped with a lifetime suspension from competition for doping. Most of the brands said they would continue to support Livestrong.
Nike was the first to announce its was ending its relationship with Armstrong.
"Due to the seemingly insurmountable evidence that Lance Armstrong participated in doping and misled Nike for more than a decade, it is with great sadness that we have terminated our contract with him. Nike does not condone the use of illegal performance enhancing drugs in any manner," Nike said Wednesday in a statement.
Later Wednesday, Trek Bicycle said it was ending its relations with Armstrong, which date back to the late 1990s.
"Trek is disappointed by the findings and conclusions in the USADA report regarding Lance Armstrong. Given the determinations of the report, Trek today is terminating our longterm relationship with Lance Armstrong. Trek will continue to support the Livestrong Foundation and its efforts to combat cancer."
The Wall Street Journal reports that a Trek spokesman said Armstrong will retain a small share in Trek Bicycle. 
Other Armstrong sponsors followed suit:
Giro will end its relationship with Armstrong when a contract runs out at the end of the year, spokesman Mark Riedy told BRAIN. Giro will continue to support Livestrong, a relationship that includes selling Livestrong-licensed helmets and other products, he said.
Honey Stinger, a sports nutritionals brand that Armstrong owns a share of, is in the process of removing Armstrong's image and endorsements from its products, the company's Len Zanni told ABC News.
An Oakley spokesman told BusinessWeek that the eyeglass maker will decide what to do about Armstrong after waiting to see if the UCI appeals Armstrong's suspension by the U.S. Anti-Doping Agency. Oakley also said it would continue to support Livestrong.
Anheuser Busch said it would not renew its contract with Armstrong, who appeared in Michelob Ultra television ads until 2010.
A SRAM spokesman on Tuesday told BRAIN the company had no statement planned regarding Armstrong, who raced with SRAM components during his comeback in 2009 and 2010. For a time, Armstrong owned a share of the company, although SRAM bought those shares back from him in preparation for a public offering.
Nutritionals maker FRS has ended its relationship with Armstrong, a company official told SFGate.com.
Grassroots protest
"We are not a bunch of ex-bike racers who hate Lance. We just wanted Nike to re-affirm that they support clean athletes. And they've done it," — protestor Jeff Mitchem.
Nike's announcement came a day after a small protest outside Nike's headquarters in Oregon, where activists including former pro racer Paul Willerton demanded the shoe company end its sponsorship of Armstrong.
Portland urban designer Jeff Mitchem joined Willerton and about five others at the protest. Mitchem manages the Rapha Racing Northwest team, which Willerton races for. Mitchem told BRAIN on Wednesday that Nike's decision to drop Armstrong was probably unrelated to the protest.
"Timing is everything, right? ... I'm not a real activist at heart, this was definately outside of my comfort zone. But it felt good, and we tried to make the point that we were not there to oppose Lance. We are not a bunch of ex-bike racers who hate Lance. We just wanted Nike to re-affirm that they support clean athletes. And they've done it," he said.
Nike changes
Also on Wednesday, Nike issued a statement denying any involvement in covering up Armstrong's doping. A New York Daily News article earlier this week had resurrected a years-old story about Nike wiring the UCI $500,000 on behalf of Armstrong to cover up a positive doping result. The story originated with testimony by Kathy LeMond, wife of Tour de France winner Greg LeMond, who recounted it during a 2006 lawsuit.
Nike also said it was renaming the Lance Armstrong Fitness Center the Livestrong Fitness Center.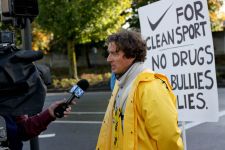 A statement on the Livestrong website said that the foundation's vice chairman, Jeff Garvey, will take over Armstrong's position as chairman.
"I have had the great honor of serving as this foundation's chairman for the last five years and its mission and success are my top priorities," Armstrong said in the statement. "Today therefore, to spare the foundation any negative effects as a result of controversy surrounding my cycling career, I will conclude my chairmanship."
Armstrong will remain a member of the Livestrong board. He reportedly did not receive a salary for the chairman role.
In related news, former Armstrong teammate Levi Leipheimer was fired by his Omega Pharma-Lotto team this week after Leipheimer confessed to doping while racing with Armstrong.
Also, Skratch Labs owner Allen Lim, who worked with Floyd Landis and Armstrong's RadioShack team, told VeloNews.com that he was aware of doping by Landis and Leipheimer but did not help them dope and urged them not to. Lim said that he never was employed by Landis but instead was working for Saris, which was promoting Landis' use of the PowerTap power meter with blog posts by Lim posted during Landis preparations for the Tour de France.