FRANKFURT (BRAIN) — Prior to the Eurobike trade show both Shimano and Bosch announced new anti-lock brake systems for e-bikes.
Shimano's new system was developed with long-time ABS developer Blubrake of Italy. Bosch's system builds on an ABS system it launched for e-bikes four years ago; Bosch is also quick to note that it has made ABS systems for autos for four decades and for motorcycles since 1995. Bosch's system used Magura hydraulic disc brakes.
Bosch said its in-house data showed that about 29% of e-bike accidents would be avoided if the riders had ABS.
Bosch brings ABS to four categories
Bosch's initial ABS system for e-bikes, released in 2018, was developed for trekking or touring bikes; its new platform has specific products for cargo bikes, trail bikes, "allroad" bikes, or "trail" (eMTB) use. 
The company said the system will not be made available for non-electric bikes and would not be available for aftermarket/retrofit sale. Bosch eBike Systems CEO Claus Fleischer declined to list which bike brands will spec the systems initially, but said many will be seen on the Eurobike expo floor when it opens on Wednesday. He said the systems will add roughly 500 euros to the cost of an e-bike.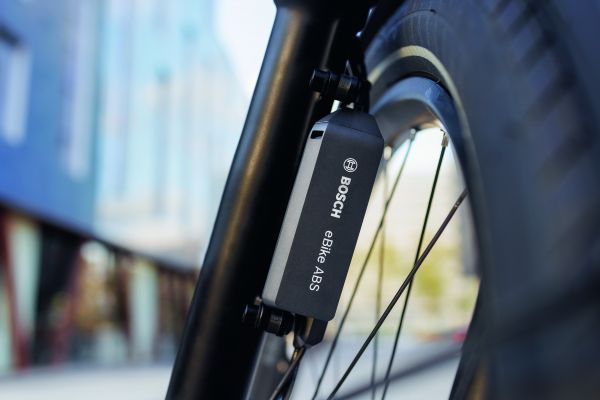 The Bosch ABS systems will not be available in the U.S. market until late 2023. 
The Bosch systems rely on control units attached to the fork legs and seatstays, situated inline with the hydraulic brake lines. The control units get electricity from the e-bike's main battery, but Fleischer said the energy use is minimal and will not affect battery life significantly. It said its new control units are 77% smaller and 55% lighter than its previous units.
Bosch's ABS Trail platform was developed specifically for performance e-mountain bikers. Riders can switch the system from Trail mode to Allroad mode if they switch from riding mountain bike trails to gravel or paved surfaces. 
The Bosch KIOX display and its mobile app records braking use, which can be analyzed for riders trying to optimize their braking performance offroad. The system is designed to eliminate brake lock-up and rear wheel lift under heavy braking. 
Shimano ABS by Blubrake
Blubrake was launched in 2015 and has been showing ABS systems since at least 2019. Shimano says its system can be integrated with e-bikes and e-cargo bikes and are compatible with a range of Shimano brakes and electric drive systems.  
Founded in 2015 by Fabio Todeschini and e-Novia, Blubrake was established with the aim of developing technological products for Light Electric Vehicles able to make mobility safer and more sustainable.
"We are particularly proud to present this product, the result of a partnership that benefits from a constant technical and industrial dialogue and that brings to the market a product that actively improves braking safety on e-bikes," said Fabio Todeschini, the co-founder and CEO of Blubrake. "From the very beginning, we have been investing in research and development to offer cutting-edge products that are easy to use for all of our customers, no matter the context. All of this with the aim of contributing to the development of today's mobility: connected, smart and sustainable."
The company did not announce pricing or availability. 
Other Bosch announcements
At a Frankfurt media event held Tuesday, Bosch also announced updates to its Smart System, released last year. The system integrates the eBike Flow mobile app, its battery, display, control unit and drive unit. 
Besides ABS, the system now has a new anti-theft alarm and lock system, which makes an audible alert if a locked bike is moved, and also tracks the bike's location. The system comes with a one-year subscription to the tracking feature which can be renewed for about 40 euros a year. 
The new system's ABS Cargo and Cargo modes are tailored specifically for cargo bike use, with power assistance and braking designed specifically for that use. All Bosch systems, including cargo systems, now have an "Auto" mode that automatically adjusts power assist levels depending on slope and winds. "It's a very fun ride," Fleischer said.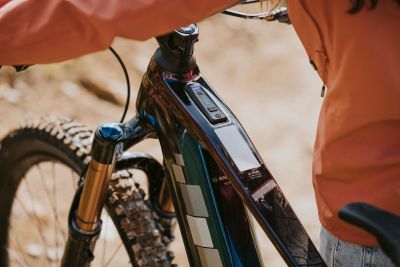 Bosch's eMTB system have a new "Hill Hold" function, which prevents an e-bike from rolling back unintentionally when pushing it uphill. A new system controller integrates with the frame toptube to reduce handlebar clutter, which a wireless "Mini Remote" positions some other controls next to the grip.
Bosch's Performance Line, Performance Line Speed and Cargo Line drive units are now also available on e-bikes with the smart system. Integrated PowerTubes batteries are being made available in 500 and 625 watt-hour models and the non-ingrated PowerPacks batteries are being made in 545 and 725 watt-hour options.