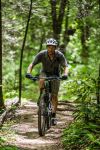 Steve is in his second stint at BRAIN. He was here at the beginning in 1992 while still working for a bike shop in Santa Fe, N.M. He wrote several articles for BRAIN's first issue and later joined the staff, eventually becoming managing editor and then executive editor.
After leaving BRAIN in 1997 he worked for several news organizations including The Associated Press and VeloNews before rejoining BRAIN as web editor in 2011.
He is based in Longmont, Colorado, and is an enthusiastic (and slow) road, mountain bike and cyclocross rider.