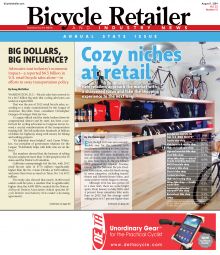 Issue Highlights:
LAGUNA HILLS, Calif. (BRAIN) — The U.S. bike industry employs more than 71,000 people and generates $6.5 billion in annual sales. Bike advocates are wielding numbers like that when they visit Capitol Hill in search of support.
The August 1 issue of Bicycle Retailer & Industry News includes our annual stats package and a look at how advocates interpret those numbers.
In an effort to get a "big picture" view of the U.S. bike world, the issue takes a look at participation figures, bicycle import figures, the state of retailing — IBD and otherwise — race event popularity, and even takes a look at a study of the environmental impact of bike manufacturing. 
This issue of BRAIN also includes:
Why SR Suntour says it's not responsible for the massive recall being conducted by Trek and Scott
A look at Pacific's new line of Hoffman Bikes being sold at Dick's Sporting Goods
A visit to ODI's U.S grip factory
A remembrance of Junzo Kawai, the former president of Suntour, who died at 94
News about Sport Chalet's purchase by the owner of EMS
The Grapevine, Mad Dog Unleashed, staff and guest editorials and Shop Talk — Patrick O'Grady's bike-shop based cartoon strip