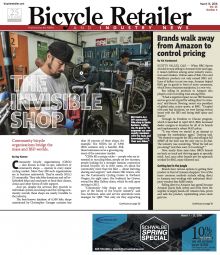 Issue Highlights:
The March 15 issue of Bicycle Retailer & Industry News features a cover story on how many major brands are working to keep their products out of Amazon's product listing, in an effort to control retail pricing. BRAIN's Val Vanderpool reports that suppliers including BRG, Hutchinson and 2XU have carefully withdrawn their products from the online giant in the last several years. 
In another cover story, industry veteran Ray Keener reports on how community bike organizations — generally non-profit or co-op shops — fill a vital, but often invisble, role in the market. There are about 200 such operations in the U.S.
Inside, the new BRAIN features news stories about Amer's acquisition of Enve Composites, Rossignol's purchase of Time Sports, and a report on early-season discounting by the three largest bike brands in the U.S. IBD market.
The new issue also contains our usual array of columns and features that have never been seen online, including LifeCycle, State of Retail, Global Briefs, Mad Dog Unleashed, Trade Watch, Tech Briefs and Through the Grapevine.