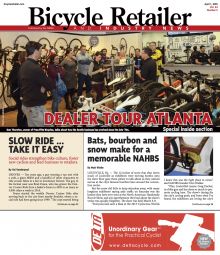 Issue Highlights:
AGUNA HILLS, Calif. (BRAIN) — The latest print edition of Bicycle Retailer & Industry News includes coverage of Interbike's "Manifesto," a document that came out of this winter's IBD Summit in Arizona.
The Manifesto is a "call to arms" by retailers, with 12 points summarizing the thoughts of the leading retailers who were gathered at the Summit, and it has been endorsed by the National Bicycle Dealers Association and the International Mountain Bicycling Association.
BRAIN's Marc Sani, who attended the Summit, reports that the the Manifesto makes no mention of some of the heated points of discussion brought up by many attendees.
"For example, there's no mention of the impact international online discounters continue to have on parts and accessory sales at retail. ... Other issues dealers discussed included the financial impact early model introductions have had on the buy-sell cycle at retail. ...Dealers also brought up the growing pressure by major brands on dealers for more and more floor and shelf space for their bikes and accessories," Sani reported.
The April 1 issue of BRAIN also includes a close look at the Atlanta bicycle retail market, which BRAIN editors visited during a Dealer Tour last month. Editors found Atlanta buzzing with energy from recent improvements to the cycling infrastructure in and around the city, including the 33-mile Beltline multi-use path.
"The Beltline is crowded all the time and there's a very cool energy. It's a changing demographic," one retail manager told BRAIN. Almost every shop visited reported that sales of family bikes, cruisers and commuting bikes were on the upswing due to recent improvements.
The new issue also includes coverage of the North American Handmade Bicycle Show and a look at how a slow-ride movement is energizing bike communities across the country.
"All manner of social rides are cropping up across the country, from San Diego and Austin, Texas, to New Orleans and Atlanta. These relaxed-pace rides typically cover short to moderate distances and are all-inclusive. Many have a theme, and welcome costumes. Riders are expected to obey a few basic rules: Be nice, be respectful, obey traffic laws, and stay to the right while riding," BRAIN's Val Vanderpool reports.
The April 1 BRAIN issue also contains regular features like the State of Retail, Global Briefs, Mad Dog Unleashed and Through the Grapevine. And in Shop Talk, Patrick O'Grady's long-running retail cartoon, the Old Guy Who Gets Fat in Winter reveals that he has an Adverse Analytical Finding in his past.
Bicycle Retailer & Industry News is published 18 times a year. Visit our subscription page for more information.