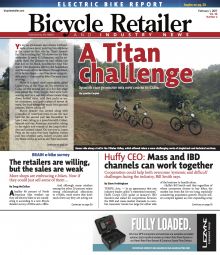 Issue Highlights:
LAGUNA HILLS, Calif. (BRAIN) — The newest issue of Bicycle Retailer & Industry News includes our annual Electric Bike Report, which includes results from BRAIN's recent survey of U.S. retailers on their experiences selling — or their reasons for not selling — e-bikes in their stores.
The e-bike report also includes profiles of some successful e-bike retailers, a look at a recent study of e-bike acceptance in Colorado county parks, and a feature on how women are finding that opening a Pedego franchise is a good option for getting into bike retail.
The new BRAIN issue, dated Feb. 1, is arriving in subscribers' mailboxes this week.
Besides the Electric Bike Report, the issue includes a report on the Titan Tropic Cuba, a recent five-day mountain bike stage race. BRAIN editor Lynette Carpiet, who attended the race, reported on the growth and interest in holding bike events on the island, and how organizers of the most recent event dealt with the nation's mourning period for Fidel Castro, which overlapped with the start of the race.
The new issue also contains full-year wholesale bike sales figures from the Bicycle Product Suppliers Association. The BPSA reported that sales fell 8 percent last year to 2.4 million units, down about 200,000 from the year prior.
And the issue includes an in-depth look at HIA Velo's new factory in Little Rock, Arkansas. BRAIN's Matt Wiebe, who recently visited the factory, reports that the company is initially focused on the most active part of the IBD road bike market, the carbon-framed, Shimano Ultegra-equipped road bike. HIA Velo says it can deliver a U.S.-made bike with custom options at a better price than other brands.
These highlights are in addition to regular BRAIN departments like State of Retail, Global Briefs, Mad Dog Unleashed, Tech Briefs and Through the Grapevine that are only published in the magazine.
BRAIN is published 18 times a year. Mail and electronic subscriptions are available at bicycleretailer.com/subscribe.