Previous Issues
2018
2017
2016
2015
2014
2013
2012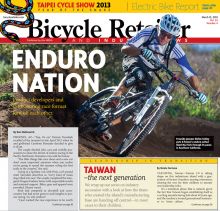 A sample of articles in this issue:
We wrap up our series on industry succession with a look at how the titans who created the island's manufacturing base are handing off control—in most cases to their children.
Posted in
International
Siblings bring family values to the North American Handmade Bicycle Show

DENVER, CO (BRAIN) — Exhibitors at the North American Handmade Bicycle Show like to talk about the "family" of artisan builders, and in some cases the familial relationship is literal. The show floor at the Colorado Convention Center included father-son partnerships and a few husbands and wives.
Posted in
Industry News
Product developers and the booming race format feed off each other.

By Don Stefanovich
PHOENIX, AZ (BRAIN) — "Yup, it's on," Dennis Yuroshek recalled of the moment in late April 2012 when he and girlfriend Carolynn Romaine decided to give it all up.
Posted in
Industry News