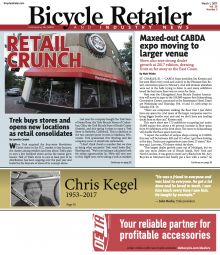 Issue Highlights:
The March 1 issue looks at Trek's recent purchase of the DC-area Revolution Cycles retail chain, reports on the CABDA trade show in Chicago and remembers retailer Chris Kegel, who died in February.
The Revolution Cycles purchase came on the heels of Trek's purchase of some of its concept stores in California, Ohio and Seattle, and fueled industry talk about Trek's plans to own more of its retail distribution base.
The CABDA Expo was declared a success by many retailers and exhibitors, who said they appreciated the small scale, trade-only, off-season show. This year's show attracted retailers from as far away as the East Coast, and organizers plan to move to a larger venue for 2018.
Kegel is being remembered as a successful retailer and advocate for cycling on a regional and national level. As his family takes over the Wheel & Sprocket chain and launches the Kegel Foundation, Kegel's competitors, suppliers, employees and non-profit colleagues remembered him as a philosophic leader and teacher.
The new issue also reports on Felt Bicycle's new owner, Rossignol Group, Richard Wittenberg's new venture, Vista Sport's legal woes and the PBMA's work on establishing a mechanic certification system.
These highlights are in addition to regular BRAIN departments like State of Retail, Global Briefs, Mad Dog Unleashed, Tech Briefs and Through the Grapevine that are only published in the magazine.
BRAIN is published 18 times a year. Mail and electronic subscriptions are available at bicycleretailer.com/subscribe.