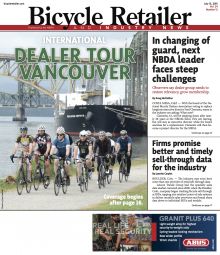 Issue Highlights:
LAGUNA HILLS, Calif. (BRAIN) — Bicycle Retailer & Industry News' lastest print issue, the July 15 edition, features coverage of the retail scene in Vancouver, where recent improvements to cycling infrastructure are leading to growth in bike sales. Indeed, in the fast-growing British Columbia city, there seems to be a bike shop on every corner, and attracting and keeping qualified employees is one of dealers' biggest headaches.
Also in the new issue, which is arriving in mailboxes this week, BRAIN's Doug McClellan takes a look at the National Bicycle Dealers Association, and what challenges its next executive director will face. The NBDA's long-term executive director, Fred Clements, announced recently that he is stepping down, and the board has started a search for a new leader (See a related story on BicycleRetailer.com today). 
The issue includes an article about the partial retirement of noted bike-fit specialized Andy Pruitt. Pruitt is retiring from clinical work at the Boulder Center for Sports Medicine, which he founded 30 years ago, but will remain in involved with Specialized, where he helped develop the Body Geometry product line and the company's bike-fitting protocol.
The issue features an interview with the well-known American road racer Evelyn Stevens. Stevens, famous for making an early-career switch from Wall Street to pro road racing, is endorsing the indoor cycling game, Zwift. She says indoor training was key to her athletic development while living in New York, and could be invaluable for female athletes, especially.
And, BRAIN's editor in chief, Lynette Carpiet, looks at several new retail sales data programs that are developing across the industry. Industry insiders have long been concerned about the lack of reliable data about what is selling at retail. Carpiet reports that at least two new options are on the horizon: SmartEtailing and SportsOneGroup. Meanwhile, NPD Group, which acquired Leisure Trends Group last year, is overcoming some transition issues that led to problems with its data reporting.
The July 15 BRAIN issue also contains regular features like LifeCycle, State of Retail, Global Briefs, Mad Dog Unleashed, Trade Watch, Product Picks and Through the Grapevine. In Shop Talk, Patrick O'Grady's long-running IBD 'toon, the Old Guy Who Gets Fat in Winter inquires about a new bike that can shave 5 minutes off his 40k time.
Bicycle Retailer & Industry News is published 18 times a year and is available in print or digital format. Visit our subscription page for more information.