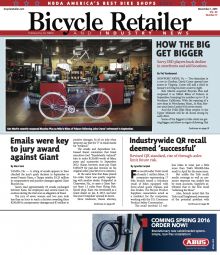 Issue Highlights:
New BRAIN issue looks at growth in retail chains nationally, the NBDA Best Bike Shops, and a Florida retailer's lawsuit against Giant, and more.
LAGUNA HILLS, Calif. (BRAIN) — Some of the biggest bike retailers in the U.S. are getting bigger, adding new locations even as the number of bike shops in the country is on a steady decline.
BRAIN's Val Vanderpool takes a look at the trend in the latest print edition of BRAIN, the November 1 issue, arriving in subscriber mailboxes this week. Vanderpool talked to retailers around the country to see why and how they are adding more stores, and the challenges in opening and managing multiple locations.
The November issue also includes coverage of this year's Interbike show, and a 21-page section devoted to the winner's of this year's Best Bike Shops awards, with profiles of all the winning shops, a look at how a Florida retailer won a $3 million jury award against Giant Bicycle, and a look at the expansion of the recall of bikes equipped with quick releases and disc brakes.
In addition, the issue contains coverage of the latest news in the bike industry, including ANA's decision to close its Kent, Washington, warehouse, the new owner of Assos, and Worksmans Cycles decision to open a factory in South Carolina.
This is in addition to regular departments like LifeCycle, State of Retail, Global Briefs, Mad Dog Unleashed, Trade Watch, Tech Briefs and Through the Grapevine that are only published in the magazine.
Bicycle Retailer & Industry News is published 18 times a year and is available in print or digital format. Visit our subscription page for more information.