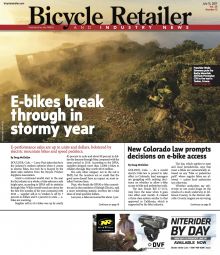 Issue Highlights:
LAGUNA HILLS, Calif. (BRAIN) — Amid a continued woeful start to the year for the industry as a whole, e-bike sales are a sole bright spot, and the newest issue of BRAIN takes a look at the growing market.
The July 15 issue of BRAIN began arriving in mailboxes last week. The issue contains our annual look at the e-bike market, including a look at the category's sales statistics.
BRAIN's Doug McClellan reports that supplier sell-in of e-bikes was up by nearly 83 percent in units and about 80 percent in dollars for January through May this year, compared to last. Suppliers shipped more than 12,000 e-bikes to retailers through May, worth $23.6 million.
The issue also looks at changes in e-bike laws around the country, profiles of independent e-bike retailers and a look at the growing Pedego e-bike chain, which now has 100 locations.
The July 15 issue also includes a remembrance of 3T's longtime leader Fulvio Acquati, a well-loved figure in the international bike industry, who passed away last month.
The issue contains a multi-page look at the recent PressCamp in Utah, with features on the companies behind many of the new products introduced there.
These highlights are in addition to regular BRAIN departments like State of Retail, Mad Dog Unleashed, Retail Briefs and Through the Grapevine that are only published in the magazine.
BRAIN is published 18 times a year. Mail and electronic subscriptions are available at bicycleretailer.com/subscribe.