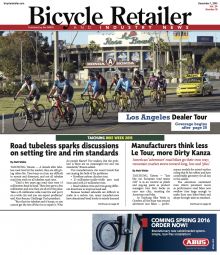 Issue Highlights:
LAGUNA HILLS, Calif. (BRAIN) — The December 1 issue of Bicycle Retailer & Industry News is arriving in mailboxes this week, containing our coverage of the recent Taichung Bike Week and our BRAIN Dealer Tour of Los Angeles, among other features.
BRAIN had two editors at TBW, which is developing as the key show for bike brand product managers who are looking to complete the spec' on upcoming model year bikes. As such, it's a great place to get a feel for what bikes will look like in the coming years.
BRAIN technical editor Matt Wiebe found much discussion of wheel and tire standards, driven by the recent trend toward wider road rims and tires, tubeless tires and a plethora of fat- and plus-sized tire and wheel configurations. The lack of standards for the new sizes is making it harder for manufacturers to develop tires that can be mounted securely and removed without resorting to cutting tools. Wiebe reports that manufacturers are looking to various international trade groups and standards organizations to try to come up with some new rules.
Wiebe also reported on the trend toward "adventure" road bikes. Largely emerging from the U.S. market, road bike designers and marketers are now looking to all-road riders — instead of Euro'-style roadies — as they come up with new bikes. That means designers are contemplating the best use of wide rims and tires, disc brakes, thru axles, mini-compact and single-ring gearing and more. 
The new issue of BRAIN also includes our coverage of our LA Dealer Tour. In November, BRAIN editors, sponsors and guests visited shops across the city. They found a few shops that fit the stereotype LA image of glitz, celebrity, surf and sun. But they also discovered an array of retailers serving thriving markets. As they rode from shop to shop, the tour participants discovered that the famously car-centric city has areas that quite bike friendly. 
In addition, the issue contains coverage of the latest news in the bike industry, including Fox Factory's steps toward integrating the Fox, Easton, Race Face and Marzocchi brands; SBS's decision to stop selling Shimano; and and interview with Giant's John Thompson as he takes the helm of Giant Bicycle.
This is in addition to regular departments like LifeCycle, State of Retail, Global Briefs, Mad Dog Unleashed, Trade Watch, Tech Briefs and Through the Grapevine that are only published in the magazine.
Bicycle Retailer & Industry News is published 18 times a year and is available in print or digital format. Visit our subscription page for more information.