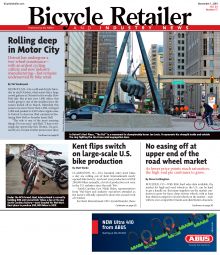 Issue Highlights:
LAGUNA HILLS, Calif. (BRAIN) — Is Detroit now a biking city?
Maybe not quite, but on a recent visit to the Motor City, BRAIN's Val Vanderpool found a surprisingly vibrant bike scene, with well attended group rides, thriving retail operations and a growing array of industry suppliers.
Starting with Shinola and Detroit Bikes, suppliers are finding that a connection to Detroit provides a base of skilled workers and marketing cache. Vanderpool notes that every product coming out of the Detroit area proudly features the city's name.
The look at Detroit is just one feature in the latest issue of Bicycle Retailer & Industry News, which arrived in most subscribers' mailboxes this week. (BRAIN is also available in an electronic edition, which is available immediately on the publish date. )
The November 1 issue also includes a look at the road wheel market, where there seems to be no limits at the super high-end of the market — wheelsets selling for over $3,000 a set — and stiff competition at lower price points.
Also in Nov. 1:
A look at new international standards for kids and youth bikes.

Coverage of the bankruptcy of the Southeastern retail chain BikeStreet USA.

A look at Swobo's new bike line, Farrier.

Spain's BH Bikes new approach to the U.S. market.

A Q&A with Ron Bonner of Spark's Distribution.

Staff and Guest editorials, Mad Dog Unleashed, and more.