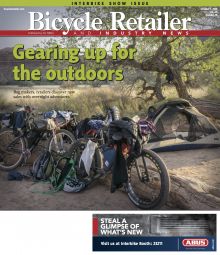 Issue Highlights:
LAGUNA HILLS, Calif. (BRAIN) — Makers of offroad touring equipment — from bikes to frame bags — as well as retailers are taking notice as mountain bikers and gravel road riders go looking for specific gear and knowledge of this growing category.
The newest issue of BRAIN, which is arriving in mailboxes this week, takes a look at the framebag options and talks with retailers about how they are building community with "micro-adventure" trips, including quick one-night weeknight bike camping expeditions.
"Everyone can take a Wednesday off of work here and there," said Los Angeles retailer Chris Kelly, who shuts his store every Wednesday to lead overnight trips. "A mid-week adventure can change your outlook," he said.
Besides our look at the camping market, the new BRAIN includes an interview with the NBDA's new executive director, Todd Grant, and a look at the organization's long awaited mechanic certification program. It also contains our annual look at retailer POS systems, with an updated comparison chart to help retailers compare systems.
This is in addition to regular departments like LifeCycle, State of Retail, Global Briefs, Mad Dog Unleashed, Trade Watch, Tech Briefs and Through the Grapevine that are only published in the magazine.
The new issue, dated Oct. 1, is BRAIN's annual Interbike Show Issue, and will be distributed at the show next week. If you aren't currently receiving BRAIN in the mail, stop by our booth (L41, in the lobby near the main entrance) to signup for a free industry-member subscription.
Bicycle Retailer & Industry News is published 18 times a year and is available in print or digital format. Visit our subscription page for more information.