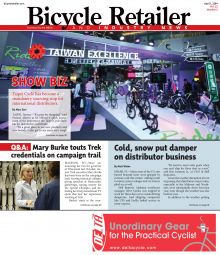 Issue Highlights:
LAGUNA HILLS, Calif. (BRAIN) — An interview with former Trek executive Mary Burke, who is running for governor in Wisconsin, highlights the April 1 edition ofBicycle Retailer & Industry News, which is arriving in subscribers' mailboxes this week.
Burke is the front-runner in the Democratic primary race and she fills in BRAIN readers about her life since she left Trek, where she filled several top roles until 2004. And she talks about how her work at Trek prepared her for politics.
Also in the new issue is a look at how this winter's wild weather has affected retail and wholesale sales across much of the nation. The weather created more than just business woes, as Matt Wiebe reported, one J&B manager in Alabama had to live at the warehouse for three days because the road out was impassable.
The issue also includes coverage of the Taipei Cycle Show, where suppliers met to begin plans for 2016 model year bikes, and the National Bike Summit in Washington, D.C., where the nation's bike advocates met with lawmakers.
Also in this issue:
Mavic restructures North American operations
SRAM engineer John Cheever dies at 50
Mad Fiber assets are sold and Saratoga Frameworks shuts down
SRAM cuts ribbon on new Asia Development Center
Leisure Trends reports 2013 IBD sales fell 2.7%
Taiwan feels squeeze from Cambodian imports
The WFSGI cracks down on counterfeiting
Bicycle Retailer & Industry News is published 18 times each year and most of its content never appears on this website. You can learn more on our subscription page.