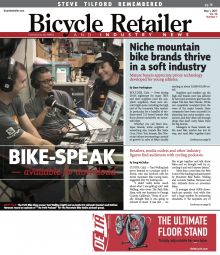 Issue Highlights:
LAGUNA HILLS, Calif. (BRAIN) — The latest issue of BRAIN features a look at a growing trend in the bike media world: podcasts. Retailers, suppliers, media organizations and industry gadflies all are launching the downloadable audio shows, and many are seeing growth in recent years, Doug McClellan reports.
The new issue, arriving in mail boxes this week, also takes a look at the high-end of the mountain bike market. While much of the industry struggled last year, parts of the mountain bike market grew. Suppliers like Santa Cruz, Yeti, Pivot, Niner, Ibis, Intense and others report that sales are strong for bikes that often start at around $3,000 retail. They say customers recognize the technology that goes into these pricy bikes and are willing to pay for upgraded brand name components including suspension forks, dropper posts, carbon wheels and top-end drivetrains.
The new issue also remembers Steve Tilford, the outspoken former pro who never really retired from racing. Tilford, 57, died in April in a highway accident in Utah, while returning from a training camp in California. He was known across the cycling world for his love of the sport and willingness to speak out about doping and other issues.
The new issue also examines Pon Holdings' offer to buy Accell Group, which would be one of the biggest mergers in the history of the bike industry.
These highlights are in addition to regular BRAIN departments like State of Retail, Global Briefs, Mad Dog Unleashed, Tech Briefs and Through the Grapevine that are only published in the magazine.
BRAIN is published 18 times a year. Mail and electronic subscriptions are available at bicycleretailer.com/subscribe.