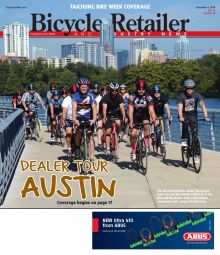 Issue Highlights:
LAGUNA HILLS, Calif. (BRAIN) — From Austin, Texas, to Taichung, Taiwan, the newest issue of Bicycle Retailer takes a look at the cycling industry from several perspectives.
In Austin, BRAIN editors and guests visited shops during a three-day bike-powered Dealer Tour. On the way, the editors saw everything from a service shop that operated out of an RV, to elaborate high-end shops, including Lance Armstrong's Mellow Johnny's and mainstays like the Bicycle Sport Shop. 
Meanwhile, in Taiwan, BRAIN attended Taichung Bike Week, a fast-growing OEM-focused show, where product managers and builders met to plan bikes for several model years in the future. A key developing trend: the 27.5-Plus tire size. A more manageable version of the 29er-Plus tire that appeared a season or two ago, the new size is gaining the attention of tire and wheel makers as bike makers look to make bikes for downhill and enduro racers as well as recreational riders looking for some of the cushion of fatties. 
Also in the issue, a look at the WFSGI's attempt to simplify UCI's saddle rules for competion, Interbike's new plan for the IBD Summit, and a remembrance of TIME Sport's Roland Cattin, who passed away this fall.
The December 1 issue of Bicycle Retailer & Industry News arrived in many subscribers' mailboxes last week. To subscribe to the print or digital edition of the magazine, visit our subscription page.