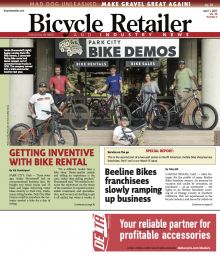 Issue Highlights:
The April 1 issue takes a look at the market for bike rentals and demo programs, as well as Part 2 of our feature on mobile service franchises.
These highlights are in addition to regular BRAIN departments like State of Retail, Global Briefs, Mad Dog Unleashed, Tech Briefs and Through the Grapevine that are only published in the magazine.
BRAIN is published 18 times a year. Mail and electronic subscriptions are available at bicycleretailer.com/subscribe.