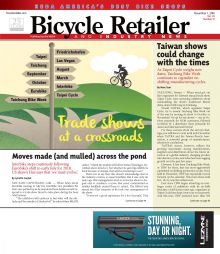 Issue Highlights:
LAGUNA HILLS, Calif. (BRAIN) — The new issue of Bicycle Retailer, arriving in mailboxes this week, features a package of articles about the industry's trade shows, as well as a directory of the NBDA's Best Bike Shops.
The trade show package includes looks at the timing of the industry's shows — with Eurobike moving to earlier dates, and Taipei Cycle Show moving to later (a decision that was formally announced after this issue went to press), Interbike and other shows are looking at how to respond.
The issue also includes news stories, including a look at Accell North America's decision to split off its e-bike business into a California-based business led by Larry Pizzi. Other news includes a look at Volagi Cycles' future following an accident that left co-founder Robert Choi with serious injuries.
The issue also includes an interview with Milwaukee retailer and longtime bike advocate Chris Kegel, who is contemplating his legacy after being diagnosed with stage 4 liver cancer.
These highlights are in addition to regular BRAIN departments like State of Retail, Global Briefs, Mad Dog Unleashed, Tech Briefs and Through the Grapevine that are only published in the magazine.