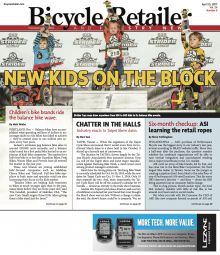 Issue Highlights:
The April 15 issue looks at changes in the youth bike market, including balance bikes and new brands that offer high quality kids road and mountain bikes. The issue also takes a look at the recent Taipei Cycle Show and chatter about the show's planned move to the fall in 2018. Another article in the new issue takes a look at ASI's purchase of Performance Bicycle, about a half year after the purchase was announced.
These highlights are in addition to regular BRAIN departments like State of Retail, Global Briefs, Mad Dog Unleashed, Tech Briefs and Through the Grapevine that are only published in the magazine.
BRAIN is published 18 times a year. Mail and electronic subscriptions are available at bicycleretailer.com/subscribe.