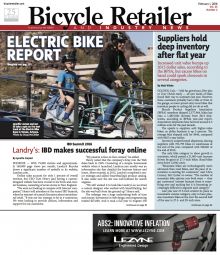 Issue Highlights:
LAGUNA HILLS, Calif. (BRAIN) — Pricy niche bikes — everything from plus-sized mountain bikes to gravel road bikes — helped power increases in dollars and units at bike shops last year, according to stats from the Bicycle Product Suppliers Association.
The average cost of bikes shipped was up 5 percent last year, while the number of bikes shipped was up just a hair, up about 1,500 units over 2014, to 2.58 million bikes.
BRAIN's Matt Wiebe takes a close look at the numbers in a front page story in the Feb. 1 issue of Bicycle Retailer & Industry News. Digital subscribers are receiving their issue Monday, and hard-copy subscribers are receiving their copy in the mail this week.
Wiebe reports that while sales were up in 2015, supplier inventory was still bulging a bit as the year drew to a close, which may foretell some closeouts in some product categories in the first quarter.
Besides the 2015 sales and inventory data, the new issue of BRAIN features our Electric Bike Report, with 10 pages of coverage of this growing category. The section includes articles on the latest e-bike training opportunities available for U.S. retailers, product trends, e-bike ridership research, and more.
The issue also includes coverage of last month's IBD Summit in Arizona, including a look at Landry's Bicycles online sales program. BRAIN editor Lynette Carpiet reports on why the well-respected Massachusetts retail chain, which now has seven locations, is finding an online presence is critical to its success even if online sales still account for only about 1 percent of revenue.
This is in addition to regular departments like LifeCycle, State of Retail, Global Briefs, Mad Dog Unleashed, Trade Watch, Tech Briefs and Through the Grapevine that are only published in the magazine.
Bicycle Retailer & Industry News is published 18 times a year and is available in print or digital format.